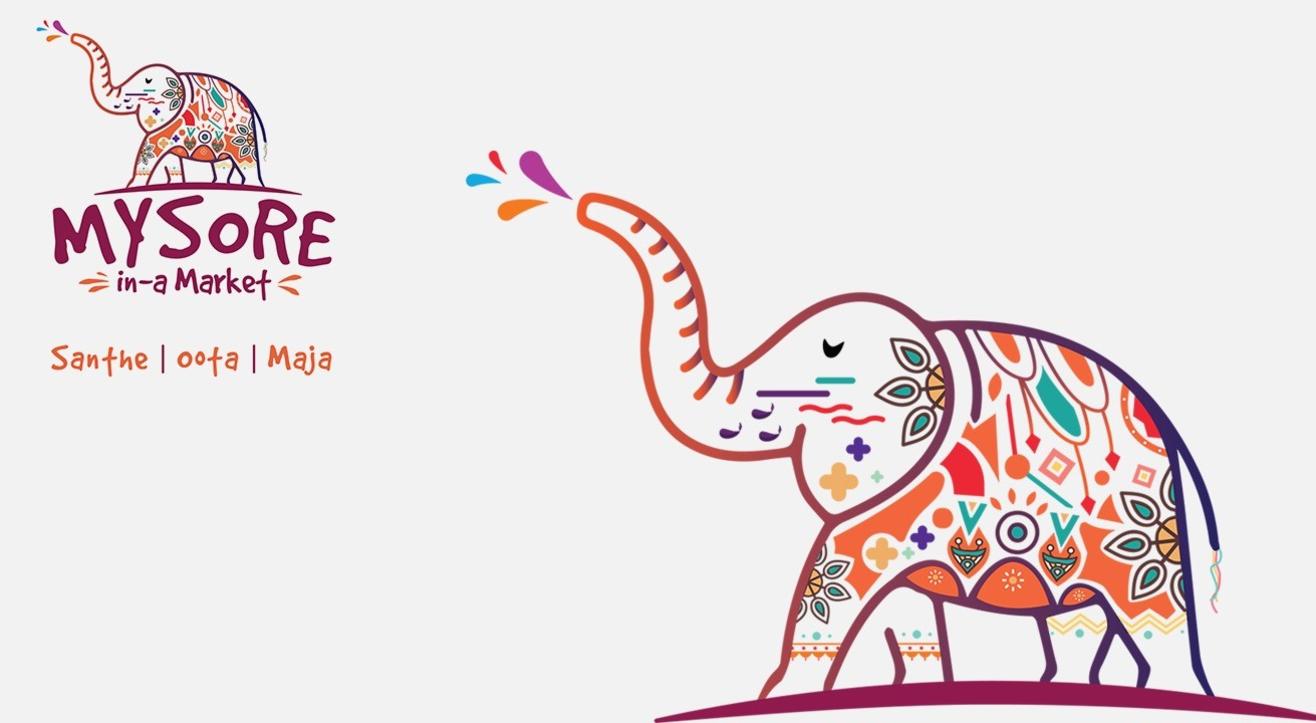 Scouts and Guides Ground, Mysuru
Invite your friends
and enjoy a shared experience
Scouts and Guides Ground, Mysuru
Invite your friends
and enjoy a shared experience
Invite your friends
and enjoy a shared experience
A unique Day-Night Market in Mysore featuring a Flea of 100+ Brands, specially curated Food Area & all day Live Entertainment.


SANTHE (Flea)
100+ Brands from cities across the country featuring products in Decor & Home Accessories | Men's & Women's Fashion | Stationery | Jewellery | Apparel | Quirky Merchandise | Art Installations | Pet Products | Health & Wellness and many more so there's something for all you shopaholics to look forward to regardless of your age, gender or interest!


OOTA (Food)
We're bringing you 5+ Food Trucks, 10+ Live Food Counters, all featuring handpicked food brands from Bangalore and beyond.
Oh and there'll be just enough seating area so you can laze around with your family and friends while feasting on the lip-smacking food being served!


MAJA (Fun)
A live entertainment stage with:
- An all-day DJ & MC
- An Open Mic Contest for all you talented Mysoreans
- Live Performances
We've also got a specially curated Kids Activity Zone & Play Area (so all you parents can bring your kids along promising them also a great time!)
And what more, the market will be Pet Friendly so you can bring your 4-legged kids along as well! (We've got some awesome pet brands & products for you to treat them to!)
Is there going to be Alcohol?
No, it's a strictly no alcohol event

Is Smoking allowed inside the market?
No, it's a strictly no Smoking event & cigarettes are not allowed inside.

Is there going to be a re-entry for the ticket?
No, tickets once bought are valid for 1 time entry only.

Are pets allowed?
Yes, but they will have to be on a leash and at all times be attended to and looked after by the owners. A designated area for pets to relieve themselves of nature's calls will be allotted and pet owners are expected to use this area for the same.

Is there a time limit on how long I can stay in the Market?
No. Once you enter, you're free to leave whenever you wish to until the Market closes at 11pm.

Will there be Security on hand to ensure my safety?
Yes. Security and safety of each of our visitors is of prime importance to us and there will be ample security provided throughout the Market.

Is it a Kids/Children friendly event?
Yes. There will be a designated Kids Activity Zone & Children's Play Area with ample security and full-time CCTV Monitoring.

Will debit/credit cards or other cash-less modes of payment be accepted at the Stalls while Shopping?
Maybe. We cannot guarantee availability of cash-less modes of payment with the stall owners in the Flea or Food Areas so it is highly advisable to carry enough cash.

Will debit/credit cards or other cash-less modes of payment be accepted at the Entrance of the Market?
No. Entry tickets will have to be bought with cash only at the venue.

Will there be parking for visitors?
Yes, there will be a designated parking area for visitors. We highly recommend you come in early so you get a spot close enough to the Entrance.

How long can one expect to spend in the Market?
If you're a shopaholic with a big appetite and love music, ALL DAY! In general, to cover just all the lovely 90+ stalls & brands in the Flea Area, a good 2 hours minimum. Add another 1 hour needed to spend at the Food Area to try out all the lip-smacking Food and another 1 hour (or more) for the awesome entertainment we've got in store for you.
Scouts and Guides Ground
K.G Koppal, Chamrajpura Mysuru, Karnataka 570005
GET DIRECTIONS
Scouts and Guides Ground, Mysuru
Invite your friends
and enjoy a shared experience