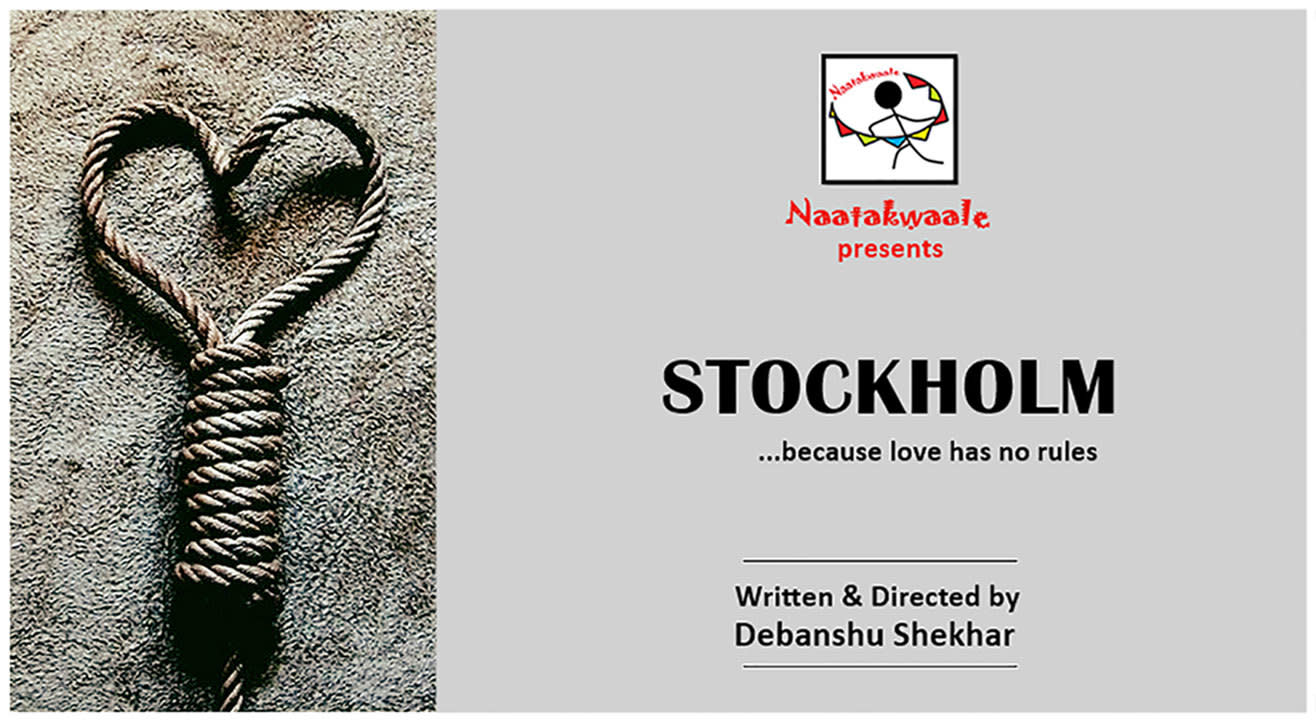 Q Tube Cafe, Bandra, Mumbai
Invite your friends
and enjoy a shared experience
Q Tube Cafe, Bandra, Mumbai
Invite your friends
and enjoy a shared experience
Invite your friends
and enjoy a shared experience
To make some quick money, two men- Aman, a passionate but frustrated corporate employee and Bariq, a small time mobile repairer, decide to kidnap the daughter of a rich business tycoon. But, if only they could play their cards well. The story takes an interesting turn when the kidnapped girl Charu, starts falling for one of them.
What happens next? Will Aman and Bariq succeed with their plan? Will the girl be able to express her feelings or will she escape?
Watch out Stockholm by Naatakwaale to know more.
Cast- Roshni Verma, Ashwani Kumar & Debanshu Shekhar.
Written & Directed by Debanshu Shekhar.
Debanshu Shekhar (Aman Gupta)
The founder of Naatakwaale theatre group- Debanshu, joined Delhi university in 2007. An active member of the theatre society of his college, he decided to make his passion, his profession. In 2011 he joined Bhartendu Natya Akademi, Lucknow, where he did his diploma in dramatic arts. In 2013, he formed his theatre group; Naatakwaale, which has given more than 900 street & stage performances till date. He has done more than 50 plays all over India and conducted more than 100 theatre workshops for different NGO's/schools/colleges for different theatre projects. Currently, he is working as an artist at NSPA (Natural Streets for Performing Arts), Mumbai.
Ashwani Kumar (Bariq Khan)
From the capital city Delhi, he is a Delhi university graduate and a Bhartendu Natya Akademi alumnus. He has done more than 50 plays all over India. He moved to Mumbai in 2014. Currently he is working as an actor in different theatre & film Projects respectively.
Roshni Verma (Charu Melhotra)
Basically from Kanpur and brought up in Bareilly (UP), Roshni has been practising professional theatre since 2007. She has worked with eminent theatre personalities like Ranjit Kapoor and Makarand Deshpande. She has also worked with theatre groups like Mayank Natya Sanstha & Allahabad Natya Sangh. A trained Kathak dancer under the guidance of Pandit Sanjay Banerjee (Student of Shri Birju Maharaj). Roshni joined Bhartendu Natya Academy in 2012 and currently she is working as an actor & dancer in theatre & films respectively.
Q Tube Cafe, Bandra
S V Road, Next to Tata Power, Bandra West,, Mumbai, Maharashtra 400050
GET DIRECTIONS
Q Tube Cafe, Bandra, Mumbai
Invite your friends
and enjoy a shared experience