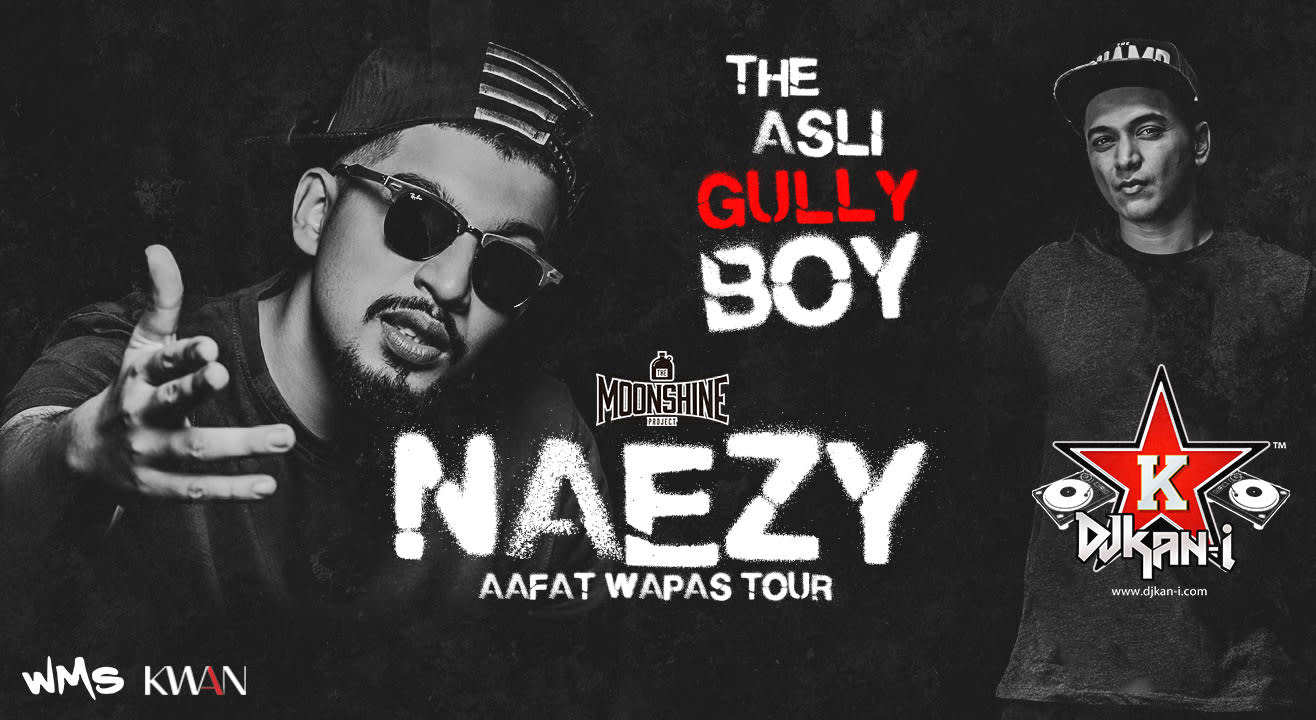 Music
About
Use code NAEZY50 and get 50% OFF on Phase 1 tickets
Listen up, Hyderabad! Get ready to get your rap on!
The inspiration behind the superhit movie, "Gully Boy": Naezythebaa is coming to The Moonshine Project this April 5th to entice you with stories about everyday life in the gullies of Mumbai!
Naezy debuted with a DIY music video Aafat! which he made using an iPad in 2014. Naezy's debut single, Aafat!, credited as the genesis track of the gully rap scene, was released in 2014, followed by his collaboration with Divine on their breakout 2015 hit, "Mere Gully Mein". The song brought attention to the Mumbai rap scene and eventually lead to the breakthrough for both Divine and Naezy.

Following the song's release, a documentary titled Bombay 70 (the 70 stands for the area code of Kurla West) about his life was produced. Bombay 70 was directed by independent film maker Disha Rindani. The documentary was awarded as the best short film at MAMI in 2014.

Their music caught the attention of director Zoya Akhtar and inspired her to make a movie about the Mumbai rap scene called Gully Boy starring Ranveer Singh. The film is loosely based on the lives of Divine and Naezy who consulted for the rap aspects of the film. "Mere Gully Mein" was remade for the film. In this version Ranveer Singh's character takes over Naezy's part. Singh re-recorded Naezy's verse for the film. He became the first rapper to be a featured artist on the Indian music streaming platform JioSaavn. He was also featured on the Song NY "se Mumbai" with Divine, Ranveer Singh and American rapper Nas. The song was released as a promotional single shortly prior to the release of the film.

Naezy's music often addresses socio-political issues and he has spoken about wanting to create music that is "conscious hip-hop" to bring awareness among young people. His songs "Haq Hai", "Tragedy Mein Comedy", "Azaad Hu Mein" are some of the songs that deal with politics and issues that the common man faces.

He has faced issues convincing his family about his rap career, which was one reason he left the underground rap scene in 2018. Another reason he took this hiatus was to get away from the pressures of becoming more famous. The hiatus however made him realize his passion for rap music. He announced his return to the scene in 2019 with his upcoming single Aafat Wapas.


Venue
The Moonshine Project
385, Road Number 82, Film Nagar, Jubilee Hills, Hyderabad, Telangana 500033