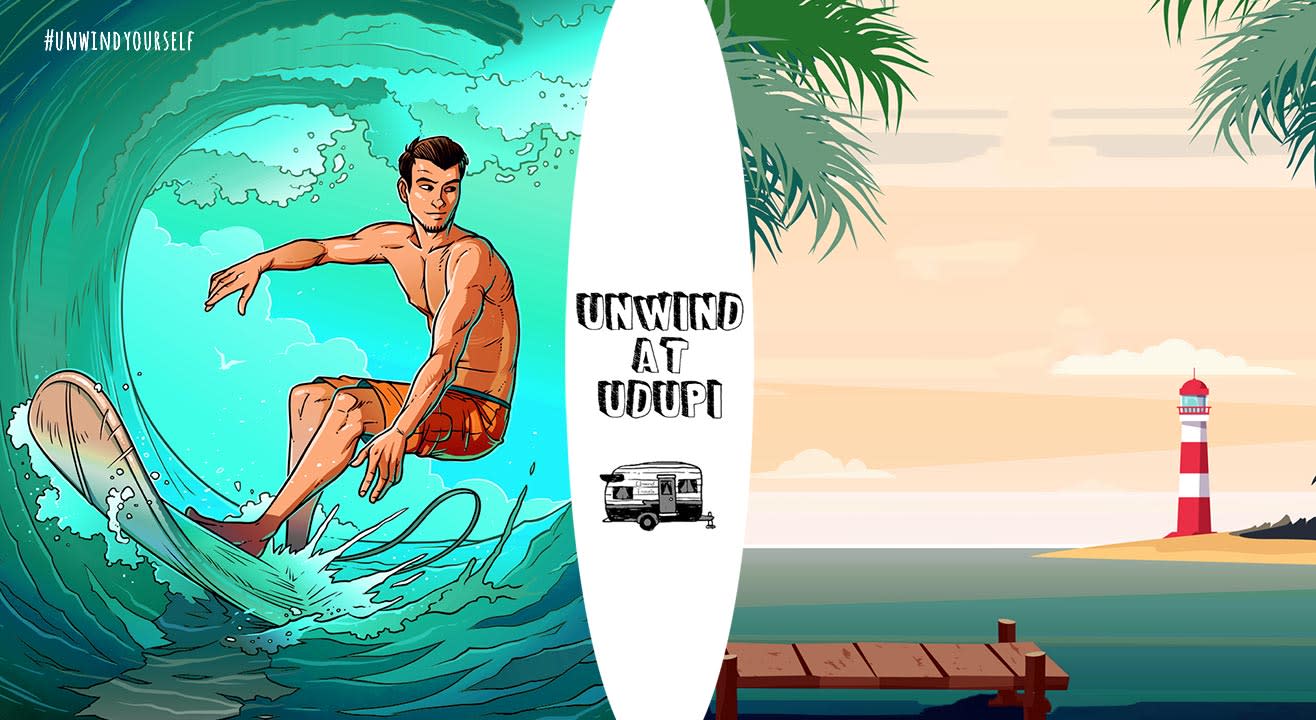 Adventure
About
Udupi: when this name comes in someone's mind, the first thing that they think of is an Udupi restaurant, second thing would be idli-dosa and the third, and the last thing would be filter coffee.

However, what doesn't comes into mind that behind this concept of Udupi restaurant is a beautiful town in South India in Karnataka called Udupi.

This little town has so much to deliver than just idli - dosa and filter coffee.

Udupi is the land of celestial beauty, squeezed in between the vast, serene Arabian Sea on the west and the lush mountains of the western ghats on the east.

So, Udupi is known for its tasty vegetarian food all over the world. The cuisine is derived from Krishna Mutt. Udupi is thus a heaven for anyone.

Are you an adrenaline junkie? Come to Udupi

Do you love trying out new adventure sports ? Come to Udupi

Are you a Vegetarian? Come to Udupi

You love Beaches? Come to Udupi

You love Islands and Lighthouses? Come to Udupi

So whatever you love?

You will find paradise in Udupi that's for sure!

Come and #UnwindYourself
Day 1
Reach Udupi by 10:00 AM and check into the beach house. Freshen up and then go off to see the famous Udupi temple. Post the visit to the temple, either have the lunch at the temple or visit one of the popular restaurants. Post lunch, return to the guest house and get to know each other better.
At 5:00 PM, get ready to visit the famous Kaup Beach Light house. Kaup Beach is famously known to house an old lighthouse that was apparently built in the year 1901. The lighthouse is open for visitors during certain periods of time in the course of the day. It offers a delightful view of the entire beach and seashore that will surely take your breath away.
After spending the evening at the Lighthouse, return to the guesthouse, where you will spend the night listening to the music, playing board games or just relaxing by the beach.
Day 2
Begin the day early. Get ready for the surfing and drive down to the beach where your surfing instructors await everyone. After a 2 hour session of surfing and breakfast at the beach, return to the guest house.
After everyone is ready, head out for lunch at one of the oldest restaurants in Udupi. Return to the guest house and chill and engage in conversations with new friends.
In the evening, visit to the backwaters in Udupi at Kemmannu district. A walk through the village and you will see the hanging bridge. A boat ride through the backwaters in Udupi. Spend the evening in Kemmanu and then proceed towards the guesthouse for an evening filled with music.
Day 3
Surfing in morning. Back to the guesthouse.
Get ready to visit the famous St. Mary's Island. A quaint island just off the coast of Karnataka, St. Mary's Island is an island of white sand beaches, rock monoliths and great wildlife making it a mesmerizing place to be in. St. Mary's Island is a geological treasure. One can find a shoreline made up full of crystalline rocks which were created at the time Madagascar Island got separated from India. Lunch.
Some free time in the bazaar and drop at the bus stand or the railway station for the journey towards home with fun memories.
Surfing gear
Bottle of water
Sun block
Board shorts or a swim suit
T-shirt
Beach Towel
Personal toiletries
Travel gear
Backpack
Camera to capture awesome memories
Extra batteries
1 litre bottle of water
Clothing gear
4 Cotton T- shirts or shirts
Pants or shorts. Preferably carry light weight and quick dry pants. Avoid jeans as it will increase the weight in your pack.
UV protected glares
UV protected cap
A pair of shoes that have a good grip
Slippers or flip-flops
A thin towel as it saves space in the pack and dries quickly
Personal gear
Toothbrush, toothpaste, soap or hand sanitizer, and shampoo
Torch to help you find your way back
A power bank to charge your phone
A small multipurpose Swiss knife
Medical
Personal medication if any
Glucose tablets

Surfing lessons
Boat Ride in the backwaters
Stay in the guest house on triple sharing
Authentic South Indian meals (breakfast, evening snacks and dinner)
Entry charges to all monuments and places
Transport in the city

Lunch on all days as its advisable to try the local food.
Travel to and from Udupi
Anything not mentioned in the inclusions.
Pick-up and Drop-off points
Flight
Mangalore Airport is the nearest airport near Udupi. It is about 44 kms from Mangalore airport to Udupi. Several cab and taxi services are available outside the airport to travel from airport to other parts of Udupi.
By Bus
Overnight buses are available from Mumbai, Goa, Bangalore, Hyderabad, and Pune for Udupi. Take a direct bus from Bangalore to Udupi, which takes 8 hours. You can board a bus from Bangalore at 10 PM and you will reach Udupi by 6 AM or 7 AM.
From Hyderabad, the buses are available between 4 PM - 6 PM. They will reach Udupi by 9 AM. Hyderabad to Udupi travel time is 12 hours. From Goa the buses are available between 7:45 PM - 8:45 PM.
From Mumbai the buses are available throughout the day, but make sure to reach Udupi by 10 AM. Whereas from Pune the buses are available from 5 PM - 11 PM.
Train
Udupi Railway Station is located at a distance of around 6 km from the city centre and can be reached by cab, auto-rickshaw or bus.
Mumbai: There are direct trains from Mumbai to Udupi that takes around 12 - 15 hours. Some trains from Mumbai are: LTT KCVL EXPRESS and KCVL GARIB RATH (12201) departs at 4:55 PM and reaches Udupi at 6:20 AM. Matsyagandha Express departs at 3:20 PM and reaches Udupi at 5:20 AM.
Pune: . PUNE ERS SUP EXP (22150) departs from Pune Jn station (PUNE) at 6:45 PM and arrives Udupi station (UD) at 09:38 AM taking a total of 14 hrs 53 minutes. Bangalore: KARWAR EXP (16523) departs from Bengaluru City Jn station (SBC) at 20:30 and arrives Udupi station (UD) at 10:37 taking a total of 14 hrs 7 mints to cover the distance of 515 kms.

Prior to 30 days from date of departure - 25% will be deducted
Between 15-30 days from date of departure - 50% will be deducted
Between 7-15 days from date of departure - 80% will be deducted
Between 7 days or lesser from date of departure - 100% will be deducted