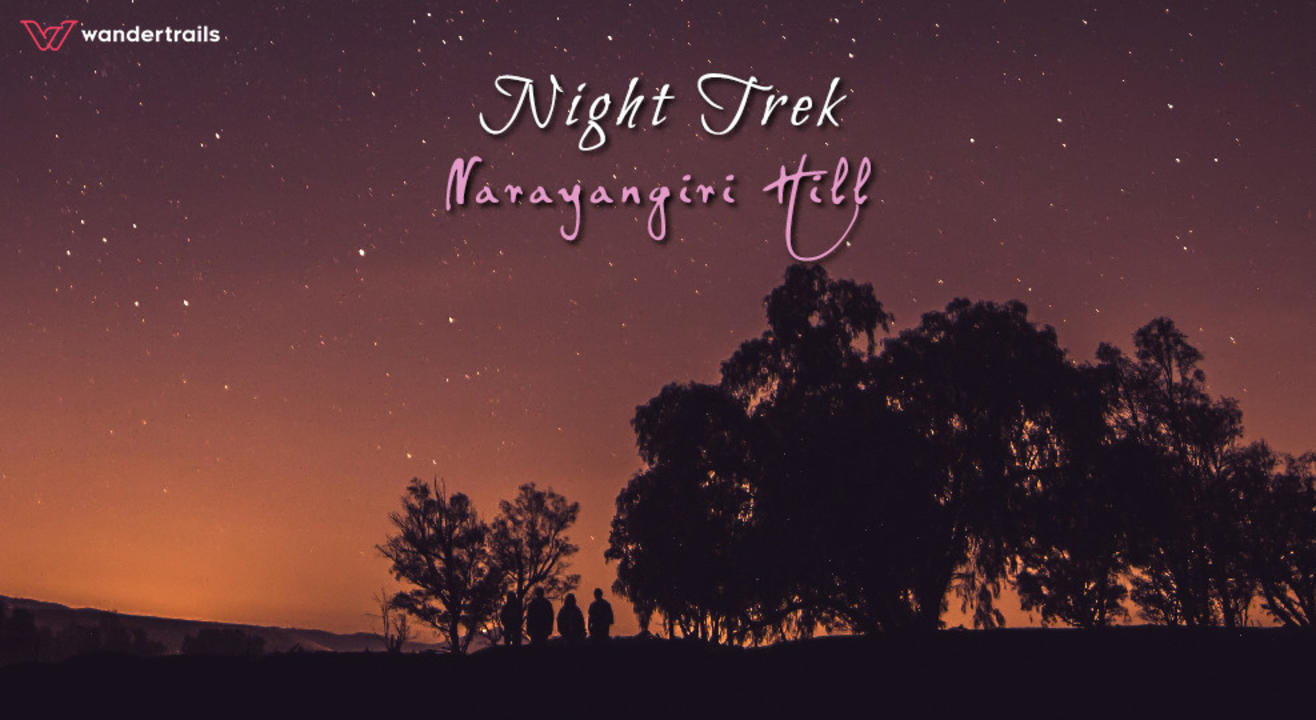 Trek
Night Trek to Narayangiri Hill | Wandertrails
About
A cool breeze, twinkling stars and spectacular views, await you to discover the delights of nature and create some beautiful memories...
Step away from the concrete world and embrace the welcoming arms of nature in this mesmerising world of mountains. Explore one of the lesser known peaks in Karnataka and experience a happiness unexplainable. 
Narayangiri, an idyllic hill nestled deep into the countryside near Ramanagara hosts one of the less ventured paths that abound in natural beauty. In this trek, explore this side of nature along with an insightful guide, who will lead you along the right path to immense beauty. This rocky hill with incised steps leading to a dense forest of Jalamangala is known to be home to a number of small-sized creatures. Well-trained eyes may spot some during the daytime, but you can trust your experienced guide to point them out to you!
This exciting night trek starts from Bengaluru, a short drive will take you to the base camp of Narayangiri at midnight, from where you will start your trek. Trekking through the dense forest of Jalamangala with just torch beams or the moonlight to guide you, might make the most exciting adventure you had yet. Set up a campfire at the peak to huddle around, with stories to tell or experiences to share. Enjoy the easy camaraderie with your group as the moon slowly slinks into the horizon and the sun starts its journey to replace it. 
The lightening sky will reveal the amazing panorama that surrounds the peak. Feast your eyes on this incredible beauty that lies before you, don't forget to click some pictures before you make your way back down. The morning throws a different light on your path, the forests seem more serene, the freshness seems more conspicuous with the dew drops caressing you as you make your way through the greenery. Head back towards the campsite to end the trek with a good breakfast. 
Start the journey back to Bengaluru with the images still fresh on your mind and your body tingling with the freshness of the mountains.

Special Offer
Get 20% off on this event, if you buy 4 or more tickets. Use offer code HOHOHO on checkout. Max. discount ₹1000.

Special Offer
Get 20% off on this event, if you buy 4 or more tickets. Use offer code HOHOHO on checkout. Max. discount ₹1000.
Day 0
10:30PM Pick up starts from Marathahalli
Day 1
01:00AM Reach Reach Ramanagar for tea break
04:00AM Reach peak and relax by the bonfire
06:30AM Descend at dawn
08:00AM Reach base and head towards Campsite
08:30AM Have breakfast
09:30AM Enjoy the water activities (Kayaking)
12:00PM Leave to Bangalore
01:00PM Reach Bangalore"

Pick-up and drop-off from Bengaluru
Night Trek
Water Activities like Kayaking and Swimming
Campfire
Sleeping Bag
Breakfast
Torch
Water Bottle
Snacks
Recommended gratuities
Any additional services provided
1. Marathahalli (09:30 PM) - Kala mandir
2. Silk Board (10:00 PM) - Krishna Bhavan Restaurant
3. BTM (10:15 PM) - A2B, Udupi Garden Bus stop
4. Banashankari (10:35 PM) - Bus stop
5. RR Nagar (11:00 PM) - Gopalan Arcade
Torch per person with extra batteries.
Sports shoes or trekking shoes in good condition
Backpack
Water bottles (enough to carry at least 2 litres of water)
Extra clothing (for kayaking and swimming)
Energy bars, dry fruits, flavoured milk, Electrolyte drinks - Glucon-D etc.
Personal medication
Toiletries (napkin, tissues, etc.)
Track pants and cotton T-shirt
Rain coat/Poncho in monsoons
Camera (optional)
Cancellation charges applicable basis duration prior to the date of the commencement of the activity
0-2 days from activity date: 100% booking charges
2-7 days from activity date: 50% booking charges
7-14 days from activity date: 25% booking charges
More than 14 days from activity date: No booking charges