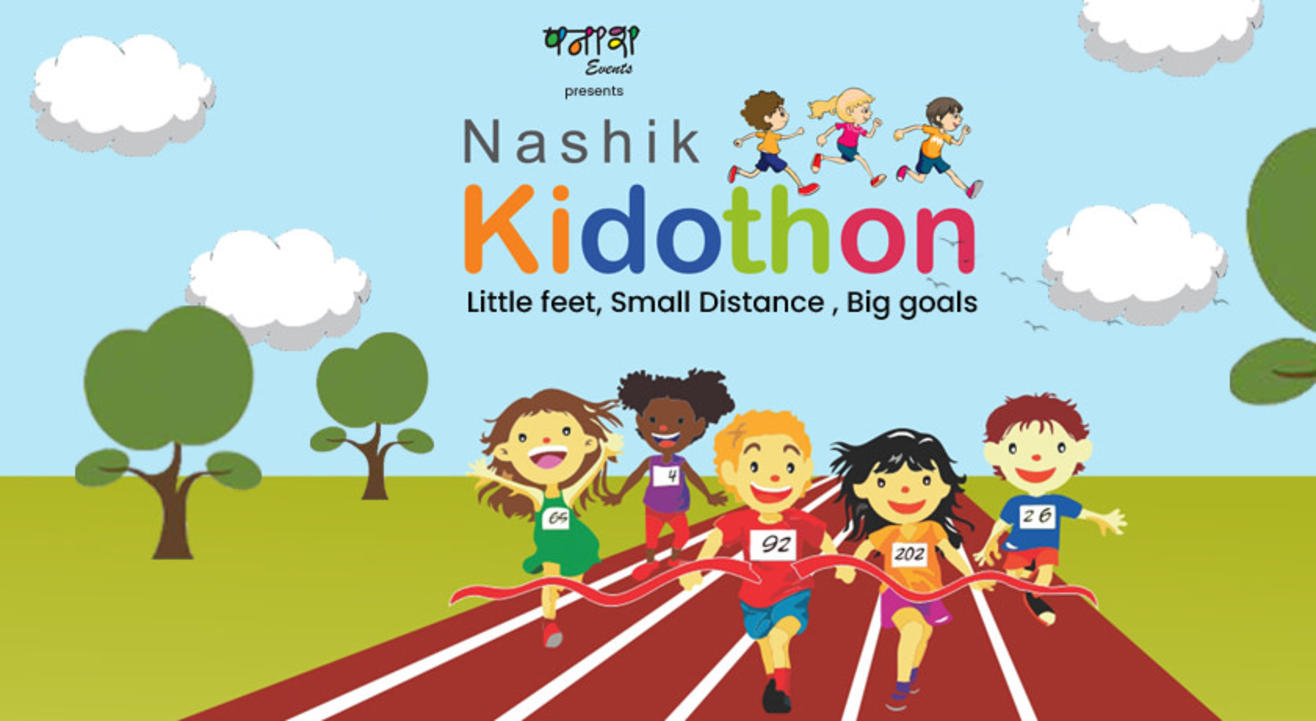 Udaji Maharaj Educational Heritage Museum, Nashik
Step out and enjoy this event
Invite your friends
and enjoy a shared experience
Udaji Maharaj Educational Heritage Museum, Nashik
Step out and enjoy this event
Invite your friends
and enjoy a shared experience
Invite your friends
and enjoy a shared experience
Panache Event Presents
Nashik Kidothon for age group 3-14 years
▶️ Benefits to Kid participant
1. Event Tee Shirt
2. Event Finisher Medal
3.Event Finisher Certificate
4. Refreshments
5. Discount Voucher
6. One time free Haircut in Unisex Salon
7. One time free Nutritional session by Nutritionist
8. One time free Master Phonics session by renowned classes
9. One time free Kathak Dance session by Kathak rofessional
10. Calligraphy Professional Networking at Event
11. Stencil Art Professional Networking at Event.
12.Free gift - Water Bottle
▶️ At event date 30 April 2023 Karate session, Guitar-Music Session, Zumba Workout, Dance performance by student, Laughter Therapy
▶️ Free Basic Health check up by Padetratian
▶️ Participants Videos and Photography at Event
DISCLAIMER for Parent/ Guardian/ Participant :
 The event Organizer, the event sponsors and any other party associated
with the event , are released from any and all liability what so ever, which
may arise from any direct or indirect loss, injury or death, caused by any
person's actual or intended participation in the event and its related
activities.
 The registration fee is non–refundable. If the event gets cancelled or
stopped for any reason or personal circumstances arises that prevents a
person from participating in the event or completing the event the entry
fee shall remain non-refundable
 ALL Rights are reserved by Panache events.
 With every kid participant, one parent or legal guardian must accompany.
Without this, kid participant will not be allowed in participation in the
event.
 For Nashik Kidothon 2023 -Edition -2 by Panache Events which will be held
on 30 April, 2023, with every kid participants maximum/only two
parents/legal guardians are allowed to enter the premises. Parents
/guardian will be provided with entry passes by Panache Events one day
prior. These passes are necessary to enter the event with Kid participant.
Without which, parents' entry can be restricted by organizers. (This is taken
to safeguard the safety of your kid as any unknown person should not enter
the premises.
 I agree to abide by the Event Rules and with the directions of the officials
and their personnel.
 I agree to wear the Event BIB and to allow the organizers and sponsors to
use Photographs, video and film of me taken during the event to advertise
their products or to promote the event at no cost to the organizers and
sponsors.
 I understand that participation in this event is at my own risk. I am fully
responsible for my personal belongings at the event.
 I will comply with all the directions given on the entry form, confirmation
letter, race Pack information and pre-race briefing.
 I am in sound physical condition and health, capable of safely competing in
the event and am not aware of any medical condition to the contrary.
 By competing, I accept all risks flowing from my participation which could
result in loss of life or permanent injury or damage to property.
 Prices mentioned are subject to change without prior notice and properties
mentioned are subject to availability. You can expect a call, SMS or emails
on details registered with us.
 Though the Venue space has parking facility available but its limited
parking. So we request you to use public transportation, car pulling services
as much as possible to avoid the rush at the venue. Organizers of event or
anyone connected is not responsible for your vehicle or safety of your
vehicle while parking ad leaving it unattended for your participation in the
event.
 You will follow all safety rules provided by event organizers.
Udaji Maharaj Educational Heritage Museum
2Q76+MWW, D. K. Nagar, Nashik, Maharashtra 422005, India
GET DIRECTIONS
Udaji Maharaj Educational Heritage Museum, Nashik
Step out and enjoy this event
Invite your friends
and enjoy a shared experience