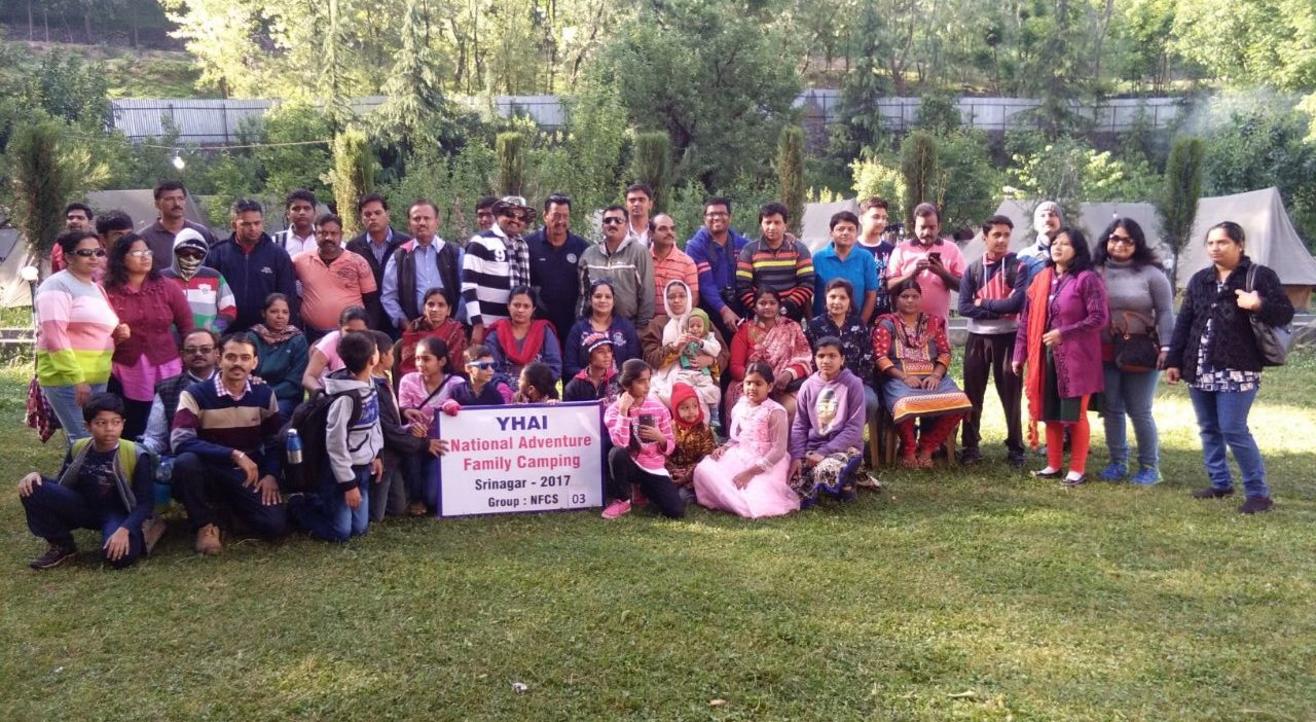 Camping
National Family Camping cum Training Expedition Srinagar 2019
About
Location: Srinagar, Kashmir : Kashmir is the northwestern region of the Indian subcontinent. Youth Hostel Association of India invites you to Discover and Explore the Ultimate Paradise on Earth, Cradled in the lap of majestic mountains of the Himalayas, Kashmir is the most beautiful place/valley on earth. One of the Mughal Emperor Jehangir has expressed Kashmir while visiting to this paradise.
*Reporting Point : Harwan Garden, Srinagar
Our base camp is located very close to Harwan garden, which is about 21 kms from Srinagar and 03 kms beyond the Shalimar Garden in Srinagar district of Jammu and Kashmir. Harwan is one of the famous tourist destination . A beautiful canal, fed from a lake just behind the garden, passes through its center. The canal is bordered with blossoming flowerbeds and chinar trees. The main attraction of the Harwan garden of Kashmir, is its natural beauty that is present in plenty. The big lawns, carpeted with green grass, draw people towards this place. It also serves as a take-off point for visiting Dachi Gam Wild life sanctuary.
*Altitude of Base Camp : 5600 feet approximately
* Program Includes: Simple vegetarian meals , One Family will be given one tent.
(Participants will have to pay for transportation while visiting different places)
* Day Wise schedule:
#Day 01: Report at Harwan Basecamp, Srinagar
#Day 02: Visit to Pahalgam
Pahalgam is around 90 Kilometers from base camp and situated at an altitude of 7500 feet from sea level. The Lidder River running through it makes it even more picturesque. The best attractions of pahalgam are Betab Valley, Baisaran Valley ,Aru Valey, Zoo, Amusement park, Trout Fishing, Jamia Masjid, Mamal Temple, River Rafting etc.
#Day 03: Visit to Gulmarg
Gulmarg lies in a cup shaped valley in the Pir Panjal Range of the Himalayas, at an altitude of 9000 feet from sea level and around 70 km from base camp. The beautiful valley of gulmarg is famous for many attractions one of the best fascinating thing is World's highest Car Cable Corporation (Gandola) which offers the interested tourists a wonderful view of kashmir valley at an altitude of 14200ft.
#Day 04: Visit to Sonamarg
Sonamarg is an alpine valley , situated at the bank of Nallah Sindh, 87 km north-east from Srinagar, it is a popular tourist destination, nestled with in the imposing Himalayan peaks. It lies at an altitude of 9000 feet above sea level. The best attraction of sonamarg is Thajivas Glacier
#Day 05: Local Sight Seeing and Shopping
Participants will be offered many places to visit like Dal Lake, Shikara Ride in Dal Lake, Nishat Garden, Shalimar Garden, Hazratbal, Chashmashahi, Tulip Garden, Pari Mahal etc. Final destinations will be decided on the spot as per demand and situation.
#Day 06: Checkout after breakfast
Note : Route and Schedule of the programme may change without prior notice based on the local condition.
*Flora and Fauna
Kashmir valley comprises about more than 3000 species of trees and plants. The plants of the western-side are well known for their medicinal properties it is a storehouse of medicinal and aromatic plants, which are used in pharmaceutical and perfume industries as raw material. It includes 55 species of important medicinal and aromatic plants.
The fauna of Kashmir is diverse due to its unique location and climatic conditions. About 16% of the countries mammals, birds, reptiles, amphibians and butterflies are present in this valley. Kashmir valley is home of about 75-species of mammals, besides several sub-species, belonging to 54 genera, 21 families and 8 orders. Hangul and Snow Leopard that surviving there from times unknown. We can see many more fascinating and exquisite forms of life in many national-parks and sanctuaries that are present in the valley.