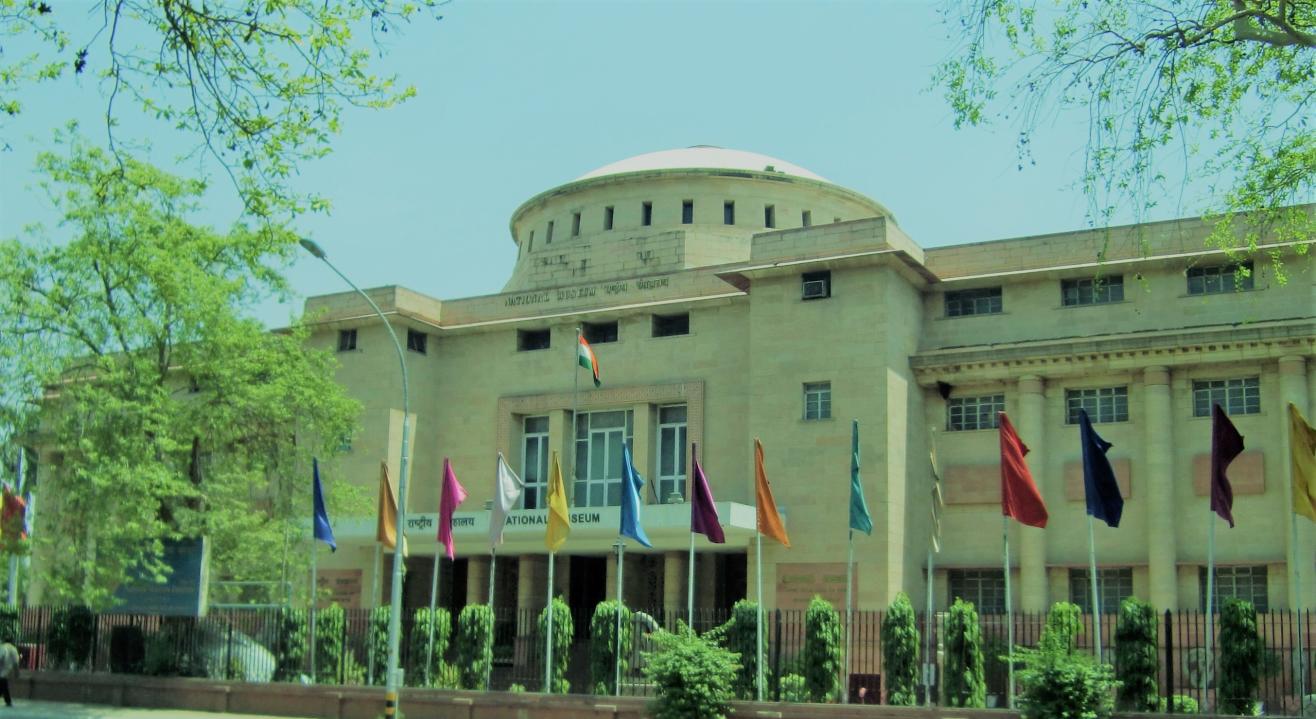 Take a tour of the National Museum of India from home
Being one of India's largest museums, it is home to over 2,00,000 works of art, history & culture. Take a virtual tour today and see it yourself!
Invite your friends
and enjoy a shared experience
If you're fascinated by stories from the bygone era, you're in for a treat today. The National Museum Delhi (also known as the National Museum of India) is a history lover's paradise. It's got some of the rarest and most exquisite collections that will blow your mind away. No matter how old you are, you've gotta take a tour once. But why are we telling you all this? It's 'cause you can take a virtual tour of the National Museum Delhi today.
Things to see at the National Museum Delhi
Ask us to name some collections that one should check out and we'd say: Ivory Carved Dashavtar, Harappan Gallery, Mughal coins from 963 AD - 1605 AD, statue of the Dancing Girl from Mohenjo-daro, Akota Bronzes, carved wood vahanas, Miniature Paintings gallery, Manuscript gallery, Jade collection and well, actually there's a lot more. We recommend you choose from the various collections below before you begin with your virtual tour:
During the 1947 Partition, the issue of ownership came up - and sharing the collections from Harappan Civilisation equally was taken as the solution. While necklaces and girdles had beads taken apart and sent across the border, when it came to the two most celebrated figures found in Mohenjo Daro, Pakistan asked for and received the steatite figure of a bearded male, dubbed the 'Priest-King', while the National Museum of India retained this 6ft tall bronze statuette of the 'Dancing Girl', a nude bejeweled female.
Another interesting fact is that at the time of Mahaparinirvana of Buddha, the relics were split into 8 different parts, which were then used in the 8 stupas. Legend says, they were further passed on to 84,000 stupas during the rule of Emperor Ashoka. Barring the stupa in Lumbini, Nepal (which is the only untouched Stupa to exist) all others underwent excavation and one such part of the Buddha's relics can be seen on display here at the National Museum Delhi, showcased in a Thai golden enclosure.
Must-see things at the National Museum Delhi -
The galleries at the National Museum Delhi will leave you mesmerized. You absolutely have to take time out for a quick tour. The Decorative Arts Gallery, Miniature Paintings Gallery, Evolution of Indian Scripts and Coins Gallery, Central Asian Gallery, Maritime Heritage Gallery are some of our personal favourites.
Here's a peek into what these galleries have to offer: Pictured below are the late medieval artifacts on display. Key highlights here are - the statues of Sun God - Lord Surya (From Sun Temple, Konarak), and Saraswati - Goddess of Music, Learning, and Intelligence. Carved in Marble, the statue from Pallu, Rajasthan - A masterpiece!
Rated 5 Stars
Ever since the first time, we've been big fans of this institution. So, every time we're in Delhi, you'll find us spending hours doting on the culturally rich collection - if not walking up and down the marvelous galleries. And it's not just us, but the museum has received high praise globally - thanks to the rich heritage of Indian as well as foreign cultures that it has successfully preserved and beautifully exhibited.
Our favourite thing to do?
Whether it's in person or through this virtual tour - a walk down the museum and you'll notice that you're actually travelling in time, thanks to the objects that are displayed chronologically. One might say, viewers and visitors, can travel down memory lane, quite literally. It is such attention to detail that this museum has become a favourite among tourists, historians, explorers, and heritage buffs. It goes straight to the top on our list of "Top 10 Museums & Heritage Places to Visit in India".
About the museum
One of the prime museums to visit, The National Museum Delhi is home to India's most valued artifacts. The rich heritage of the museum is a result of being in possession of approximately 2,00,000 works of precious antiquity. Its collection actually spans over five thousand years of our cultural heritage. (you're not freaking out, we are)
Established in 1949 and functioning under the Ministry of Culture, Government of India, the National Museum Delhi is one of the largest museums in the country. The relics showcased here cover a vast period of time ranging from the prehistoric era right up to the modern works of art. History buffs can even enroll for a master's or a doctoral degree in History of Art, Conservation and Museology from the National Museum Institute which is housed on the first floor of this building.
Things to do at the National Museum
Watch Film Screenings
Take Guided Tours
Participate in Gallery Talks
Attend Special Lectures
Sign up for Training Programmes
Check out the Facility for Photography
Visit the Archives & the Library
How to reach the National Museum Delhi?
Like they say Dilli Abhi Door Hai, but don't worry you can actually take a virtual tour sitting right at home. Click here to take a virtual tour today, and the next time you're in New Delhi, don't forget to pay a visit to this beautiful institution. The magnificent building can be easily spotted in New Delhi's well known Janpath area and is located at the corner where Janpath road and Maulana Azad Road meet.
Address: Janpath Rd, Rajpath Area, Central Secretariat, New Delhi, Delhi 110011. Nearest metro station is the Udyog Bhawan metro station. Click here for directions.
Subscribe to receive our newsletter!
Find the best experiences happening out there in your city or enjoy handpicked content while sitting comfortably at home. Paytm Insider is your go-to place to figure out what to do today!