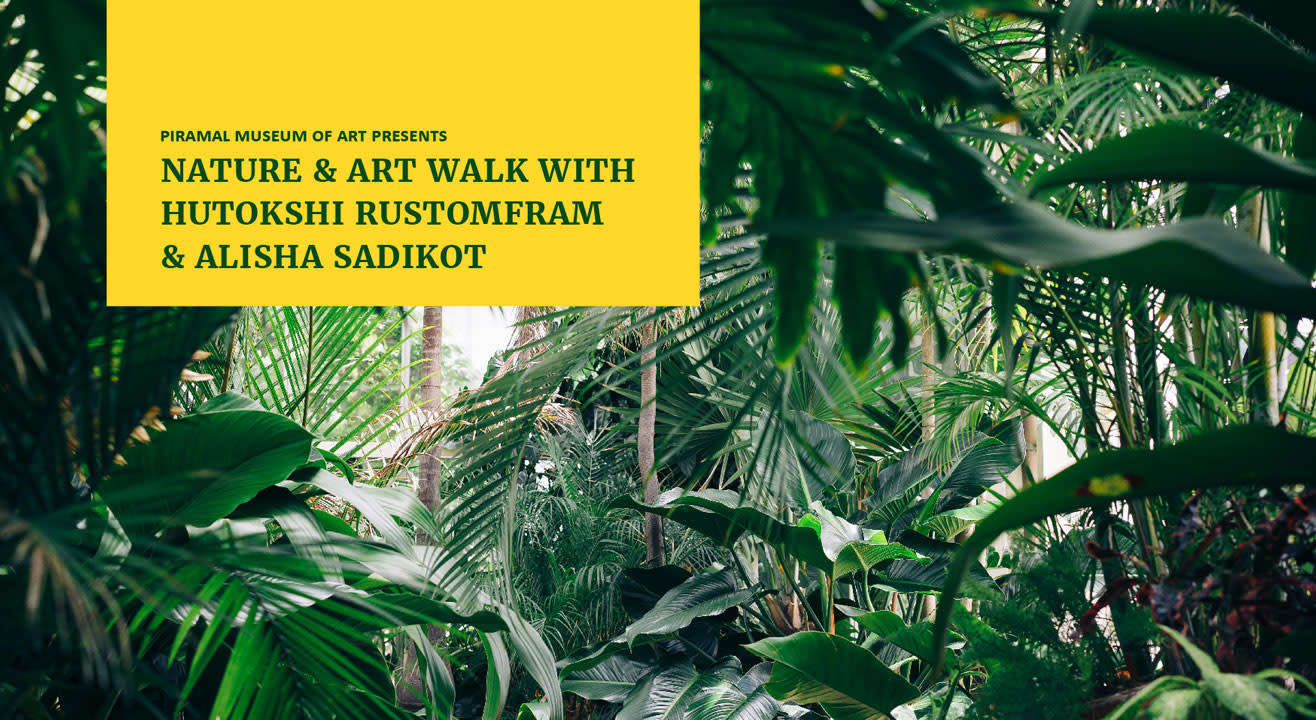 Outdoor
Nature & Art Walk With Hutokshi Rustomfram & Alisha Sadikot
Piramal Museum of Art | Mulund Gallery
About
Discover Byculla through fresh eyes as we connect the nature, history and art of Byculla through a nature and heritage walk. We open with tea at Piramal Museum of Art, Byculla Gallery that features a Thukral & Tagra work -- a series of 26 artworks at the gallery inspired by the flora of the Veermata Jijabai Bhosale Udyan and Zoo. Each of these trees is the subject of a canvas. We then walk towards Rani Bagh's Botanical Garden where Hutokshi Rustomfram will take us on a tree appreciation walk covering some of these trees but also exploring the larger context of the garden. Alisha Sadikot takes over from here and takes us on a heritage walk as we travel through 19th century Byculla. This walk encourages an exploration of its complex histories, natural beauty and unique contemporary character in the face of the city's transformation.
Alisha Sadikot is an independent museums and heritage learning consultant working to instigate critical and creative public engagement with art, museum collections and heritage spaces in Mumbai through curated walks, visits and workshops. Formerly, she was Curator, Education & Outreach, at the Dr. Bhau Daji Lad Mumbai City Museum from 2012 - 2015.
Hutokshi Rustomfram is one of the co-founders of Save Rani Bagh Botanical Garden Action Committee and author of Rani Bagh 150 Years.
08:15 AM - Meet at Piramal Museum of Art, Byculla Gallery (Piramal Aranya). Tea and biscuits and Introductions amongst presenters and participants, followed by a short art walk on the T&T series of art works.
08:50 AM - Proceed to Rani Bagh
09:00 AM - Hutokshi Rustomfram takes over and starts the nature and tree appreciation walk
10:00 AM - Alisha Sadikot starts the Byculla Heritage walk outside the Bagh
11:30 AM - End our heritage walk at the entrance to Rani Baug
Route: Piramal Musuem of Art, Byculla Gallery - Rani Baug - Gloria Church - Masina Hospital - Regina Pacis - Regal Cafe - Byculla Station - Byculla Market - Rani Baug
Venue
Piramal Museum of Art | Mulund Gallery
Piramal Museum of Art, Piramal Tower, Ground Floor, Peninsula Corporate Park, G.K.Marg, Lower Parel, Mumbai