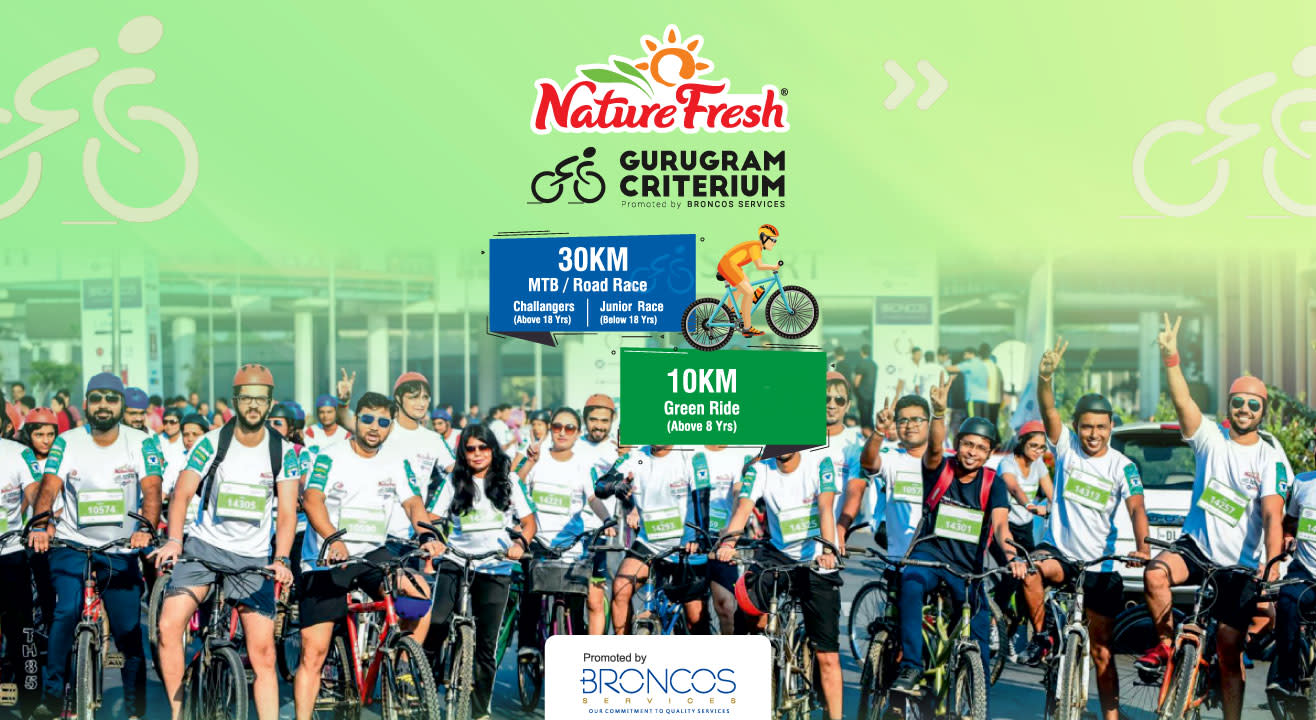 Marathon
Naturefresh Gurugram Criterium 2019
About
After a grand success of First edition of NatureFresh Gurugram Criterium 2018, we are coming up with our second edition of Gurugram Criterium – I pledge for active healthy lifestyle and greener city.
A unique cycling event which caters challenge and beginner cyclist and aims to promote healthy living and reduce carbon footprint. For Challenge category we have Timing Chip systems for an accurate and instant result. Safety and wellbeing of every participant is at the very heart of the event and Road will be blocked and Traffic will not be allowed until Event is over. Many Organizations encourage its employee to participate in such activities as they see it as a fantastic opportunity for Team building, corporate networking and encourage then to adept healthy lifestyles.
There are two main categories in Gurugram Criterium. Each category has its own color code.

1. Challengers Race
The subcategories are:
Challengers : Challengers Road Race / Challengers MTB Race – Above 18 Years of Age
Juniors : Junior Road Race / Junior MTB Race – Under 18 Years of Age

1 Racer, male or female races the entire distance of 30KM.
Subcategories
- Male
- Female
Age Subcategories
- Under 18 year of age (above 8 years of age)
- Above 18 years of age

2. Green Ride
1 Racer, male, female or kid races the entire distance of 10 Km.
Subcategories
- Male
- Female
Kids
- Age Restriction
- Above 8 years of age
Top 5 of the challangers category (for Juniors top-3) will be awarded.
The Top Three of Elite & Chanllengers will receive prize money and will be honored at the final celebration ceremony.
Bike Types and Safety Equipment
All riders of challenger race must be 12 years old on the year when starting the race unless participating in the Green ride category. Rider under the age of 12 on the year can apply for an exception to the race management.
Helmets are mandatory.
Participant are free to use any Bikes other than Electronic Bike
There are no qualifying requirements for participation in the Gurugram Criterium Green ride any one can register (above 8 years of age).
All riders of Challengers must be 12 years old on the year when starting the race unless participating in the Green ride category. Riders under the age of 12 on the year can apply for an exception to the Race management.
All riders of Green ride must above 8 years of age.
Ignorance of the rules is no excuse. These rules exist for 3 main reasons:
Safety
Fairness
To uphold the integrity of the race

Time and Checkpoints
Start Time (IST) 25 Aug 2019
Start Time (IST)
Sunday, Aug 25th 2019 at 5:00 –Challengers Race Category
Sunday, Aug 25th 2019 at 7:00 – Green Ride Category
Sunday, Aug 25th 2019 at 9:00 - Final Celebration for all riders and supporters.
Racers must finish within their allowed time to be considered an official Challengers Race
Category (Men, Women) – 1:30 hours
Junior's Race Category (Boy,Girl): 1:30 Hours
If you are concerned about finishing within the allowed time, please consult with the Race Director for possible consideration.
To be considered an official Gurugram Criterium Finisher a racer must:
Finish within the time allowed for their division
Still be eligible to race (not disqualified)
All others who cross the finish line beyond the time allowed have our full respect for their accomplishment though they are not given any finish time and will have a status of DNF (did not finish).
The Racer with the lowest accumulated time in each Race Division and an official Gurugram Criterium Finisher will be declared the winner of that Race Division. Riders will be listed in the results for the last mileage they completed officially
By registration, Participant is deemed to have accepted all terms and conditions and rules and regulations of the event.
Each applicant is only allowed to register once. Any duplicated registration will be cancelled by the Organizer without prior notice. Registration fee paid for the duplicated entry will not be refunded.
Entry categories, rider packs and timing chips are non-transferable. Violation will result in disqualification and no refund of registration fee will be entertained.
Participants must report to the sign-in position in the assembly area at least 30 minutes before the start time
Participants will be disqualified if they do not start at the designated race/ride category and time assigned by the Organizers. No result and certificate (if applicable) will be issued to those participants
The Organizer will provide a timing chip for Chanllengers rider. Its must be worn as provided and must not be cut, folded, defaced or otherwise modified.
The Organizers will provide a number bib for each Participant which must be worn on the T-shirt All Participants must have hard-shell type helmets and must wear the helmet properly.
The Organizers reserves the right to disqualify or exclude any person from the event, who has provided incorrect personal data/details on the application
Participants must leave the route as soon as they finish the ride.
A Racer may not receive any type of push-off from another person or vehicle
A Racer may not receive pacing of any form within sight of the Racer (on foot, by bicycle, roller skates, or anything else) from a Crew member or other person. Road side cheering is allowed from Crew members and race fans.
Racers may not draft any vehicle and must maintain a spacing of at least 100 meters from Racers and Support Vehicles in other categories. This rule allows following traffic to pass each Racer and Follow Vehicle safely
Racers must stop for drug or medical testing, or imposition of punitive penalties when directed by a Race Official. The time required for such stops will not be deducted from the Racer's time.
Refreshing Memories of NatureFresh Gurugram Criterium 30th Sep 2018