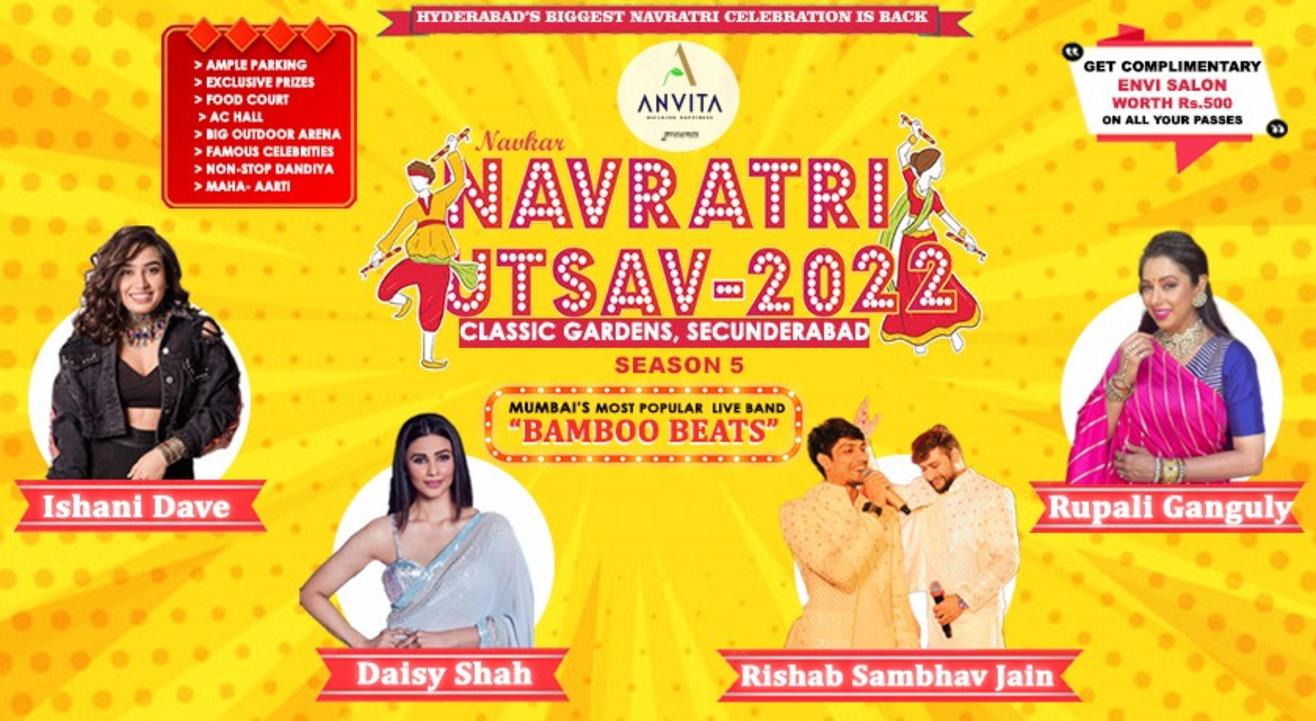 NAVKAR NAVRATRI UTSAV-2022 @ Classic Gardens | Navratri 2022
September 26 to October 4 (Daily 7 PM - 11:45 PM)
Classic Gardens, Hyderabad
Event Guide
For Age(s)
Family Friendly
Live Performance
Enjoy a unique experience
Invite your friends
and enjoy a shared experience
NAVKAR NAVRATRI UTSAV-2022 @ Classic Gardens | Navratri 2022
September 26 to October 4 (Daily 7 PM - 11:45 PM)
Classic Gardens, Hyderabad
Event Guide
For Age(s)
Family Friendly
Live Performance
Enjoy a unique experience
Invite your friends
and enjoy a shared experience
Event Guide
For Age(s)
Family Friendly
Live Performance
Enjoy a unique experience
Invite your friends
and enjoy a shared experience
With Maa Durga's blessings
The biggest announcement of the #Navratriseason is here- Anvita presents Navkar Navratri Utsav 2022 - SEASON 5 with a bang from 26 September to 04 October at Classic Gardens, Secunderabad curated by Navkar Entertainments & I Do Events.
Get READY TO PLAY GARBA With
CELEBRITY SINGER- ISHANI DAVE
Most Popluar- RUPALI GANGULY (ANUPAMA)
Bollywood Celebrity- DAISY SHAH
Special Attractions:
FAMOUS CELEBRITIES | FOOD STALLS | EXCLUSIVE PRIZES | AMPLE PARKING | AC HALL | TRADITIONAL DECOR | FAMOUS LIVE BAND FROM MUMBAI- BAMBOO BEATS| CELEBRITY SINGER
>Huge production with big stage, LED Wall, Sounds and Lights
Live Dhol, Garba dance, etc
>6 Hours of non stop music
>Entire venue decorated to suit the theme.
>Lucky draw, gifts and gift vouchers for best dressed couple, best dressed male/ female, best dancers, etc
>Photo Booth
>Professional Photography
Note: Dandiya Sticks are available at venue chargeable basis.
-Admission Is Subject To Tickets Produced At The Entrance.
- Age Limit: Open for all.
-Children 4 to 8 Years Must Purchase Child Ticket For Admission
-Children Above 8 Yrs Need To Purchase Adult Ticket For Admission.
- Mask is mandatory for every individual entering the garden.
- A ticket shall not be a valid ticket if the hologram has been tampered with.
-No re-entry is permitted for the entire period of the event. Wrist bands will be cut by the security team in case a customer wishes to exit the venue during the period of the event.
-Artist line-up and billed attractions may be subject to change.Organizers reserve the right to perform security checks on invitees/members of the audience at the entry point for security
reasons.
--Organizers or any of its agents, officers, employees shall not be responsible for any injury, damage, theft, losses or cost suffered at or as a result of the event of any part of it.
-Parking near or at the festival premises is at the risk of the vehicle owner. Organizer will not hold responsibility for any damage or theft of any vehicles within the stipulated parking premises of the festival.
-Consumption and sale of illegal substances is strictly prohibited.
-Professional cameras, any form of recording instruments, arms and ammunition, eatables, bottled water, cigarettes, beverages, alcohol are not allowed from outside the festival premises. Food and beverages will be available inside the festival premises.
-Organizers are not responsible for any negative effects of food items or drinks consumed in the venue by guests.
-Persons suspected of carrying items that may be used in an offensive or dangerous manner, or carrying out illegal activities within the site may be searched.
-The holder of this ticket hereby grants organizers the right to use, in perpetuity, all or any part of the recording of any tape made of holder`s appearance on any channel for broadcast in any and all media globally and for advertising, publicity and promotion relating hereto.
-The organizers reserve the right without refund or other recourse, to refuse admission to anyone who is found to be in breach of these terms and conditions including, if necessary, ejecting the holder/s of the ticket from the venue after they have entered the ground.
-Possession sale and dealing in Narcotics Drugs and Psychotropic substances attracts stringent punishments under the Narcotics Drugs and Psychotropic substances Act, 1985 which ranges from 6 months upto 20 years imprisonment and fine upto Rupees Two Lakhs.
-Consumption of the narcotic drug or psychotropic substance (cocaine, morphine, diacetyl - orphine or any other narcotic drug) or any psychotropic substance is liable for rigorous imprisonment for a term which may extend to one year, or with fine which may extend to Twenty
Thousand rupees; or with both under NDPS Act, 1985.
-Please carry a valid ID proof along with you.
-No refunds on purchased ticket are possible, even in case of any rescheduling.
-The sponsors/performers/organizers are not responsible for any injury or damage occurring due to the event. Any claims regarding the same would be settled in courts in Mumbai.
-People in an inebriated state may not be allowed entry.
-Venue rules apply.
NAVKAR NAVRATRI UTSAV- 2022
Classic Gardens
152, near, Paradise circle, Balamrai, Secunderabad, Telangana 500003, India
GET DIRECTIONS
NAVKAR NAVRATRI UTSAV-2022 @ Classic Gardens | Navratri 2022
September 26 to October 4 (Daily 7 PM - 11:45 PM)
Classic Gardens, Hyderabad
Event Guide
For Age(s)
Family Friendly
Live Performance
Enjoy a unique experience
Invite your friends
and enjoy a shared experience