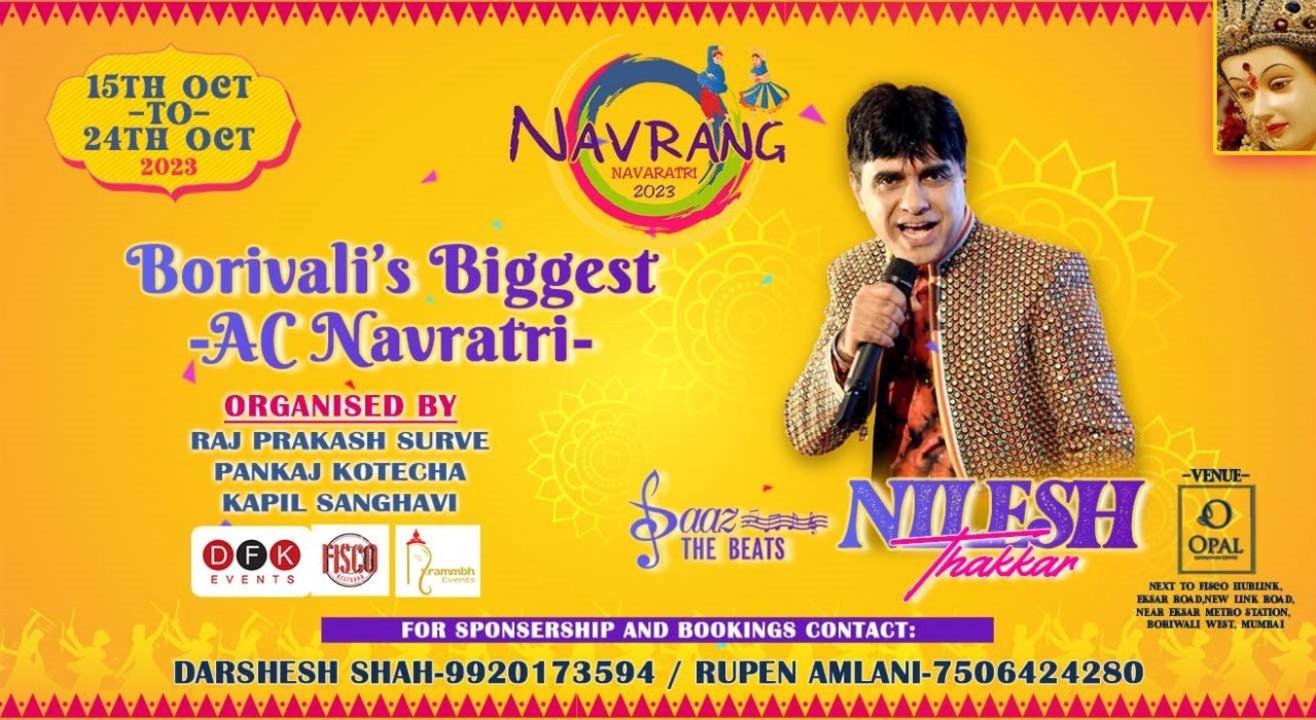 NAVRANG NAVRATRI with NILESH THAKKAR | Borivali West | Navratri 2023
October 15 - October 24 | 8PM Onwards
Opal Convention Centre, Borivali West, Mumbai
Event Guide
For Age(s)
Family Friendly
Language
Hindi, Gujarati, Marathi
Invite your friends
and enjoy a shared experience
NAVRANG NAVRATRI with NILESH THAKKAR | Borivali West | Navratri 2023
October 15 - October 24 | 8PM Onwards
Opal Convention Centre, Borivali West, Mumbai
Event Guide
For Age(s)
Family Friendly
Language
Hindi, Gujarati, Marathi
Invite your friends
and enjoy a shared experience
Event Guide
For Age(s)
Family Friendly
Language
Hindi, Gujarati, Marathi
Invite your friends
and enjoy a shared experience
No Booking Fee!!


Passes available -
Season pass
Day pass
Three day pass
Early bird offer ends soon!
Experience the joy and exuberance of Navratri as we come together to dance, sing, and revel in the spirit of this auspicious festival. "Navrang" promises an unforgettable evening filled with the infectious energy of dandiya and garba, vibrant attire, and a sense of unity that Navratri brings to the community.
Nilesh Thakkar is one of the biggest Navratri singers in the industry today.
Don't miss out on this one-of-a-kind Navratri extravaganza! Book your tickets now and secure your spot at "Navrang" with Nilesh Thakkar - Navratri 2023 organised by Raj Prakash Surve, Pankaj Kotecha, Kapil Sanghavi , DFK EVENTS, FISCO HUB, ARAMMBH EVENTS. Get ready to dance, celebrate, and create memories that will last a lifetime.
FAQs
Q: Is re-entry into the venue allowed?
A: No Re - Entry Allowed
Q: Please mention the age limit, above which a ticket needs to be purchased?
A: 2 years and above
Q: Is parking available at the venue?
A: Yes
Q: Is the venue wheelchair accessible?
A: Yes
Q: Will food & alcohol be available at the venue?
A: Alcohol is strictly not allowed if found consuming legal action will be taken and will be thrown out of the venue.
Food will be available at the venue
Q: At what time will the event start?
A: Gates open at 7PM.
Q: At what time will the event end?
A: Event ends at 10PM.
Q: Is there a designated smoking area?
A: No
Opal Convention Centre, Borivali West
New Link Rd, next to Fisco Hub, Eksar Village, Eksar, Borivali West, Mumbai, Maharashtra 400092, India
GET DIRECTIONS
NAVRANG NAVRATRI with NILESH THAKKAR | Borivali West | Navratri 2023
October 15 - October 24 | 8PM Onwards
Opal Convention Centre, Borivali West, Mumbai
Event Guide
For Age(s)
Family Friendly
Language
Hindi, Gujarati, Marathi
Invite your friends
and enjoy a shared experience