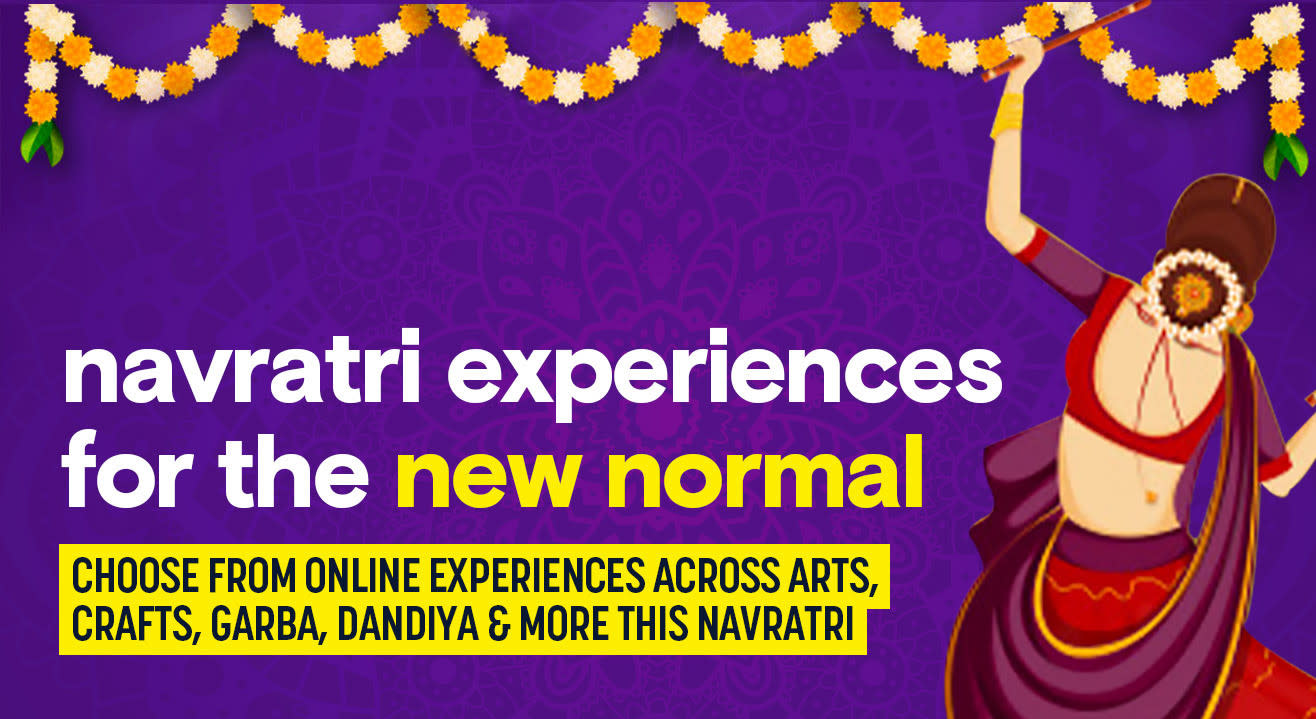 Navratri Events & Celebrations in Bangalore | Dandiya Parties and more!
For all of you who can't wait to bring out the dhoti-kurtas and ghagra-cholis, worry no more as Navratri is here! Check out these online experiences for Navratri 2020 on Paytm Insider.
Invite your friends
and enjoy a shared experience
It's that time of the year when we'd be heading to the Garba grounds and dancing non-stop for nine straight days. Yes, we miss all the dandiya events too and if things weren't this difficult, we'd be spinning with those dandiyas too - but to keep the spirit of Navratri live, we've put together some online events that you can participate in from home. Just like if you've been out of practice, here's one happening in Bangalore that'll help you get started.
Paytm Insider Navratri Picks
It's that time of the year! Life is a little more colourful, festivities all around and (oh yes) there are sweets. So many sweets! But what's missing are the several Navratri events that would be happening around you. Things have changed with the new normal and so has the way we celebrate festivals. So take a look at the top Navratri experiences and celebrate the festival safely.
Remembering Navratri Parties & Events in Bangalore
Only the best dandiya beats with lively mandals, traditional cuisine, and musical performances by renowned artists, singers and DJs. A chance to experience all kinds of music, right from traditional Raas Garba music to Bollywood hits, and even remixes of popular disco tracks.
The food!
Wondering what to do other than dance? Enjoy a nine-day feast with something new on every night of Navratri. From spicy dishes to yummy sweets, traditional cuisine is all about that taste. After all, you need fuel after all that dandiya madness!
Everything bright and everyone dancing!
While we're all familiar with weekend-long music festivals, a dance party that lasts more than a week is totally our thing! Dandiya is all about coordinating and enjoying the "rings" of joy. So no matter where you are you can still tune-in to do the dandiya from home with onlin events this Navratri. Show off your dancing skills and dance along with the over-enthusiastic garba lovers - this time from home. So, come #JoinTheJalsa with digital Navratri experiences this time!
Subscribe to receive our newsletter!
Find the best experiences happening out there in your city or enjoy handpicked content while sitting comfortably at home. Paytm Insider is your go-to place to figure out what to do today!