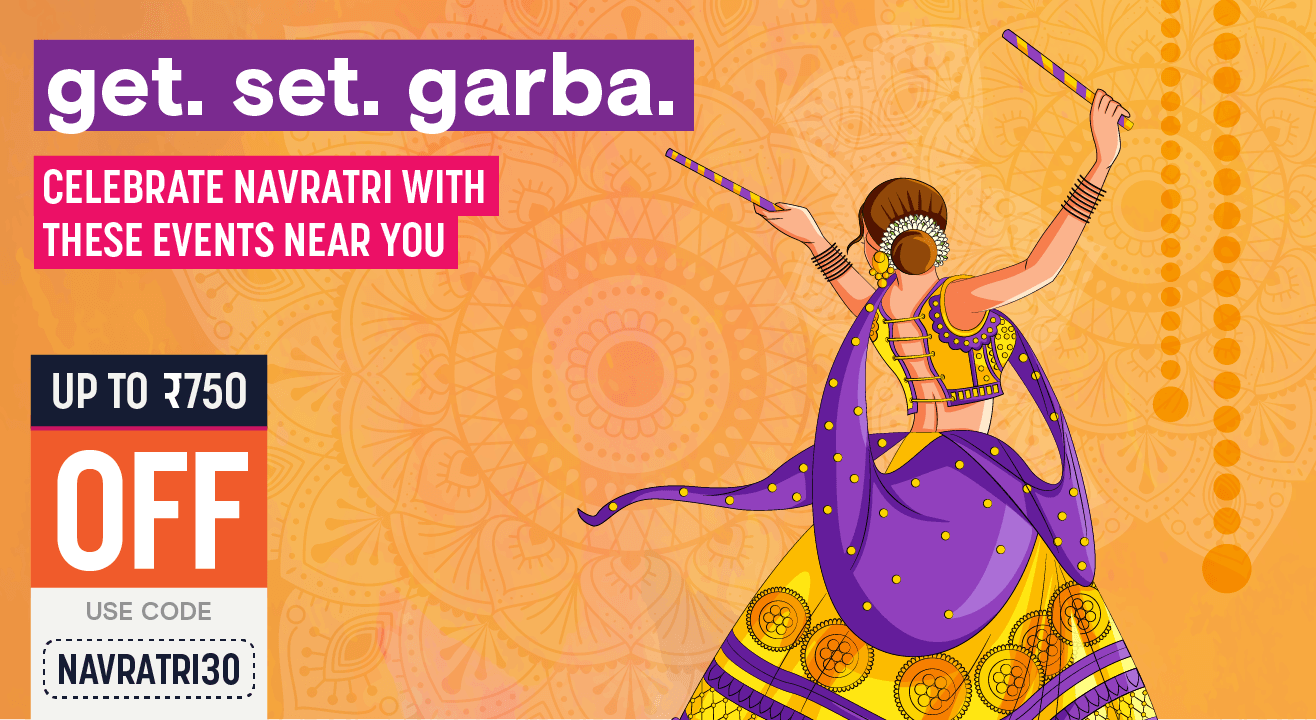 Navratri 2019
Navratri Events & Celebrations in Mumbai | Dandiya Parties and more!
For all of you who can't wait to bring out the dhoti-kurtas and ghagra-cholis, worry no more as Navratri is almost here! Check out the best Navratri events on Paytm Insider.
It's that time of the year! Life is a little more colourful, festivities all around and (oh yes) there are sweets. So many sweets! But most importantly, the several Navratri events happening around you. So take a look at the top Garba events and best Dandiya Nights you should be attending. Also, watch this space for the many more Navratri events to come as we close-in on the dates.
Paytm Insider Navratri Offer
Buy 2 or more tickets and get 30% off up to Rs. 750. Use code NAVRATRI30 (T&C apply).
More events coming soon - stay tuned!

What to expect from Navratri Parties & Events in Mumbai
Only the best dandiya beats and parties (including indoor ones, for those of us who go dancing late into the night). Amazing mandals, traditional Gujarati cuisine, performances by famous artists, singers and DJs: right from traditional Raas Garba music to grooving Bollywood hits, and even remixes of popular disco tracks, it's all here! The indoor parties are where the dancing doesn't stop, and the outdoor parties revel in the post-monsoon weather!
Everything's bright and there's a whole lot of dancing!
Navratri is almost like an early Diwali, as we see long stretches of colourful lights, bright lamps and lively decorations in every nook and corner. While the streets look prettier than usual, so do the people who celebrate Navratri!

Also, while we're all fans of weekend-long music festivals, but how great is it to have a dance party that lasts more than a week! Plus, it's an excellent form of exercise that is emotionally, mentally and physically satisfying. And what's more, it burns as many calories as jogging or swimming! So, come #JoinTheJalsa already!
The food!
Diets can wait (there's a new year resolution for that) - a food coma is coming your way. Sugar, spice, everything nice: it's all here as Navratri promises a nine-day feast with something new every night. After all, you need fuel after all that dandiya madness!
Subscribe to receive our newsletter!
Find the best experiences happening out there in your city or enjoy handpicked content while sitting comfortably at home. Paytm Insider is your go-to place to figure out what to do today!