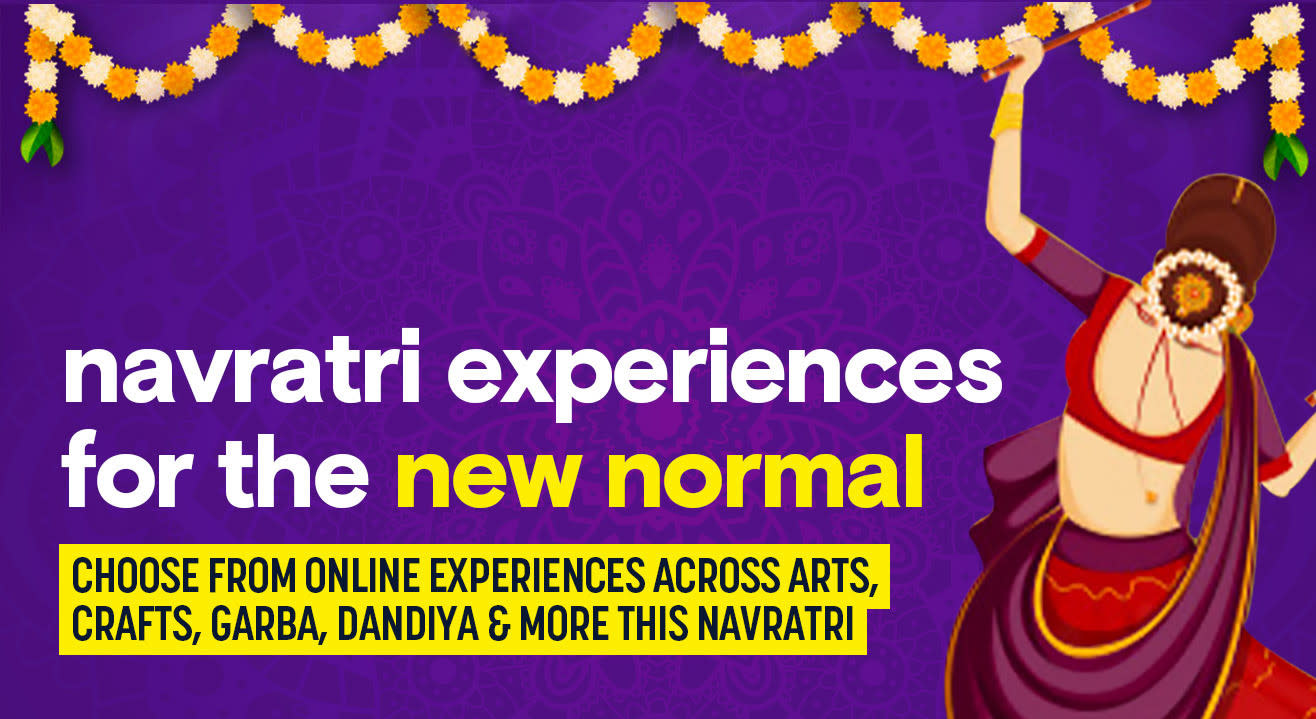 Navratri Events & Celebrations in Pune | Dandiya Parties and more!
For all of you that can't wait to bring out your ghagras and dhotis, worry no more as Navratri is here! Check out these online events for Navratri 2020 on Paytm Insider.
Invite your friends
and enjoy a shared experience
Navratri really brightens the city, quite literally. In light of the pandemic, celebrations have to be toned down - but that doesn't mean we need to change the way we celebrate Navratri. All the art, crafts, dandiya, garba - is now happening online. Join in for some digital experiences this year.
Paytm Insider Navratri Picks
It's that time of the year! Life is a little more colourful, festivities all around and the dancing never stopped. Most importantly, there would be Navratri events happening everywhere in the city! But this time things are a bit different as all the celebrations are now happening online. Take a look at all the online Navratri experiences right here on Paytm Insider.
Remembering Navratri Parties & Events in Pune
Only the best dandiya beats and parties (including indoor ones, for those of us who went dancing late into the night). Amazing mandals, traditional Gujarati cuisine, performances by famous artists, singers and DJs: right from traditional Raas Garba music to grooving Bollywood hits, and even remixes of popular disco tracks. The indoor parties are where the dancing didn't stop, and the outdoor parties where one reveled in the post-monsoon weather!
Everything bright and everyone dancing!
Navratri is almost like an early Diwali, as we see long stretches of colourful lights, bright lamps and lively decorations in every nook and corner. While the streets look prettier than usual, so do the people who celebrate Navratri!
Also, we're big fans of weekend-long music festivals, but how great is it to have a dance party that lasts more than a week! Plus, it'd be an excellent form of exercise that is emotionally, mentally and physically satisfying. And it helped burn as many calories as jogging or swimming! Things have changed, but the spirit is the same. Come #JoinTheJalsa already!
The food!
Diets can wait (there's a new year resolution for that) - a food coma is coming your way. Sugar, spice, everything nice: it's all here as Navratri promises a nine-day feast with something new every night. After all, you need fuel after all that dandiya madness!
Subscribe to receive our newsletter!
Find the best experiences happening out there in your city or enjoy handpicked content while sitting comfortably at home. Paytm Insider is your go-to place to figure out what to do today!