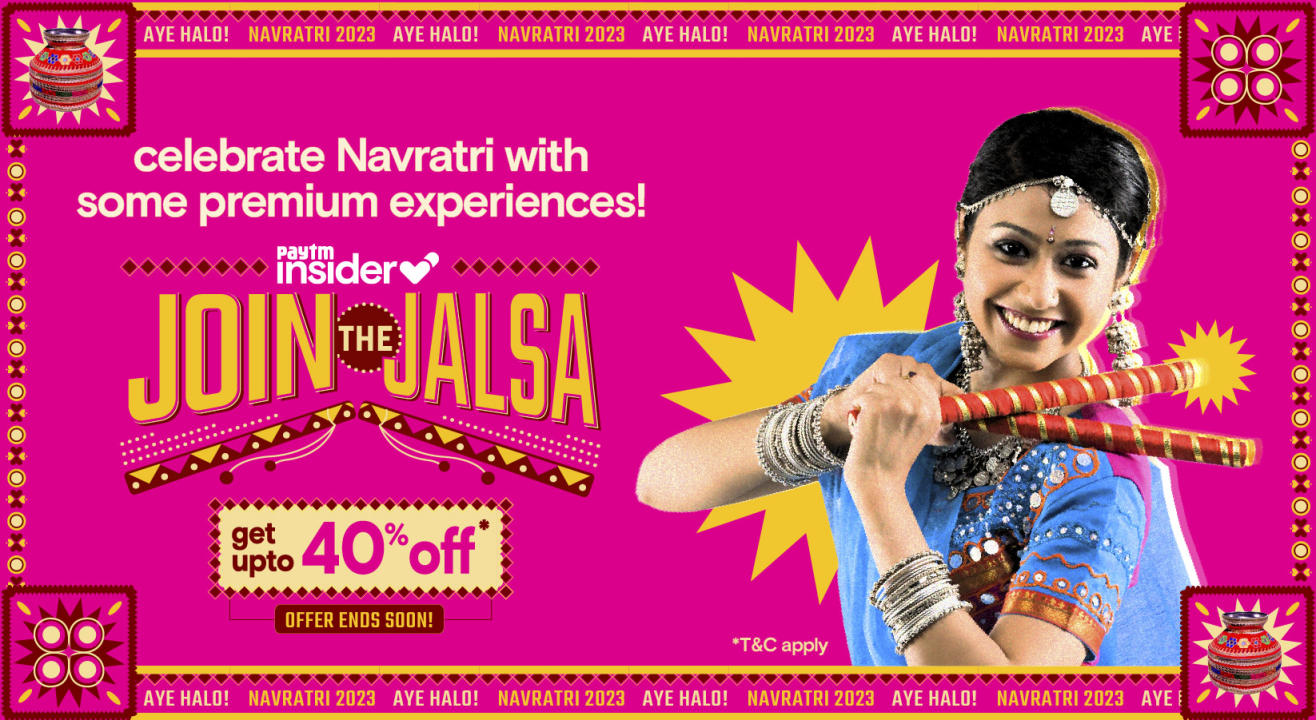 Navratri Events & Celebrations | Dandiya Parties and more!
Join in the celebrations with some arts, crafts, garba, dandiya & many such Navratri experiences in 2023.
Invite your friends
and enjoy a shared experience
Navratri 2023 Offer
Get 40%* OFF. Use CODE: NAVRATRI23 when booking your tickets.
*T&C Apply. Scroll to the bottom of the page for details.

Trending Events this Navratri
Premium Events this Navratri
Pocket Friendly Events This Navratri
Navratri is the festival that opens the door to all grand festivals, and we can't stress enough on how much we missed dressing up in our ghagra-cholis, kedias and kafnis to head out to the grounds for some Garba. For all of you that can't wait to bring out your ghagras and dhotis, worry no more as Navratri is almost here! We've put together some experiences for you to enjoy this Navratri.
There are so many ways to celebrate Navratri 2023!
Remembering the good times
The crowd dancing to hits by Falguni Pathak, 'Sanne Do' making them do the garba, mandals shining with festive lights, all-in-all: you and your gang having a great time. The ideal Navratri party had the best music and the perfect vibes that'll make anyone want to get moving. Often you'll find lip-smacking food, fun games, and even gifts!
What To Expect at A Navratri Event
Everything's bright and there's a whole lot of dancing
You'll see ladies in colourful ghagra-cholis, and men decked up in kafnis and kediyas. While people might come with a set of their own fancy dandiya sticks, sometimes organisers provide great ones too. Watch out for dance circles with great coordination and energetic garba lovers. You'll see some confused dandiya dancers who get support from the rest of the circle. That's exactly what's so beautiful about Navratri - gathering together to celebrate as one!



Tuck in
Food so good, you'll never see the end of it. All the great dishes that traditional Navratri cuisine has to offer (the diet can wait). Keep an eye out for the classic fafda-jalebi combination, it's a must-try!


Let loose
No one stops until the music stops - even volunteers can be found swaying ever so slyly. For those who do need a break, there are games to challenge your gang, lucky draws that might be too tempting to try, and even gifts, and celebrity appearances. There are also dandiya lessons for beginners, dhols and DJs to help keep you keep dancing through all nine days!
Terms and Conditions for the Navratri 2023 Offer
The max discount amount is subject to change.
Discount upto ₹1000, Minimum cart value of ₹2500 for one event or item.

All decisions taken by Paytm Insider on any dispute regarding the discount is final.
This discount code can only be used once per user.
Subscribe to receive our newsletter!
Find the best experiences happening out there in your city or enjoy handpicked content while sitting comfortably at home. Paytm Insider is your go-to place to figure out what to do today!