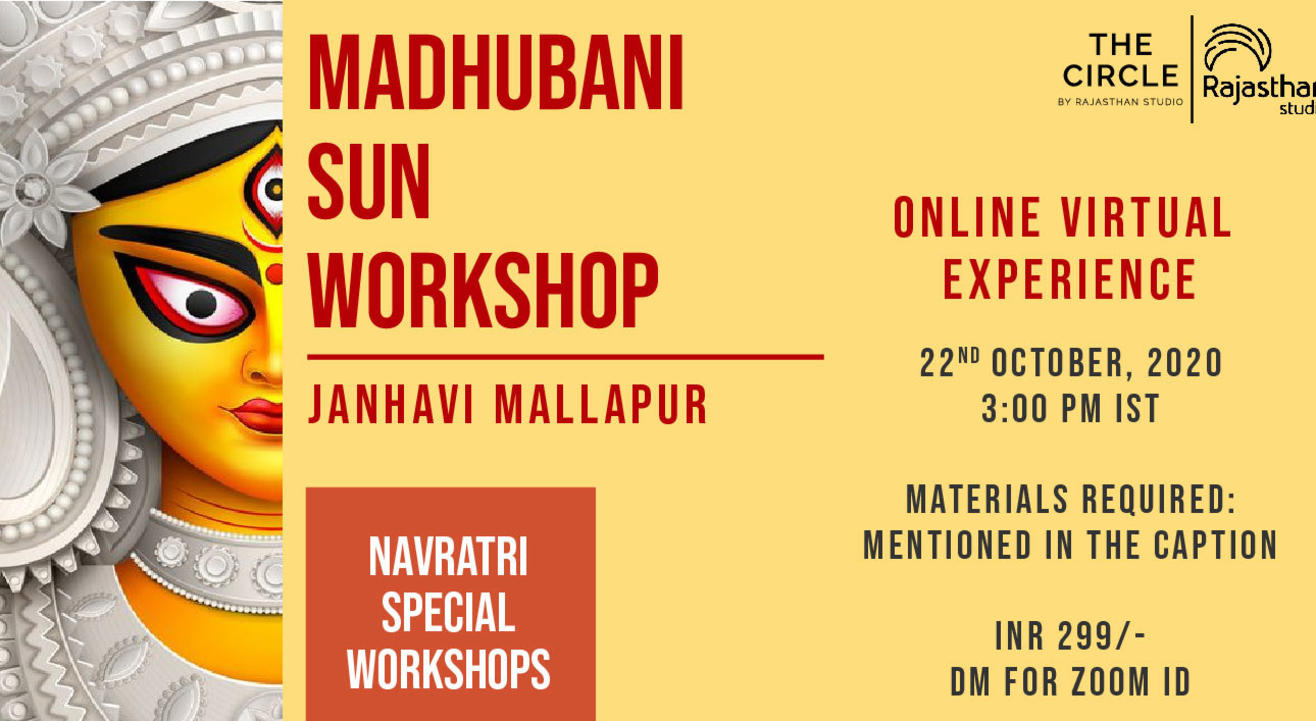 Navratri Specials - Madhubani Sun Workshop by Rajasthan Studio
Enjoy this event from your home
Invite your friends
and enjoy a shared experience
Invite your friends
and enjoy a shared experience
About the Event
NAVRATRI SPECIAL DAY #6
Madhubani art (or Mithila painting) is a style of Indian painting, practiced in the Mithila region of the Indian subcontinent. Traditionally, the Madhubani Sun is painted by the folks of Madhubani region as a tribute to the supreme deity of all nature forces - the Sun God. This painting is traditionally done with a variety of tools, including fingers, twigs, brushes, nib-pens, and matchsticks and using natural dyes and pigments.
Janhavi Mallapur ( @papershaper_27 ), our star artist who is also an art educator will take us on this Madhubani art journey in this Navratri special workshop. Yellow being the colour of the day, let's spend Navratri the artistic way. Come join us on:
Date: 22nd October, 2020
Time: 3 PM IST
Venue: Online Workshop over Zoom App (DM for details)
Price: INR 299/-
The Experience is Free for Circle Members
To request for Circle Membership please email us at contact@rajasthanstudio.com
(Link in Instagram bio for Booking the Paid Slot)
Materials Required:
Paper ,
Pencil,
Black waterproof gel pen / fine liner
Yellow and orange paints
Brush pen
Oil pastels
P.S. No entries will be accepted after 1 PM on the day of the workshop.
See you!
#rajasthanstudio #onlineworkshop #workshop #yellow #madhubani #madhubanisun #madhubanisunpainting #sun #madhubanipainting #madhubaniart #painting #navratri #onlinelearning #virtualexperience #artistsoninstagram #explore #creativity #design #rajasthan #thecircle #thecircleexperience #artist #artists #eksoart #artbaje
#navratri2020