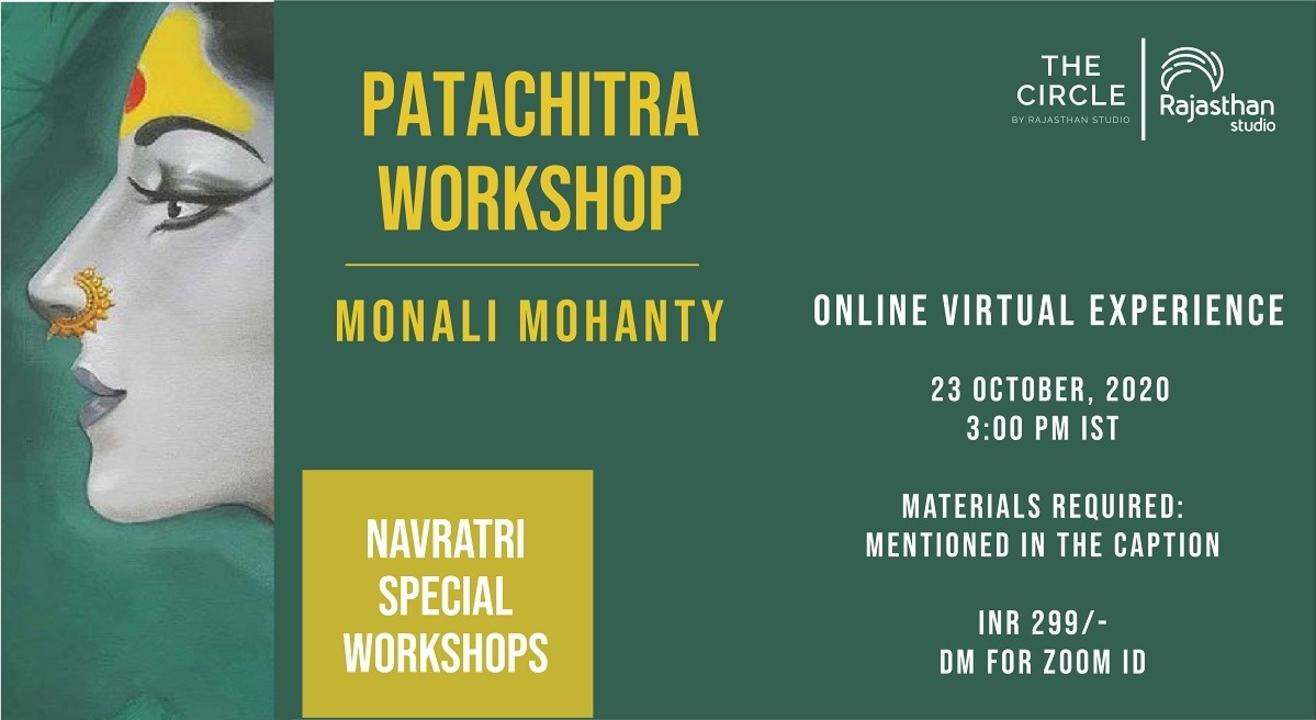 Navratri Specials - Patachitra Workshop by Rajasthan Studio
Enjoy this event from your home
Invite your friends
and enjoy a shared experience
Invite your friends
and enjoy a shared experience
About the Event
NAVRATRI SPECIAL DAY #7
Patachitra Paintings are one of the oldest and most popular art forms of Odisha. Pattachitra artform is known for its intricate details as well as mythological narratives and folktales. These paintings are based on Hindu mythology and specially inspired by Jagannath and Vaishnava sect. Besides wall hung paintings, Pattachitra is also painted on shoes, pots and sarees! Green being the colour of the day, spend this Navratri the artistic way!
To take a retour of Patachitra workshop, join Monali Mohanty (@rangbyMonaliMohanty ) on:
Date: 23rd October, 2020
Time: 3 PM IST
Venue: Online Workshop over Zoom App (DM for details)
Price: INR 299/-
The Experience is Free for Circle Members
To request for Circle Membership please email us at contact@rajasthanstudio.com
(Link in Instagram bio for Booking the Paid Slot)
Materials Required:
1. Drawing Paper
2. Black Pen/ Black Gel pen/ Black permanent fine tip/micro tip marker pen
3. Acrylic Colors or Poster Color (Green compulsory)
4. Set of Round Brush (size 0,1,2, 4/5/6).
5. Flat brush - 2 (size 6/5/4 and size 2/3).
6. Pallet, water and rough cloth
7. Pencil, scale, eraser
8. 2-3 rough drawing papers (for practise)
P.S. No entries will be accepted after 1 PM on the day of the workshop.
See you!
#rajasthanstudio #onlineworkshop #workshop #green #pattachitraworkshop #pattachitra #traditional #navratri #onlinelearning #virtualexperience #artistsoninstagram #explore #creativity #design #rajasthan #thecircle #thecircleexperience #artist #artists #eksoart #artbaje #navratri2020