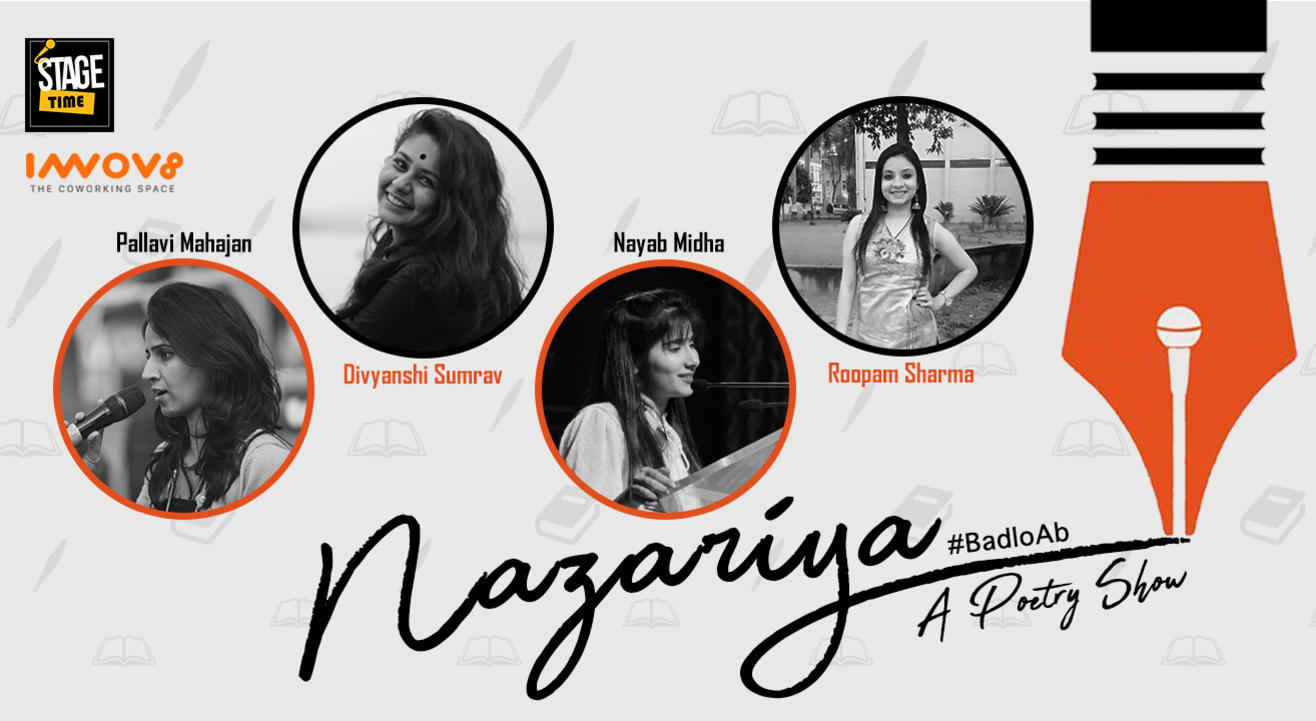 NAZARIYA #BadloAb - A Poetry Show
Invite your friends
and enjoy a shared experience
NAZARIYA #BadloAb - A Poetry Show
Invite your friends
and enjoy a shared experience
Invite your friends
and enjoy a shared experience
After a very successful houseful show in February we are coming again with Nazariya. Nazariya is a show that gives you hope to live life to your full potential and challenge the society where it should be challenged. We bring the best poets from the city to change your perspective to life and make it a more happier and hopeful space.
Take out this evening and join us on this ride of emotions through words.
Witness the magic these girls create.
Artists' details:
Pallavi Mahajan-
Recently got recognized for "Sukoon" (performed at stage platform). She completed her masters in dentistry in 2016. She has been writing since school and started performing her write-ups in Delhi poetry circuit an year and a half back . She has been appreciated for her voice, content and presentation skills. Sukoon has hit a chord with more than 10 million people on social media. Farhan Akhtar has been her
poetry writing skill's fan. She strives to write better, perform better and keep connecting with world through her words.
Nayab Midha-
An engineer by profession and poet by passion, trying to make in the world of art, Nayab has been performing spoken word art for 3 years now, her latest poem "Tum Khoobsurat ho" touched 10Million views on facebook , her pieces are about shattering social norms that should not have existed at first place.
Divyanshi Sumrav-
A curious life-enthusiast seeking synchronicity in poetry and stories. She has written poems, with gross viewership of about 10 million on Facebook and Youtube.
Roopam Sharma-
She is an Engineer by profession, a spoken word artist by passion, a storyteller by nature and a poetess by heart. She has been a TEDx speaker, performed at TEDx unplugged Mumbai in July 2019 and also has been facilitated by the President of India with a pen for a rendition of Dr. A.P.J Abdul Kalam in November 2019. She has recently been a part of "The Kapil Sharma Show".
Naman Khullar-
Naman was 5 years old when he first met music and that's when he knew this is his first love. Today he can play about 12 musical instruments.
Innov8, Delhi
69, Regal Building, Hanuman Road Area, Connaught Place, New Delhi, Delhi 110001
GET DIRECTIONS
NAZARIYA #BadloAb - A Poetry Show
Invite your friends
and enjoy a shared experience