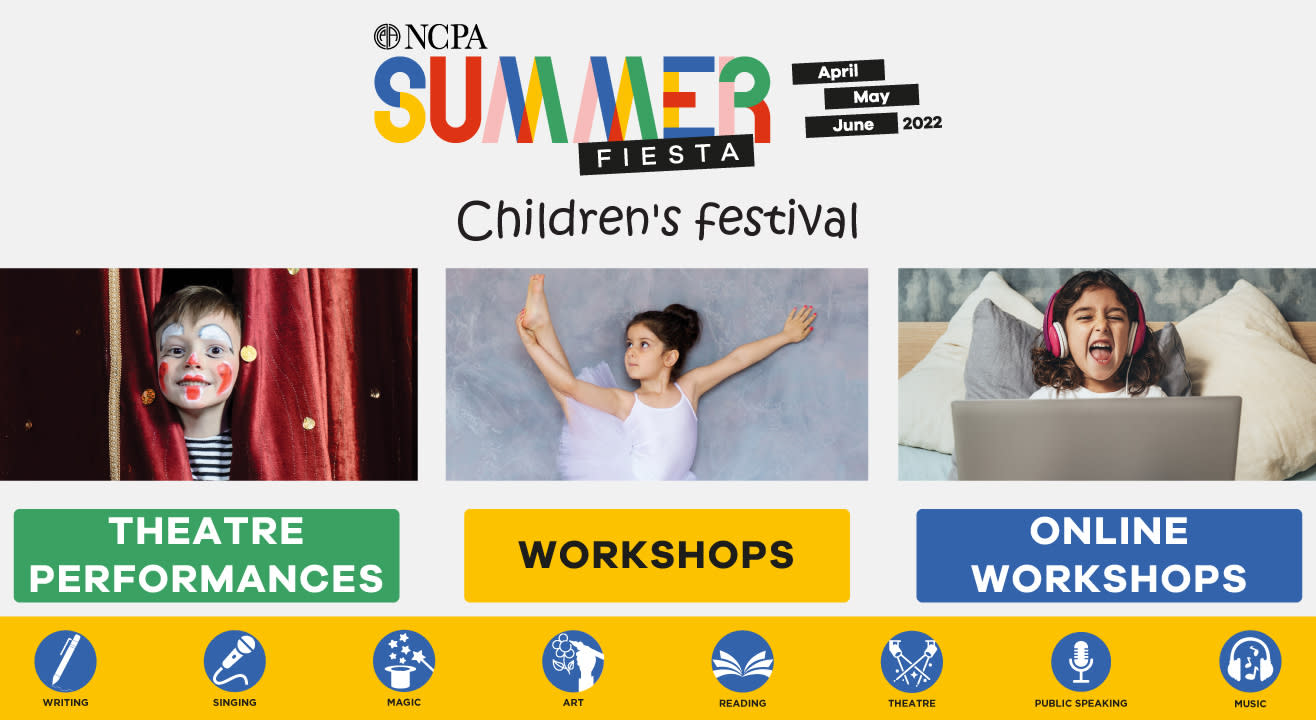 Beat the boredom! Explore Events and Workshops at the NCPA Summer Fiesta 2022
Unleash your child's creativity and imagination with a wide variety of live, interactive workshops for children from the ages of 3 to 19.
Invite your friends
and enjoy a shared experience
Ah! Summer time; blue skies, cool drinks, holidays and the constant hum of children saying "I'm bored!"
We can't change the sky's colour or serve up cool drinks, but we can fix the "bored" part.
Welcome to the NCPA Summer Fiesta 2022!

The NCPA Summer Fiesta has been a staple tradition, providing arts and culture experiences for the young minds of Mumbai during the holidays. It aims to promote the benefits and values of the performing arts not just by providing children with entertainment but also engaging the young minds in high-quality workshops.
2022 Edition
Keeping with that tradition, the 2022 edition of the NCPA Summer Fiesta features a wide range of activities, across age groups, helping young minds express themselves freely through various art forms and furthering their imagination - both online and in-person.
For more details on all the fun and enriching experiences on offer this year, scroll down.
Theatre Performances for Children at the NCPA, Mumbai | The NCPA Summer Fiesta 2022

Action!
The NCPA Summer Fiesta 2022 has a host of plays that seek to educate and entertain. Choose from themes revolving around Indian culture and heritage to children overcoming challenges that come their way.

Workshops at the NCPA, Mumbai | The NCPA Summer Fiesta 2022
Learn something new.
A wide range of workshops that impart skills in subjects such as creative writing, magic, music and even dance. There's soooo much to choose from.
Take a look and let your child's imagination run wild!
Online Workshops | The NCPA Summer Fiesta 2022

Access Anywhere.
Adapting to changing times, the 2022 edition of the NCPA Summer Fiesta features a host of Online Workshops that youngsters can attend from anywhere!
Sanctuary's Kids for Tigers Fest 2022 |The NCPA Summer Fiesta 2022

This series of workshops and events seeks to educate tomorrow's adults about the importance of saving our environment and introduces them to the wonders of the natural world in a fun, engaging way!
From magic, to classical music, dance, creative writing, physical theatre, there is something for everyone. Participants will receive an official certificate of participation from the NCPA and memories for a lifetime.


Wave goodbye to the 'boredom'!
Subscribe to receive our newsletter!
Find the best experiences happening out there in your city or enjoy handpicked content while sitting comfortably at home. Paytm Insider is your go-to place to figure out what to do today!