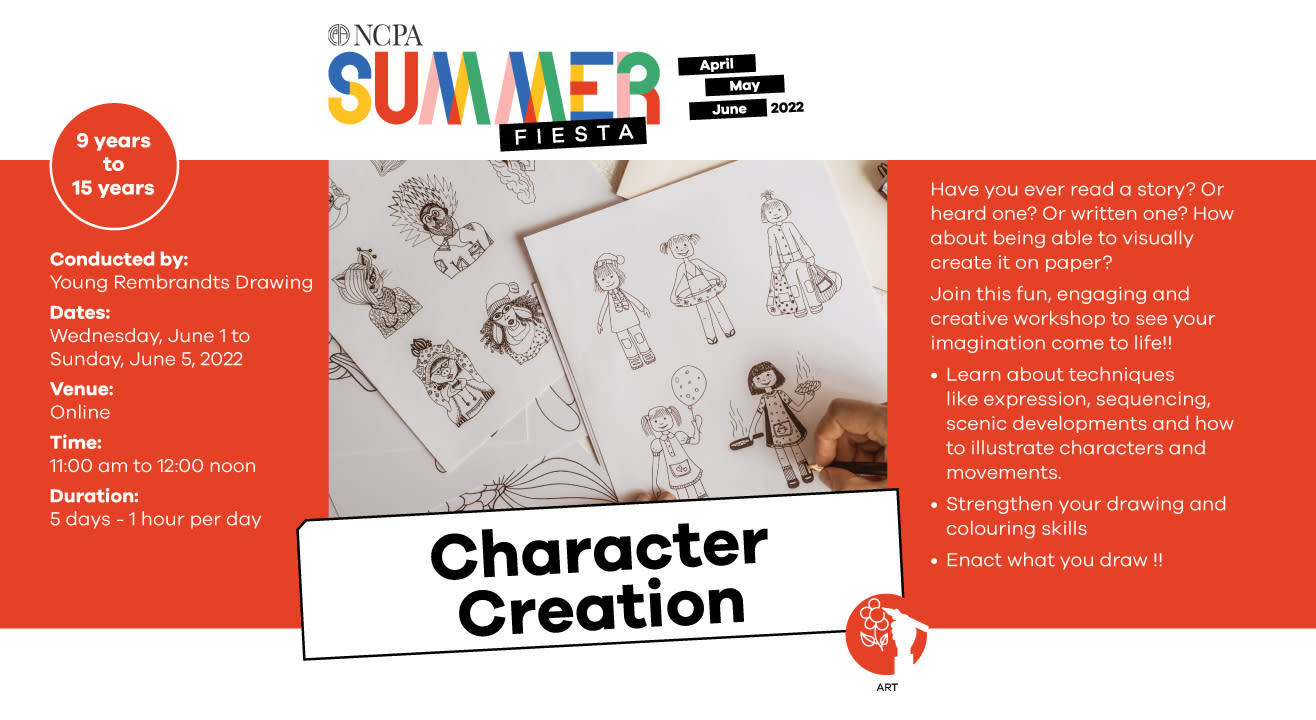 The NCPA Summer Fiesta | Character Creation | Workshop
June 1 - June 5 | 11:00AM - 12:00PM | 5 Days
Enjoy this event from your home
Event Guide
Masterclass
Learn from an expert
Invite your friends
and enjoy a shared experience
The NCPA Summer Fiesta | Character Creation | Workshop
June 1 - June 5 | 11:00AM - 12:00PM | 5 Days
Enjoy this event from your home
Event Guide
Masterclass
Learn from an expert
Invite your friends
and enjoy a shared experience
Event Guide
Masterclass
Learn from an expert
Invite your friends
and enjoy a shared experience
Age group: 9 - 15 years
Conducted by: Young Rembrandts Drawing
Have you ever read a story? Or heard one? Or written one? How about being able to visually create it on paper?
Join this fun, engaging & creative workshop to see your imagination come to life!!
Learn how to illustrate characters & moments
Learn about techniques like expression, sequencing & scenic developments
Strengthen you drawing & colouring skills
Enact what you draw!!
Highlights:
Learn various elements of drawing, such as proportions, balance, perspective, placement, expressions, motion, graphic representations, etc. Learn about colour theories and how different colours can convey moods, thoughts, scenes, expressions, etc.
The NCPA Summer Fiesta | Character Creation | Workshop
June 1 - June 5 | 11:00AM - 12:00PM | 5 Days
Enjoy this event from your home
Event Guide
Masterclass
Learn from an expert
Invite your friends
and enjoy a shared experience