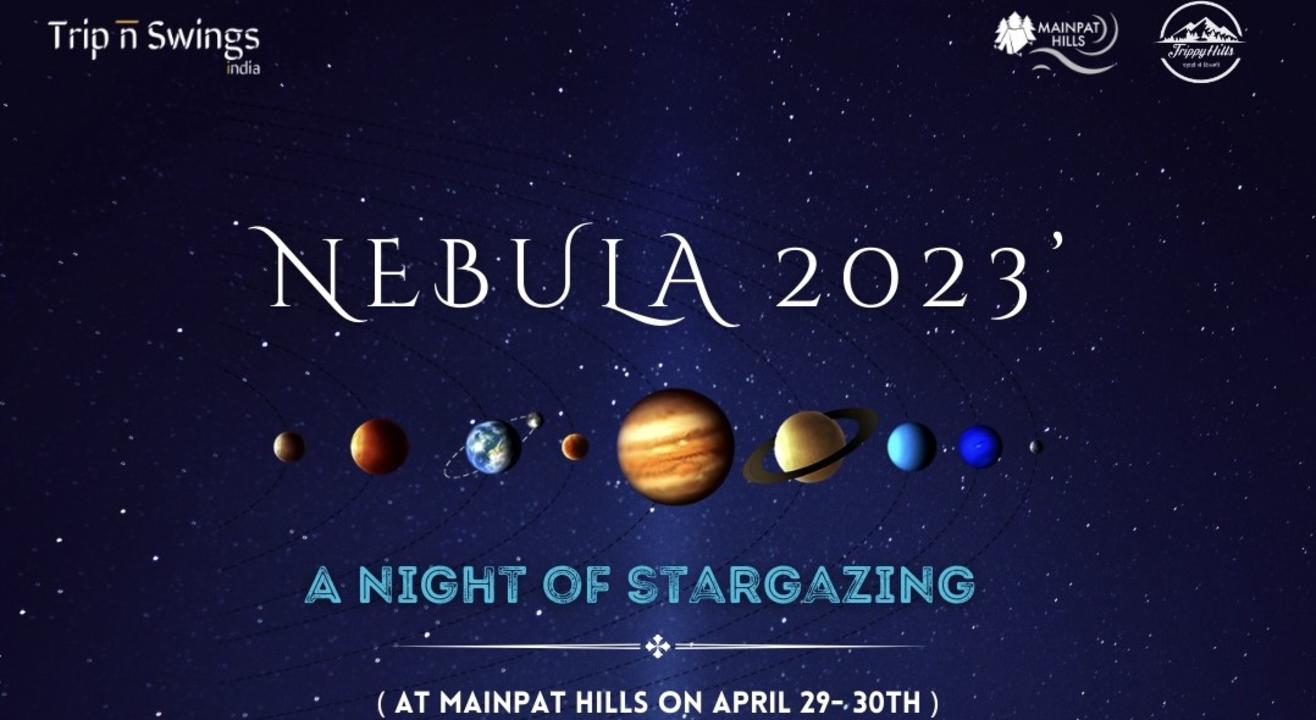 NEBULA 2023 - A NIGHT OF STARGAZING
April 29 | 7AM - April 30 | 6PM
Mainpat Hill's, Ambikapur
Step out and enjoy this event
Invite your friends
and enjoy a shared experience
NEBULA 2023 - A NIGHT OF STARGAZING
April 29 | 7AM - April 30 | 6PM
Mainpat Hill's, Ambikapur
Step out and enjoy this event
Invite your friends
and enjoy a shared experience
Covid 19 Safety Measures
This event adheres to the following

Health & safety measures
Temperature Checks
Hand Hygiene Stations
Limited Capacity
Sanitisation before the show
Organisers wear masks
Invite your friends
and enjoy a shared experience
Covid 19 Safety Measures
This event adheres to the following

Health & safety measures
Temperature Checks
Hand Hygiene Stations
Limited Capacity
Sanitisation before the show
Organisers wear masks
Are you looking for some exciting ways to spend a weekend with your loved ones? Then you're at the right place!
With summer approaching, a whole new world of celestial wonders is opening up to us. Among these wonders are the breathtaking Universe objects. And what better way to experience them than by joining the Nebula 2023 at Mainpat Hills campsite?
Date: 29-30th April 2023
• Location: Mainpat Hills, Chhattisgarh
Situated far away from the hustle and bustle of the city, Mainpat Hill Station offers a perfect getaway to immerse yourself in the awe-inspiring beauty of nature and the deep ocean of the cosmos. Come and witness the spectacle for yourself!
Carry your id proof like aadhaar card, pan card, driving licence.
Carry warm cloths (Jackets, sweaters, shawl). The temperature considerably (13-14 Degrees) drops during the night time.
The Campsite is close to the forest area so please wear socks and shoes if possible.
Carry a torch, you will need it in the dark. Also don't forget to cover it with red cellophane paper (gelatin paper).
We will advise you to carry some snacks and soft drinks since you won't be able to buy anything around the field. Please carry drinking water bottle, you will be able to refill the water.
Carry your medication and mosquito repellent cream.
Carry a Diary and Pen in case you would want to make note of things.
Tents other than the ones set up by us are not allowed. Please do not carry any personal tents of your own.
Drinking and smoking in the observation field are strictly prohibited.
Basic washroom facility is available at campsite.
This is an edutainment program. All are requested to maintain the spirit of the program and co-operate. No unruly behaviour toward fellow participants will be tolerated.
Parking facility for private vehicles are available.
No one should wander off the field. Do not visit the forest area on your own even during the day time.
Any kind of misbehaviour which causes a disturbance to other participants will not be tolerated and immediate action will be taken against the person or the group.
An important point to remember Trip N Swings India & Trippy Hills is a voluntary base group of some Amateur Astronomers & Tour Operators ,our aim is to spread and popularise Tourism & Astronomy.
We do not call unless requested from your side. We have official email id: mainpat.hills@gmail.com and phone number: + 916267056467, +91 90096 72705 . These are the only mode we will use for contacting you. Please be aware that we will not be calling/ emailing from any other number/ email id.
Refund Policies:
If Event cancellation done by participant by any time 5% amount will be deducted.
If Event cancellation done by participant prior to 15 days of Event 80% of total price will be refunded.
If Event cancellation done by participant prior to 10 days of Event 60% of total price will be refunded.
If Event cancellation done by participant prior to 5 days of Event 50% of total price will be refunded.
After that no refund will be provided on Event cancellation done by participant, irrespective even if you've booked within the last 5 days.
Event Tickets cannot be transferred to another date against cancellation.
If event gets canceled we will refund Event amount only.
How to Reach :
Private vehicle: People travelling by private vehicle can use google map to reach our location. You can access the link by clicking here.
Public transport: People travelling by public transport can reach Mainpat Via Ambikapur station by railway or Bus .
NEBULA 2023 - A NIGHT OF STARGAZING
April 29 | 7AM - April 30 | 6PM
Mainpat Hill's, Ambikapur
Step out and enjoy this event
Invite your friends
and enjoy a shared experience