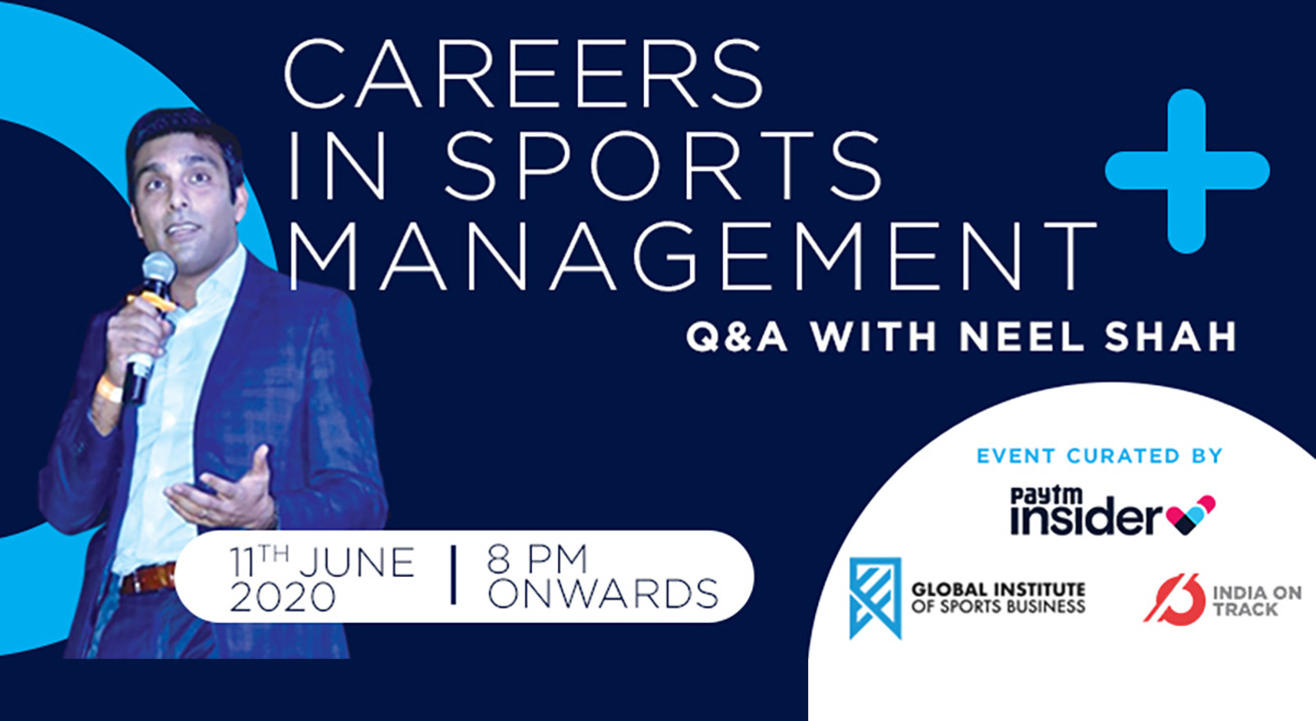 Careers in Sports Management - Q&A with Neel Shah
Invite your friends
and enjoy a shared experience
Invite your friends
and enjoy a shared experience
About the Event
The business of sport in India has grown exponentially over the past few years and is now a $3.5 billion USD industry. The country has hosted international mega-events such as the Commonwealth Games, ICC World Cup, FIFA U-17 World Cup and Hockey World Cup which has positioned India as a sporting destination in addition to generating global awareness around Indian athletes and investment opportunities within Indian sport. As the industry grows, the requirement for skilled professionals increases.
Join us for a Q&A with India On Track, Head – Sports Education and New Business & GISB Program Director – Neel Shah, where he will talk about the growing sports ecosystem how you can create a fulfilling career in the sports industry. The session will be hosted by Entrepreneur and Sports Fanatic – Jasprit Sudan
About Neel Shah:-
Neel Shah has over 18 years of experience in the development and commercialization of football in North America, Asia & Europe. In his current position with India On Track, Shah is responsible for running the sports management education program at the Global Institute of Sports Business as well as securing new business for the group.
Prior to joining India On Track, Shah was the Chief Executive Officer of DSK Shivajians FC and the Liverpool FC International Academy - DSK. Within this role, Neel oversaw all business operations for the Pune based professional football club. Before stepping into professional club management, Shah served as the Business Director for Libero Sports. At Libero, he was responsible for guiding and advising Indian football stakeholders with their investments and facilitating strategic partnerships to further the industry. In addition, he created commercially viable avenues for international football entities to enter the Indian market and has successfully helped football giants Manchester United, FC Barcelona, Liverpool FC and FC Bayern Munich build their brands in India.
Prior to moving to India, Neel spent 7 years with New York based Major League Soccer serving as the league's Director of Fan Development. In that role, he was responsible for overseeing the league's national grassroots programming, working with MLS clubs to build their local market relevance and liaising with club supporter groups.
He received his Bachelor's Degree in Business Economics w/emphasis in Sports Management from the University of California, Santa Barbara. He then received his MBA in Sports Management from Seton Hall University located in South Orange, New Jersey.
About GISB:-
The Global Institute of Sports Business (GISB) is India's first industry designed and internationally certified sports management program focused on providing aspiring sports management professionals with the necessary knowledge, network and skills required to create fulfilling careers within the sports industry.
The institute is affiliated with the University of Massachusetts, Amherst - Isenberg School of Management, the #1 Ranked Sports Management program in the world that has over 40 years of extensive experience in designing and delivering Sports Management thought leadership and also with the Premier League – the top tier Football league of England and the most-watched sporting league in the world.