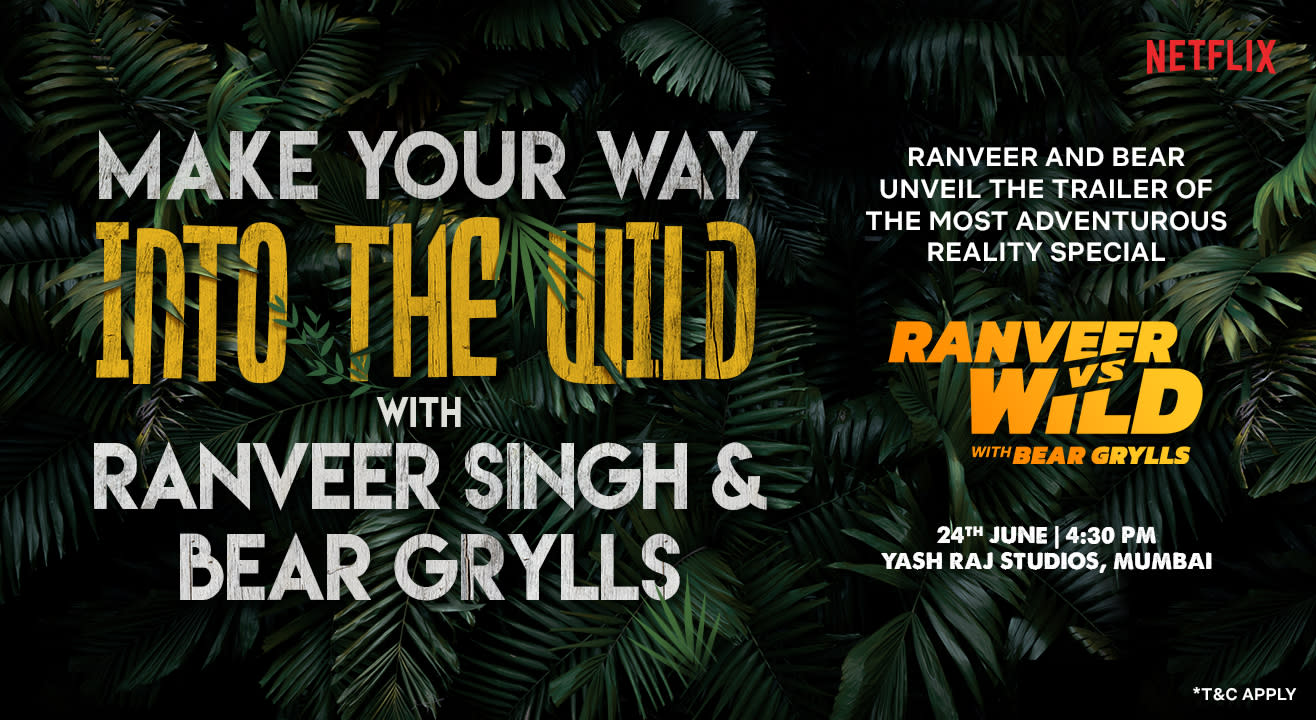 Netflix Presents: Ranveer VS Wild with Bear Grylls | Fan Event
June 24 | Gate opens at 4:30pm l Event starts at 5:30pm
Yash Raj Films Pvt. Ltd., Mumbai
Step out and enjoy this event
Invite your friends
and enjoy a shared experience
Netflix Presents: Ranveer VS Wild with Bear Grylls | Fan Event
June 24 | Gate opens at 4:30pm l Event starts at 5:30pm
Yash Raj Films Pvt. Ltd., Mumbai
Step out and enjoy this event
Invite your friends
and enjoy a shared experience
Invite your friends
and enjoy a shared experience
For one evening only, you're invited to an action-packed in-person interactive Fan Event where you will get up close and personal with the extremely energetic, Ranveer Singh and always adventurous Bear Grylls.
Don't miss your chance to grab exclusive swag, enjoy special guest appearances and performances by Spitfire, Rākhis, DEB, Hanumankind, Devil the Rhymer & D-Cypher and Beatraw presented by IncInk., be immersed into the wild, and be the first to get a sneak peek into Ranveer Singh's wildest adventure. This is the event you've all been waiting for, register now for your chance to decide on Ranveer's next move.
Please note, this is a limited capacity event. Entry will be for registered users only and on a first come- first serve basis.
Covid-19 Guidelines
For the safety of all our guests and prior to entry to the Event, Participants must validate that they are fully vaccinated or show a negative RT PCR test certificate (if vaccination is not complete).
Wearing masks will be mandatory at all times during the event including any other protocols/ guidelines/ temperature checks communicated by the Organizers at the Premises on the day of the Event.
Yash Raj Films Pvt. Ltd.
5, Shah Industrial Estate, Veera Desai Rd, Industrial Area, Andheri West, Mumbai, Maharashtra 400053, India
GET DIRECTIONS
Netflix Presents: Ranveer VS Wild with Bear Grylls | Fan Event
June 24 | Gate opens at 4:30pm l Event starts at 5:30pm
Yash Raj Films Pvt. Ltd., Mumbai
Step out and enjoy this event
Invite your friends
and enjoy a shared experience