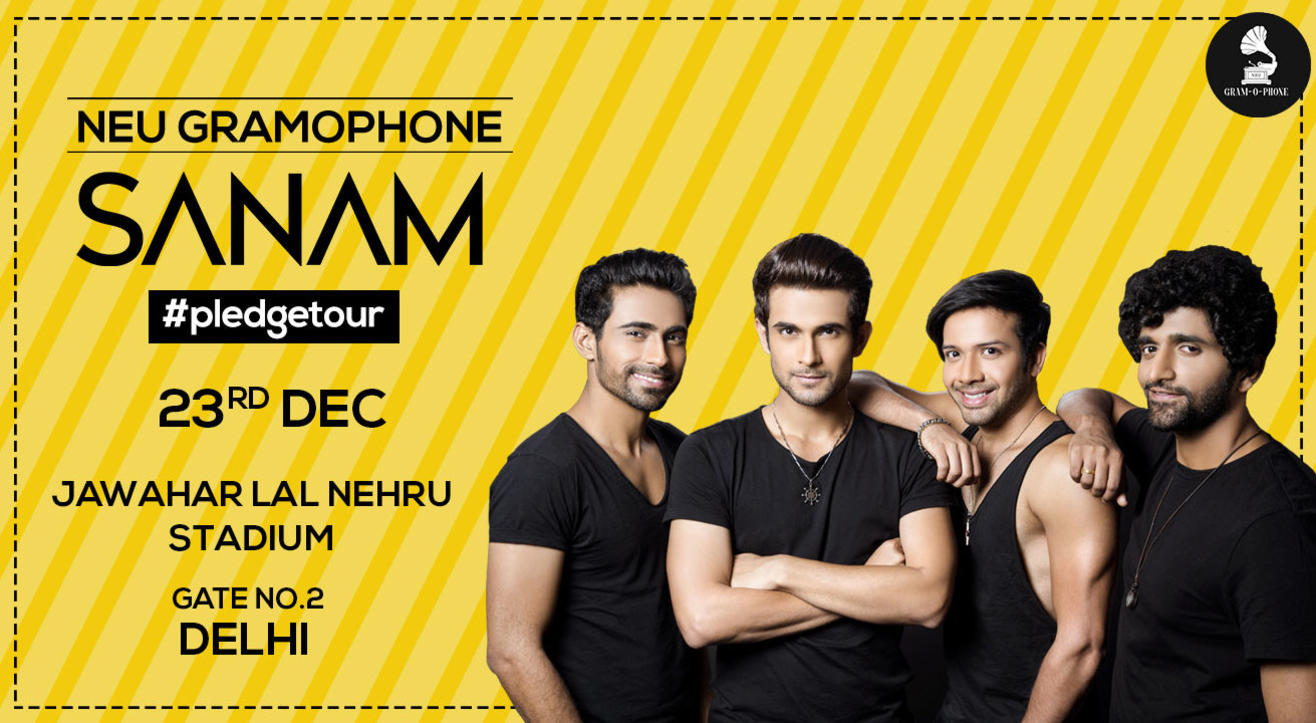 Neu Gramaphone LIVE In Concert - SANAM, Delhi
Step out and enjoy this event
Invite your friends
and enjoy a shared experience
Invite your friends
and enjoy a shared experience
The #PledgeTour is an initiative from NEU GRAMOPHONE, following the #NoWorldWithoutGirls motto. The tour will take place in the major cities of India including Delhi, Guwahati, Ahmedabad & Chandigarh. Sanam band is amongst India's top 10 independent YouTube Channel Artist, India's biggest music artist on the digital platform and the fastest growing YouTube Channel in the country. You are invited to catch them live on the 23rd of December in Delhi. India's HOTTEST and DIGITALLY MOST FOLLOWED Music Artist. The Boy Band is Mumbai based and comprises of 4 members Venky S on Bass, Samar Puri on Guitars, Keshav Dhanraj on Drums and the Lead Vocalist Sanam Puri, who
together create the distinguished sound & style the band is recognised for.
The band's frontman, Sanam Puri is also the voice of Bollywood chart busters like 'Dhat Teri Ki' from Gori Tere Pyaar Mein and mega ballads like 'Ishq Bulaava' from 'Hasee Toh Phasee' .
The band writes, produces and composes original songs including the likes of "Main Hoon" for 'The Amazing Spider-Man 2' that received rave reviews across its multi-language theatre release in India. The band has released 3 albums in the past, 'SQS Supastars' (Times Music) and 'Samar Sanam' (Saregama) and Sanam REVISITED (Saregama) and other original singles. The band is known for giving a new life to retro classics like " Lag Jaa Gale" "Mere Mehboob" etc.
The energy, talent and high live talent quotient has made Band SANAM one of the most desirable LIVE performers for ticketed concerts as well as special events. With the help of social media the band reaches out to their audience located around the world with a specially large fan base across countries like Maldives, Mauritius, South Africa, Trinidad, Kenya, Holland, Bangladesh, US, England, Pakistan, Nepal, Sri Lanka, Nigeria, Suriname & Israel. The band can perform in English with as much ease as Hindi.
SANAM - Holding the torch for Independent Music 
The band has been championing the cause of standing for the revival of Independent music in the Indian music arena. With their music are leading the way for Independent artists and musicians to create music.
Jawaharlal Nehru Stadium
Jawaharlal Nehru Stadium, Pragati Vihar, New Delhi, Delhi 110003
GET DIRECTIONS