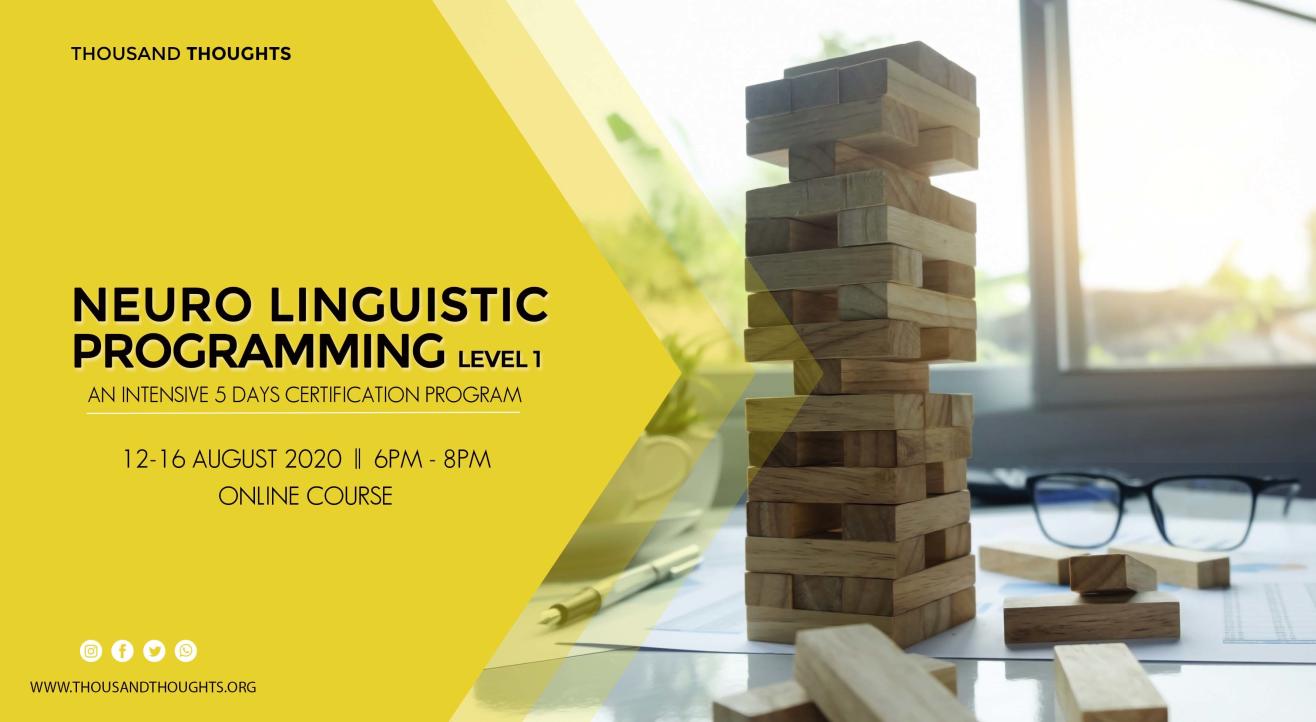 Neuro Linguistic Programming - Level 1 Course
August 12 | 6PM - August 16 | 8PM
Invite your friends
and enjoy a shared experience
Invite your friends
and enjoy a shared experience
About the Event
After successfully serving you with self-help and healing programs, Thousand Thoughts is glad to announce the Online Edition of Neuro-Linguistic Programming - Level 1 Certification Course.
We thrive to bring forth the most bankable techniques and fundamentals of NLP, where professional practitioners from the respective field will coach and bring your real best in you.
What is Neuro-Linguistic Programming?
Neuro-Linguistic Programming (NLP) is all about bringing about changes in perception, responsible communication and developing choices of responses or communication in a given situation. It might appear like magic. It works on the principle that everyone has all the resources they need to make positive changes in their own life, the key is to be able to Consciously Access these resources whenever you need.
Benefits and Takeaways of the Program:
✅ NLP offers you a great insight about self and people around you, therefore building a great relationship both in personal and professional lives.
✅ NLP provides you with proven tools & techniques to get rid of unwanted emotions, thoughts, or limiting beliefs
✅ It allows you to be more aware and conscious about your behavior patterns & helps you to switch to a more resourceful state whenever required.
✅ NLP enables you to master excellence in diverse fields of your life.
✅ and many more…
➡️ Program Details:
Date: 12-16 August 2020
Time: 6PM-8PM (IST)
Mode: Online
Batch Size: Maximum 10 Individuals
✅ This is a strategically designed Certification Course through which one can learn and apply NLP Tools & Techniques in various fields of life.
✅ The training shall be carried on by Qualified Practitioners in NLP.
Allow yourself to lead a life beyond limitations and full of possibilities. ♥
\\ Certificate of Completion will be awarded!
------------------------------------------------------------