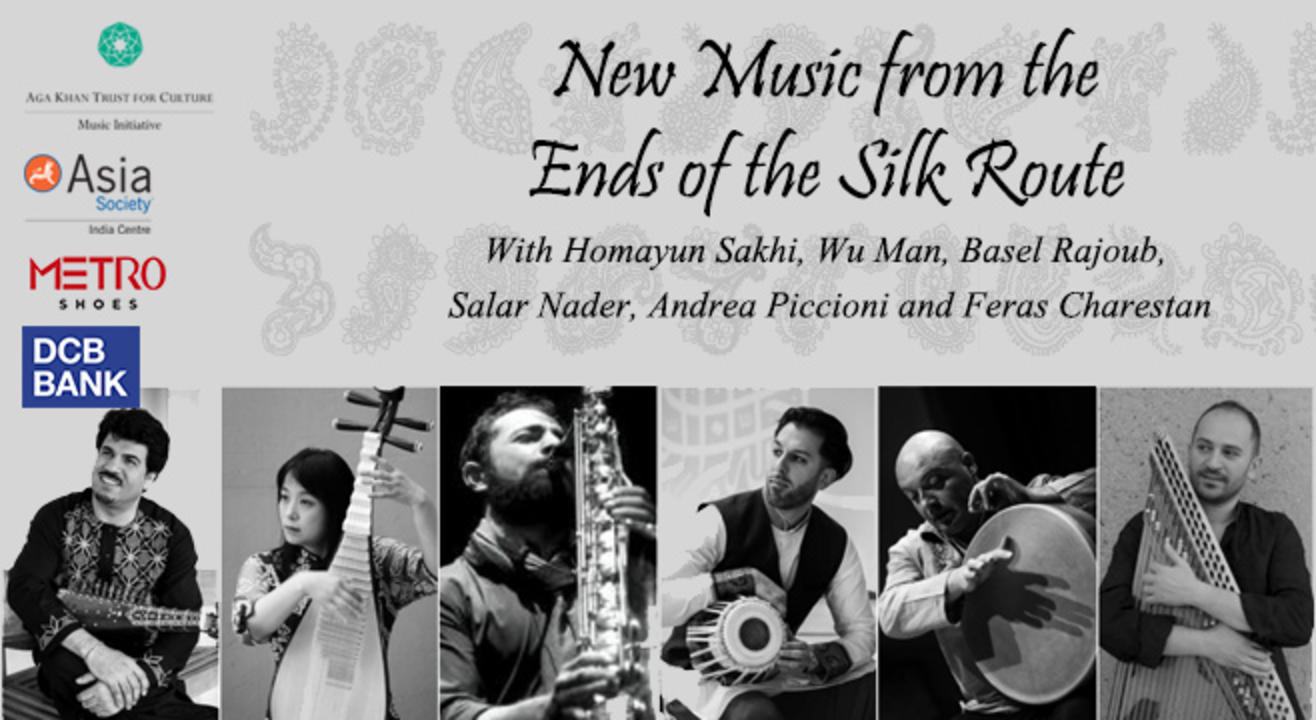 Music
New Music from the Ends of Silk Route
The Royal Opera House, Mumbai
About
Aga Khan's Music Initiative is where cultures combine in harmony and produce music that crosses borders and touches hearts. Witness the fusion of various cultures as instruments play in unison to give you one memorable evening. From Afghanistan to South Africa, Asia to Europe, artists come together to combine sounds and instruments that will result in nothing but a musical wonder.
Asia Society presents a staging by Aga Khan Music Initiative's All-Stars Ensemble on the theme of "New Music from the Ends of the Silk Route". This six-artist line up brings together some of AKMI's most beloved artists-performers from Afghanistan, China, Italy and Syria- for a performance arranged for a unique combination of instruments which represent the Eastern and Western ends of the historical Silk Route as well as ancient and contemporary musical cultures. These include the pipa, an instrument introduced to China in ancient times that originated in Central Asia; qanun, a core member of any Arabic taht; Afghan rubab, considered the national instrument of Afghanistan but also used among Kabuli musicians to perform Indian classical music; tabla, the best known Indian percussion instrument; a variety of frame drums, one of the most ubiquitous instruments in the Muslim world; and saxophone, a European invention that has become a universal instrument used by musicians from South India to South Africa to perform myriad forms of traditional, fusion and contemporary music.
Be a part of this musical journey at The Royal Opera House that holds a glorious past for the music in this city. Bombay was in its glory days in the 1900's, and at its peak of social, artistic and cultural dynamism. An integral part of this movement was the Royal Opera House Mumbai, first inaugurated by King George V in 1911. It still holds relevance and reverence in the cultural fabric of contemporary Mumbai, and is in fact India's only surviving opera house till date. One of the last standing Baroque buildings in Mumbai today, the Royal Opera House Mumbai, with its long standing association with art, literature, theatre and music and has hosted Operas and live performance of artists like Bal Gandharva, Prithviraj Kapoor, Dinanath Mangeshkar and Lata Mangeshkar.
About Asia Society:
Asia Society is the leading educational organization dedicated to promoting mutual understanding and strengthening partnerships among peoples, leaders and institutions of Asia and the United States in a global context. Across the fields of arts, business, culture, education, and policy, the Society provides insight, generates ideas, and promotes collaboration to address present challenges and create a shared future.