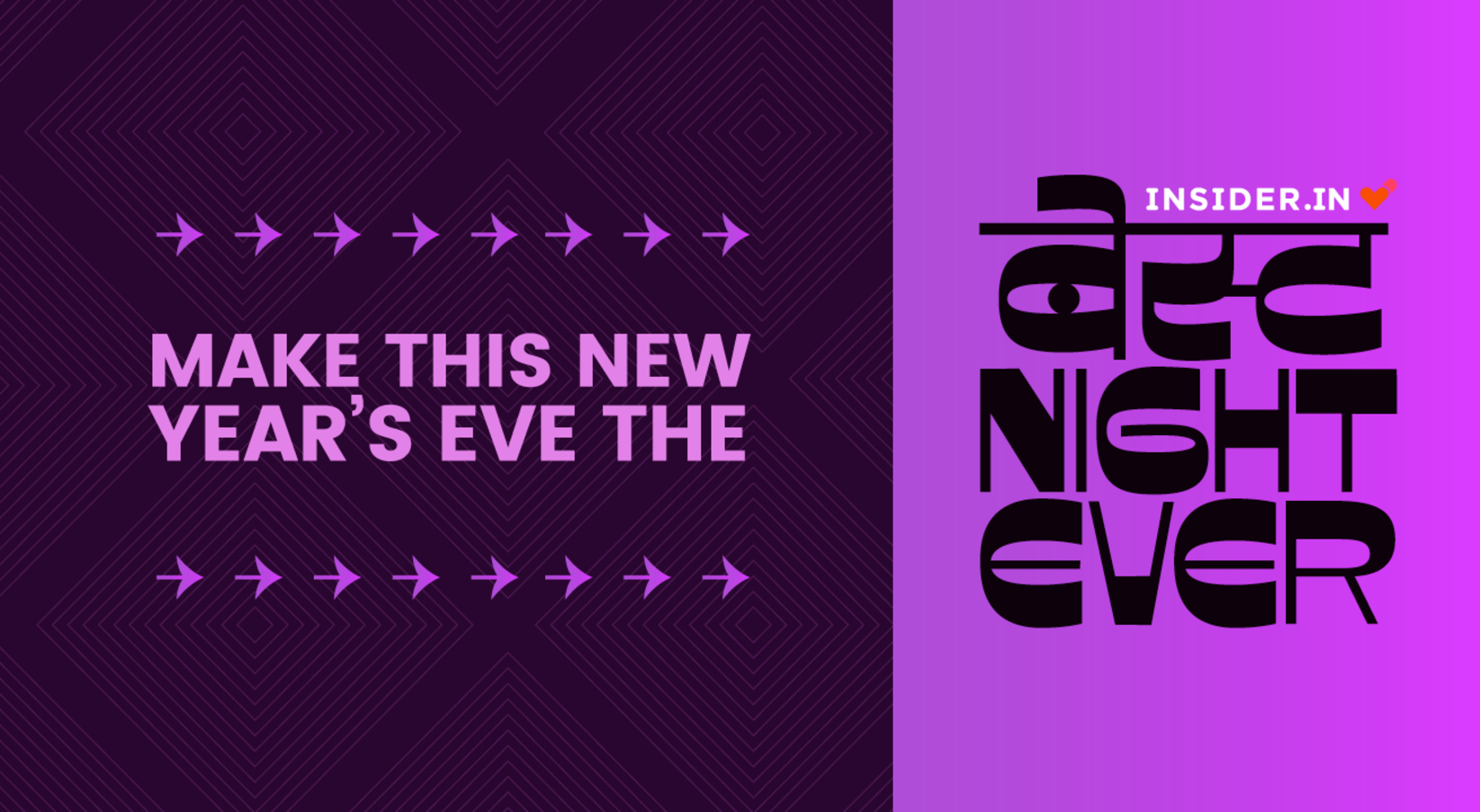 Best Night Ever!
The Best Places to Visit Near Pune On New Year's Eve 2018-2019
Want to get out of the city as the clock ticks in 2019? Here's Insider.in's recommendations of what to do and where to go.
Special offer for the best night ever
Get 10% cashback (upto ₹300) when you pay via Paytm on Insider.in on purchases of ₹2000 and above (applicable once per user)

What's more, there's zero convenience fee on all purchases for NYE events.
New Year Parties at offbeat locations near Pune
Want to shake a leg but want to get away from the city? There are some fantastic options coming your way where you can ring in new year but away from the hustle and bustle. There will be several events coming out on Insider soon - stay tuned.
Not a party person? Check out these treks, camping events, long trips and more
What if you're not into all that partying and loud music? We get you - which is why Insider.in will also be bringing you a curation of events far away from the city, far away from DJs, far away from fireworks. What you will be close to is nature : Expect treks, camping, extended trips and lots more you can immediately knock off your 2019 bucketlist. Check out some events below, more will be available soon.
Camp under the stars at Banyan Bliss
How does camping under the stars whilst waiting for the new year to begin sound? Just 2h30mins away from the chaos of Pune lies a lovely space built around an ancient Banyan tree. Camp out in the fields or stay in one of the rooms that have magnificent views of the Western Ghats. Homecooked meals, a guppy pond to dip your feet in for a free pedicure, horses and more await you to ring in 2018 a little differently than usual.

Location: https://goo.gl/maps/h1zXE9QEZAs
Cost: Rs.5000 for a couple
Ring in 2018 surrounded by nature at Casuarina
Bring 2018 in with a gush of adrenaline! The campsite of Casuarina is a sight for sore eyes surrounded by beautiful foliage. For those who do not want to just sit around and marvel at nature's gifts have options of trekking, paragliding, rafting, snorkeling and then some. Put on your hiking boots and welcome the new year with gusto!

Location: https://goo.gl/maps/Zb8zQNkntHn
Cost: Rs.2,500 per person
Go Rafting in Kolad
Bored of bringing in the New Year with hazy eyes and a dizzy head? Three and a half hours away from Pune, spend the day rafting on the famous Kundalika river and end the night with a BBQ and bonfire. Not a bad way to say hello to 2018. Is it?

Location: https://goo.gl/maps/Mvw3EwE5GTK2
Cost: Rs.5000 per person
Try some fine cuisine at York Wine Tasting
Gather your near and dear ones and prepare for a mini road trip to the wine country of India. The York Wine vineyard has a wonderfully uplifting view of the Gangapur Dam and delicious wine pairings to go with it. Try some of their exquisite Chinese and Indian cuisine while bringing in the new year in a fine manner-just like their wines.

Location: https://goo.gl/maps/FGys2i7vckz
Cost: Rs.1000-Rs.2000
Raise adrenaline levels at Nirvana Adventures
A new year, a new view. That's what you will be getting at Nirvana Adventures. Brace yourself for a massive kick of adrenaline as you take the first leap of the cliff, after which you glide over Kamshet as if you were on a cloud. One can either choose to take a paragliding course and become a pilot right as the new year sets in. Or one can choose to fly tandem if there is a time issue. And then…end the night with a BBQ and laughter.

Location: https://goo.gl/maps/dxaKAt6egq92
Cost: Elementary Pilot Course: Rs.22000 ( 4 Days / 3 Nights)
Taster Course: Rs.18000 ( 3 Days / 2 Nights )
Introductory Course: Rs.14000 ( 2 Days / 1 Night )
All inclusive of stay, BBQ, bonfire and food
Camp in Vasind
All campers and non-campers, get your hiking boots and swimming suits for a day full of adventurous activities. The campsite at Vasind offers not only regular camping and bonfires but also a trek up to the famous Mahuli fort, Kayaking, swimming, fishing and more. Add to the adrenaline festivities, finger-licking delicious food.

Location: https://goo.gl/maps/VrCFzZCLwMP2
Cost: Rs. 5000 per person
Head to Mumbai
While Pune has its share of attractions, big brother Mumbai has a lot to offer as well - stargazing in a national park within city limits or watching fireworks by the beautiful Marine Drive, and lots more. Check out Insider's guide for things to do in Mumbai on New Year's Eve!
Run to the Hills
Something off-beat, yet not totally out of the list, is a trip to hill stations. If you are more of a nature lover and party isn't what you're looking for then a trip to the mountains is your panacea. Chilly evenings draped with a velvety blanket of star-speckled skies, bonfires and music can complete an enjoyable evening. What's more, many hotels host New Year bashes for guests who choose to revel yet be surrounded by nature's bounty. Popular hill stations near Mumbai are Saputara, Matheran, Panchgani. If you don't mind the crowds, Lonavala and Khandala also have great resorts and hotels that host their annual New Year's Eve parties, such as The Dukes Retreat, Faryis Resort and Hotel Sapphire.

Cost: Rs. 5000 - 10000 per person
Watch the year's first sunrise from atop a mountain!
What better way of ringing in New Year than scaling the tallest peaks in Western Ghats? Start on the New Year's night and say hello to 2018 surrounded by clouds. You will celebrate the New Years amidst the sparkling lights of fireflies rather than usual city lights. Popular treks near Mumbai are Kalsubai, Rajmachi, Lohagad and Prabalmachi. Kalsubai, in particular, is very popular for New Year treks - it's the highest peak in the state and a relatively easy climb, too!

Cost: INR 1000 – 2000 per person
Don't forget to get the Ultimate NYE Deal; or check out the countdown sale; or participate in our contests to win a DIY New Year's Eve Kits to make your New Year's Eve the best night ever! Check it all out here.


Happy New Year and have an incredible 2019!
Subscribe to receive our newsletter!
Find the best experiences happening out there in your city or enjoy handpicked content while sitting comfortably at home. Insider is your go-to place to figure out what to do today!