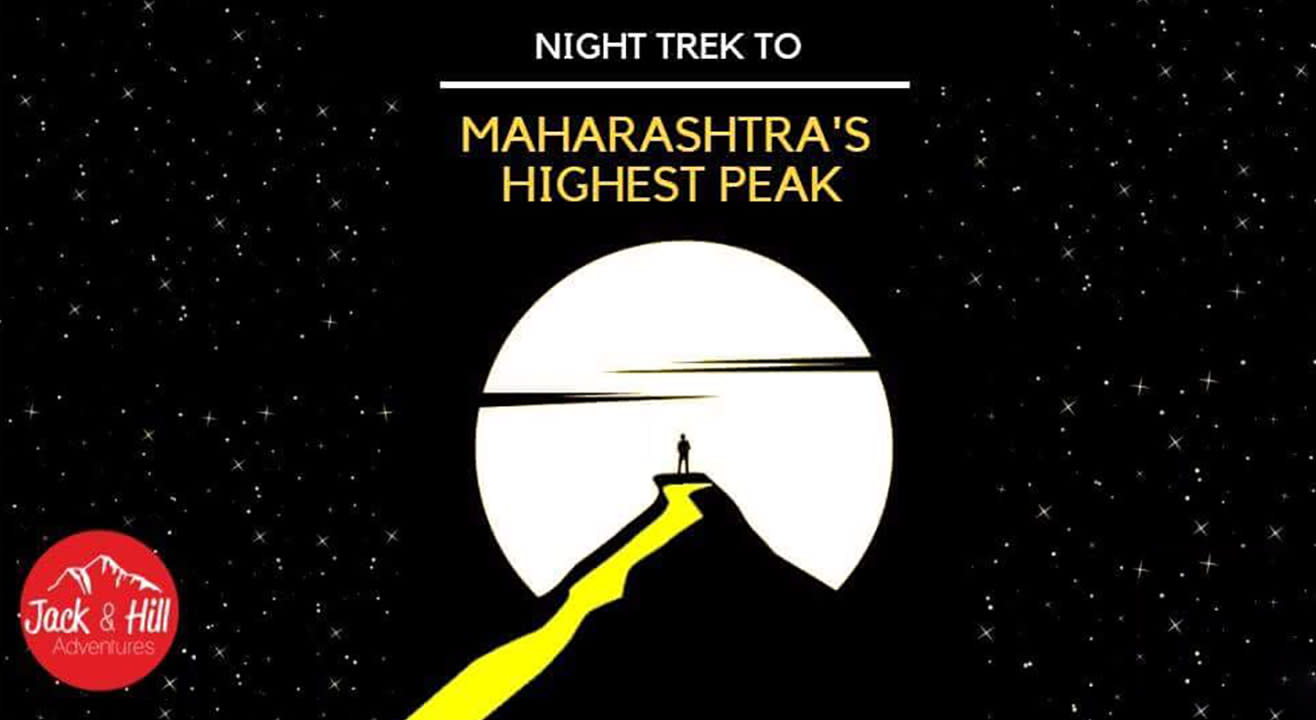 Trek
Night Trek to Maharashtra's Highest Peak
About
This January, Jack & Hill Adventures are inviting you to see what Maharashtra looks like at night from the Everest of Maharashtra, Kalsubai.
Standing tall at 5400 ft, one certainly intends to reach out to the stars.

Keeping the heat in mind, Jack & Hill Adventures have scheduled this awesome trek for the night. Fortunately, a night trek comes with a lot of perks such as trekking under starry skies, seeing the mountains in a whole new light and a whole other natural aweing experiences that one can't pretty much put into words. The big prize at the summit is the sight of the magical sunrise complimented with the most breathtaking views all observed from the highest structure in all of Maharashtra. This is as high as you can get!
The mountain range lies within the Kalsubai Harishchandragad Wildlife Sanctuary. It is visited throughout the year by avid trekkers, Kalsubai Temple devotees and wildlife enthusiasts alike. The name Kalsubai has been given to the woman who used to live in this mountain according to the villagers living at the base of Kalsubai mountain. It is said that a woman name Kalsubai was punished by the villagers and forced to leave the village, that woman climbed this mountain and started living on it and died there. That's how the name of this mountain Kalsubai came.
Meet at CST Ticket Counter at 8.30 PM on Day 1
Board local train to Kasara Station and reach Kasara by 11 PM
Reach Kasara by 11 PM and board a private vehicle to the base of the mountain
Reach base at 1 AM and rest for an hour on arrival
Begin trek to the summit at 2 AM
Reach the summit by 6 AM and await the magic of sunrise
Bask in the sights atop the summit for a brief duration while munching on a light breakfast
Begin trek downhill between 7 and 7:30 AM
Reach base by 10:30 AM for a grand breakfast
Post breakfast, board the private vehicle back to Kasara Station
Board train back to Mumbai CST.
Transport from Mumbai to summit & back, one light and one heavy breakfast, sleeping bag, certified trek expertise, first aid by Certified Wilderness First Responder (WFR).
No.1 rule of trekking is to pack light
Grab a small to medium sized bag and put in items mentioned in the essentials list.
The less heavier your bag is, the more easier your trek will be.
You will be provided with a sleeping bag for this trip. Make sure you have sufficient space to stuff it into your bag.
If you are short on space, the organizers will assist you in attaching the sleeping bag onto your backpack.
Flashlight or headlamp (preferrable)
2-3 litres of water
Snacks and munchies to keep you high on energy
Personal Identification
Personal medication, if any
A sturdy pair of shoes
This is crucial, as a bad pair could turn your trek into a nightmare. Check your shoes for possible wear and tear.
The right clothing
T-shirt & shorts/full pants is ideal. Ensure that you are comfortable in what you choose to wear and that the material does not restrict your movement while trekking and climbing. Full clothing is recommended.
Breakfast will be provided post trek, before departure.
Staying open minded, positive & faithful
A trek in the forest requires for one to stay positive and open minded at all times regardless of the situation. Mind you, this is not a picnic but a trek in the mountains. Mother nature could choose for the weather and environment to be tough or easy on you. However, it is important for you to stay grounded and keep your heads over your shoulders, to not panic and to keep confidence in the decision of the trek leaders.
50% cancellation fee will apply if your booking is cancelled before 6 PM on 9th Oct
100% cancellation fee will apply if your booking is cancelled after 6 PM on 9th Oct