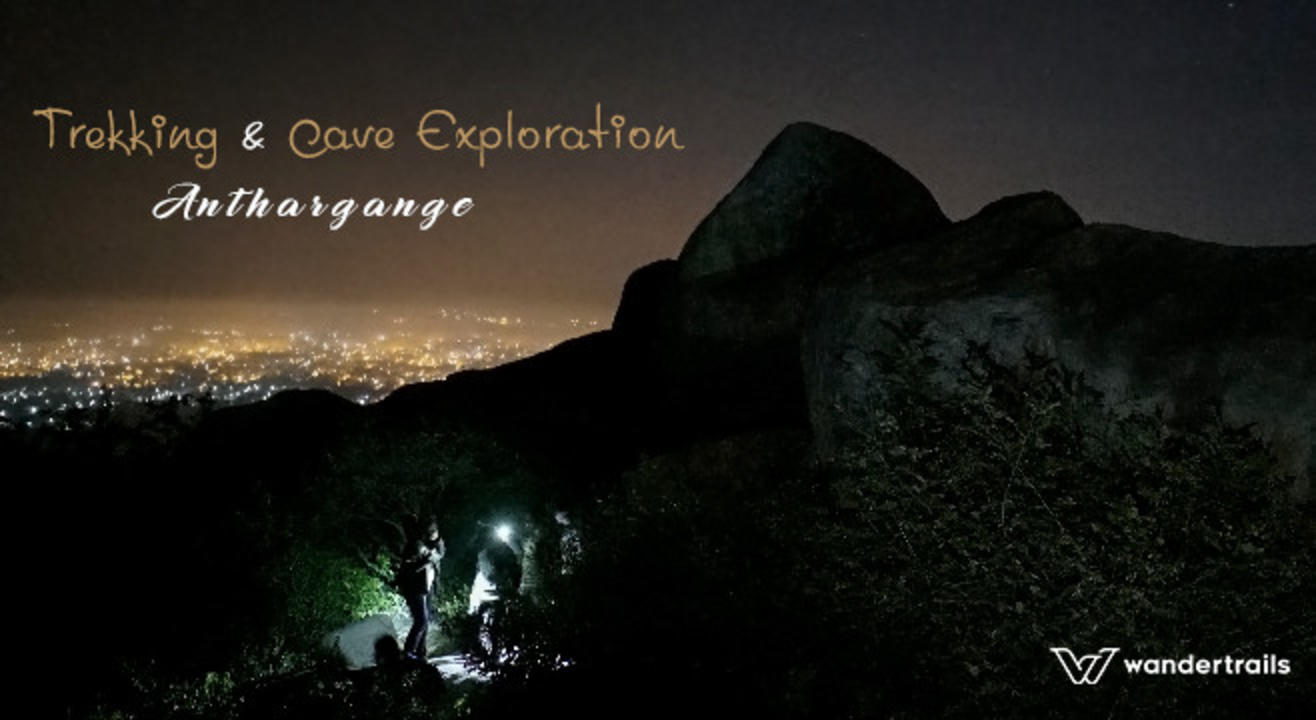 Trek
Night Trekking and Cave Exploration at Anthargange | Wandertrails
Multiple dates | July | 9PM
Anthragange Peak, Karnataka
1,100 (*inclusive of taxes)
About
The trek to the Anthargange peak is one of the most sought after treks around Bangalore. The peak rises high above the township of Kolar and is a part of the Shathashrunga range. Located at around 65 km from Bangalore, this peak is at an altitude of 1,712 m above sea level. Anthargange hill is completely surrounded by boulders and it is the combination of trekking and cave exploration that drives the excitement factor high.
Anthargange peak is perfect for night trekking and cave exploration in torch light. With a walk of around 3 kms, this is a moderate trek, as the climb takes you through broken rocks and tricky paths in the boulders to finally reach the cave site awaiting exploration. The experience of making your way through the caves, having to crawl at times because of the volcanic rock formations, is one worth having for any trek lover.
This night trek to the caves of Anthargange is sure to take you back to the primeval times. And you finally get to be in the skin of a  "Cave Man". The effort pays off as the feeling of contentment starts settling in at the finishing point of the trek. Unwind by the bonfire and feel the mysterious night envelope you. If luck favours, you might catch a glimpse of the wild animals that roam the land. As the darkness fades, make your way back to the base through the cave.
This adventure activity at Anthargange is one of the nearest escapes into the caves for any Bangalorean.
09:00 PM Pick up starts from Bangalore
12:30 AM Reach Anthargange base
12:45 AM Start the small trek followed by cave exploration
03:00 AM Finish experience, relax and enjoy campfire
05:50 AM Wake up and watch sunrise
07:00 AM Head back towards Anthargange base
07:15 AM Head to the nearby restaurant
07:45 AM Freshen up & have breakfast
09:30 AM Head back to Bangalore
11:00 AM Reach Bangalore

Pick-up and drop-off from Bengaluru
Night Trek
Campfire
Cave Exploration
Sleeping Bag
Buffet Breakfast

Recommended gratuities
Any additional services provided

1. RR Nagar (09:00 PM) - Gopalan Arcade, Mysore road
2. Banashankari (09:30 PM) - Bus Stop
3. BTM (10:00 PM) - Udupi Garden Bus Stop, Near A2B
4. Silk Board (10:10 PM) - Near Krishna Bhavan Restaurant
5. Marathahalli (10:30 PM) - Opposite to Kalamandir
6. Tin Factory (11:15 PM) - Bus Stop

Torch per person
Sports shoes or trekking shoes in good condition
Backpack
Rain coat/Poncho
Water bottles
Energy bars, dry fruits, etc.
Personal medication
Sweater/ jackets for the night
Toiletries (napkin, tissues, etc.)
Flashlight/Torch with extra batteries
Track pants and cotton T-shirt
Camera (optional)

Cancellation charges applicable basis duration prior to the date of the commencement of the activity:
0-2 days from activity date: 100% booking charges
2-7 days from activity date: 50% booking charges
7-14 days from activity date: 25% booking charges
More than 14 days from activity date: No booking charges