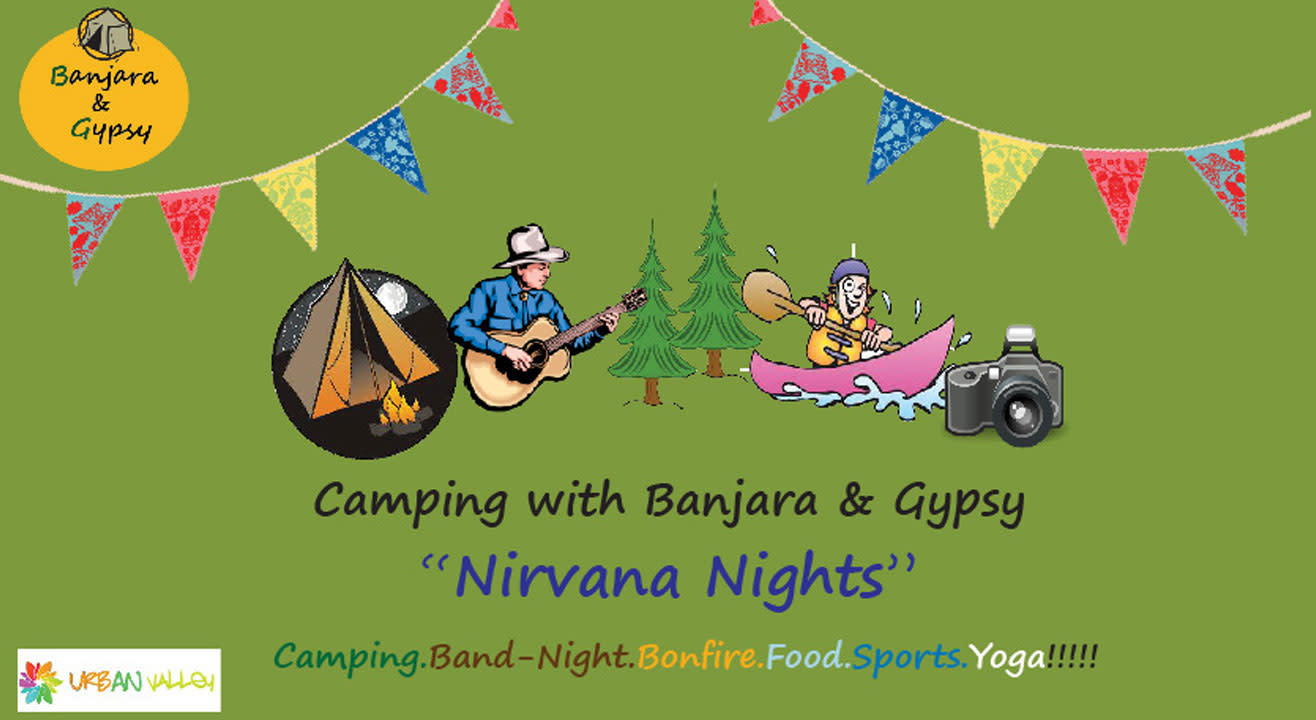 Camping
Nirvana Nights with Banjara & Gypsy
Urban Valley Resort, Kanakapura
About
Get ready to break your boring routine to the kick-ass evening. You totally deserved this "Nirvana Night" away from the crazy Bangalore traffic.


Banjara & Gypsy is a community, passionate about life, adventures and specially fun, So pack your bags and gather your buddies to enjoy this amazing camping experience in nature along with healthy food, music bands, dance, bonfire, games and much more!


Group discounts available on a purchase of 6 or more tickets!
Camp stay
Tea & snacks
Short trek
Dinner
Breakfast
Swimming pool
Kayaking
Rain dance
Alcohol
ATV
Zip-line
Paintball
What is Banjara & Gyspy?
A fun loving and adventurous community of banjaras & gypsies who are looking for chilled out evening with their buddies and enjoy nature away from noisy city.
www.banjaragypsy.com

What you need to bring?
Just chill, you get awesome stay and good quality food in your package, keep some cash handy for extra activities/ for booze. But do bring your photo ID.

Minimum age?
18+ yrs

What not to bring?
Outside alcohol or any kind of drugs are strictly prohibited.

What's special about Nirvana Nights?
Rhythmic music near to your camp with healthy munchies, special dance performances, funky games, Bonfire & much more; can't disclose everything.

No misconduct will be tolerated.
"We are here to enjoy this beautiful nature & camp stay and it can be possible by your cooperative support, So request you to be patient & cooperative with our team. Any violation won't be tolerated and can ask for camp vacation for any inappropriate conduct." - Team Banjara & Gypsy.
November 24, Friday - November 25, Saturday
Friday
05:00 PM: Tour and small trek
05:30 PM: Tea and snacks
06:00 PM: Funky games
07:30 PM: Music night & dancing
08:30 PM: Dinner and drinks
10:00 PM: Bonfire
Saturday
08:30 AM: Adventure sports and breakfast
11:00 AM: Checkout

November 25, Saturday - November 26, Sunday
Saturday
05:00 PM: Tour and small trek
05:30 PM: Tea and snacks
06:00 PM: Fun games
06:30PM: Dance performance
07:30 PM: Booze and dinner
10:00 PM: Bonfire
Sunday
08:30 AM: Adventure sports and breakfast
11:00 AM: Checkout
1 Photo ID (Any Adhaar/ Pan Card/Driving License/)
Sport shoes for outdoor activities
Keep woolens to stay warm in midnight music night
Refund- 30% before 1 week prior to event, after it no refunds
Venue
Urban Valley Resort, Kanakapura
Vaderahalli village, Kanakapura Main road, Bengaluru, Karnataka 560112