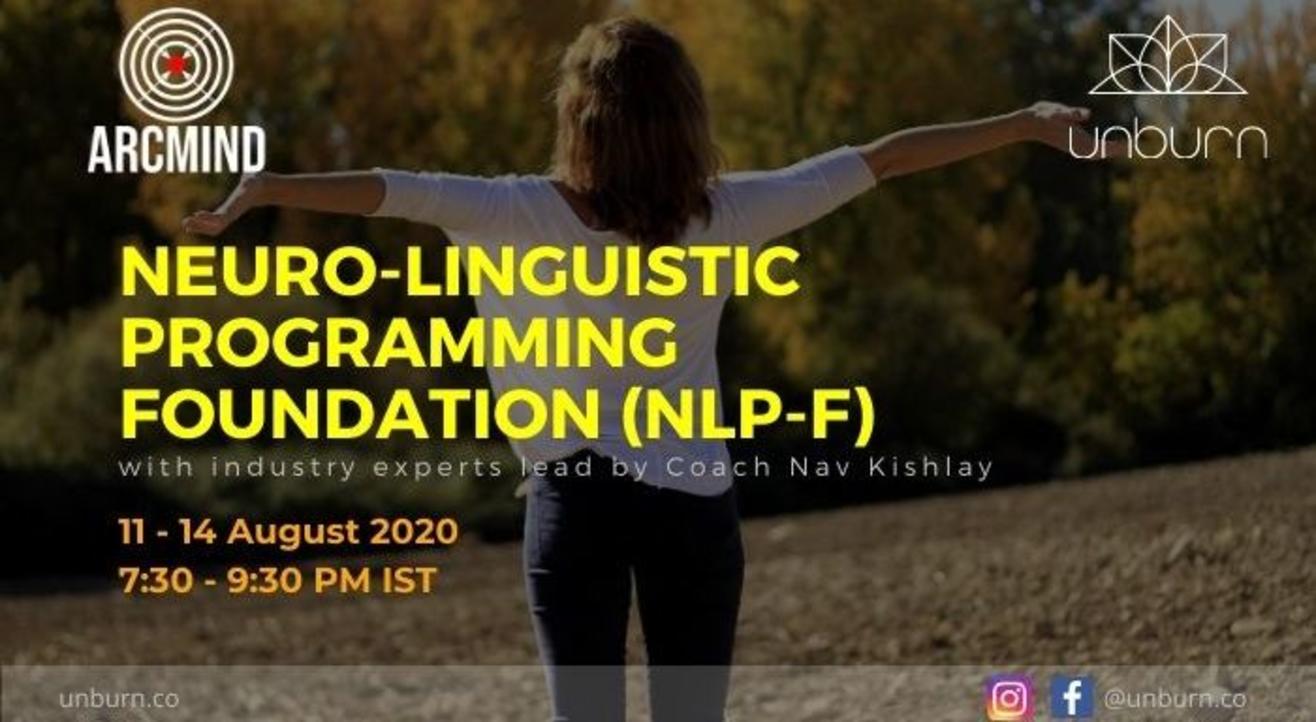 NLP Foundation with Industry Experts
August 11 | 7:30PM - August 14 | 9:30PM
Invite your friends
and enjoy a shared experience
Invite your friends
and enjoy a shared experience
About the Event
NLP Foundation with Industry Experts:
Online Classes
Per day Session Duration: 2 Hours
Total Course Duration: 8 Hours/4 days
Certificate Of Completion : Included
Take this life changing course offered with an opportunity to network and learn from Industry Experts. We bring to you a detailed foundation in NLP with guest lecturers from industry experts belonging to organisations like Google, Apple, Amazon, HP, CGI, Sony Networks, GE, Capgemini and more. They will share their experiences LIVE with all the participants during the course of this unique program.
Course Description:
Take this first step towards a life changing Course. If you have wondered why is it that only some people make it big in their professional and personal lives and others are just left out because of their destiny, then you need to take this course and demolish such limiting beliefs.
We have all been raised in certain environments which are controlled by various factors not in our control and as a result we fall prey to certain ideas and belief systems which, believe it or not, are instrumental when we take critical decisions in our lives. The food we eat, the clothes we wear, the choices we make, the subjects we like are all a result of this same belief system.
This course will help you with:
Application of techniques for specific situations & circumstances
Enhance your communication skill by being engaging, influential & inspiring
Develop compelling future goals & practical actionable processes with outcomes
Increase your competency at reading verbal & non-verbal communications
Increase the accuracy of your thinking and interpretative efforts
Be aware of your limiting beliefs to move towards transformation
Identify and control your emotional state by mastering your thoughts
Understand fears, frustrations and other destructive emotions
Make Congruent Values Decisions by developing strategies
Build strong and robust personal, social and professional relationships
Determine truth in all situations by building razor sharp questioning skills
Help others in gaining vision, clarity & sense of life direction
Modify undesired habits or behaviours in yourself and other people
Building Rapport with Clients and Customers
About the Coach:
Mr Nav Kishlay is a Life Coach , CSR Consultant and a theatre professional. With an experience of fourteen plus years in the domain of L&D, he is a Certified NLP Trainer From ANLP India , a Certified CSR Consultant from ICSI India and a Certified Resource Mobilizing Local Fundraising Trainer from MDF Netherlands. He has worked with Corporates, NGOs and many educational institutions. He has facilitated sessions for more than 20,000 people by directly and positively impacted around a million minds through his podcasts, videos and articles.He has conducted trainings and workshops for people based in different parts of the globe like FIJI, Bangkok, US, Bhutan, Veitnam, Brazil, Uganda, Pakistan, Nepal, Canada, Singapore, Afghanistan, UK, Africa, Kenya, Nigeria, Saudi Arabia, Maldives, Mauritius, Hongkong.