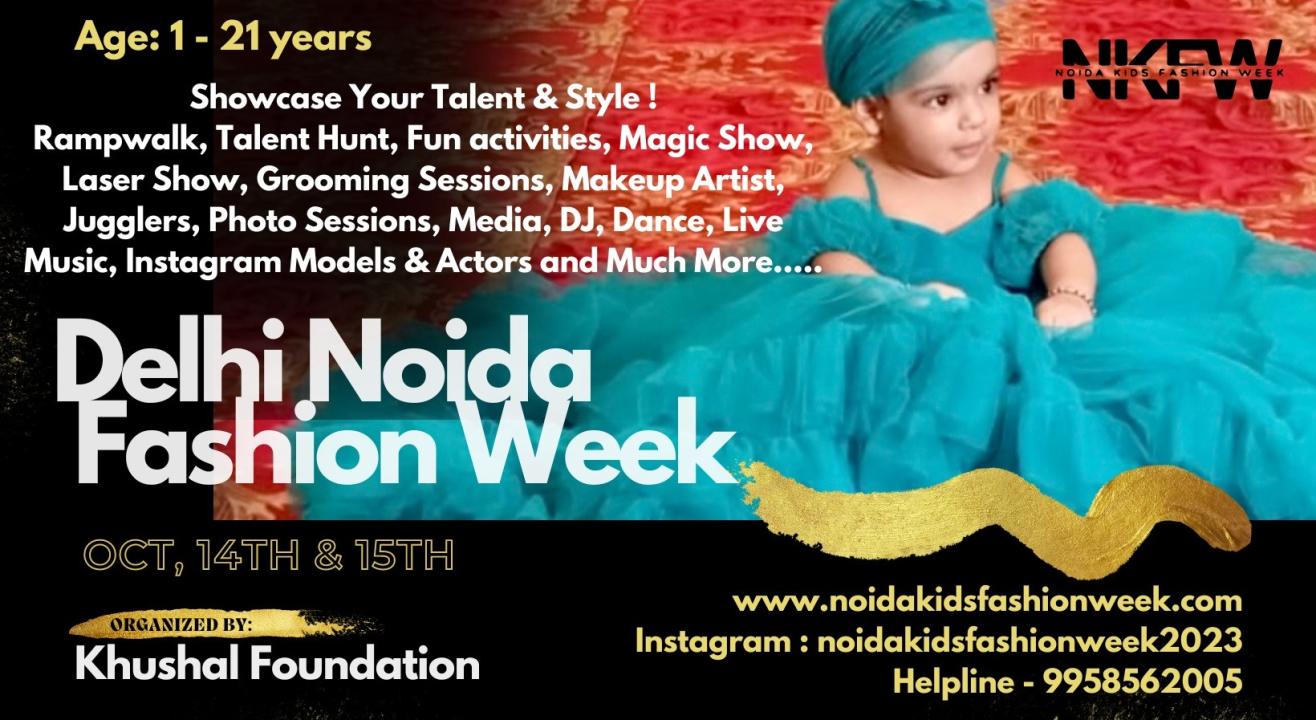 October 14 | 11PM - October 15 | 7PM
Venue to be announced, Noida
Event Guide
Language
Hinglish, English, Hindi
Live Performance
Enjoy a unique experience
Invite your friends
and enjoy a shared experience
October 14 | 11PM - October 15 | 7PM
Venue to be announced, Noida
Event Guide
Language
Hinglish, English, Hindi
Live Performance
Enjoy a unique experience
Invite your friends
and enjoy a shared experience
Event Guide
Language
Hinglish, English, Hindi
Live Performance
Enjoy a unique experience
Covid 19 Safety Measures
This event adheres to the following

Health & safety measures
Hand Hygiene Stations
Sanitisation before the show
Invite your friends
and enjoy a shared experience
Covid 19 Safety Measures
This event adheres to the following

Health & safety measures
Hand Hygiene Stations
Sanitisation before the show
Delhi Noida Kids Fashion Week is an annual showcase that celebrates the creativity talent and style of young fashion enthusiasts aged between 1 and 21 years. Our event provides a unique platform for budding designers models and fashion enthusiasts to showcase their skills and passion for fashion. The event will feature a series of fashion shows interactive workshops and creative activities tailored specifically for children.
Join our exciting Kids fashion show and give your child the opportunity to be selected for brand shoots and prints. Showcase their Style, Talent and Personality on the runway, and open doors to a world of modeling and fashion opportunities. Your kid will also get a chance to be published on our website and in our magazines.
Don't miss this opportunity to make your child's dreams come true!
Khushal Foundation - NGO is holding this event and all the proceedings from this would be utilized for the development of underprivileged childrens.
Let your Kid walk for a Cause !!
We believe that "EVERY CHILD IS BORN WITH SPECIAL TALENT" so that's why we have come up with Delhi Noida Kids Fashion Show where we give chance to kids between 1-21 years of age to showcase their talent.
Benefits for Participation:
· Mold a child to be a Better Human Being.
· Opportunity to Showcase their Talent
· Certificate of Participation
· Trophy
· Popularity
· Conquer their Fears
· Boost Self Esteem
· Build Confidence
· Overall Personality Development
· Enhance Social Skills
· Personality Grooming
· Overcome Shyness & Hesitation
· Self Expression
· Teach Team Work & Discipline
· Opportunity for Learning & Personal Growth
· Social Media Presence
· Brand Influence
· Modelling opportunities
Get ready for an exhilarating and vibrant day, filled with electrifying live music performances by some of the industry's top singers. The runway will come alive with the enchanting presence of puzzling models and captivating Instagram personalities, as they grace it with their confident and mesmerizing ramp walks.
You will receive an email and an SMS/Call with the details on how to submit your Child details after buying the ticket.
October 14 | 11PM - October 15 | 7PM
Venue to be announced, Noida
Event Guide
Language
Hinglish, English, Hindi
Live Performance
Enjoy a unique experience
Invite your friends
and enjoy a shared experience