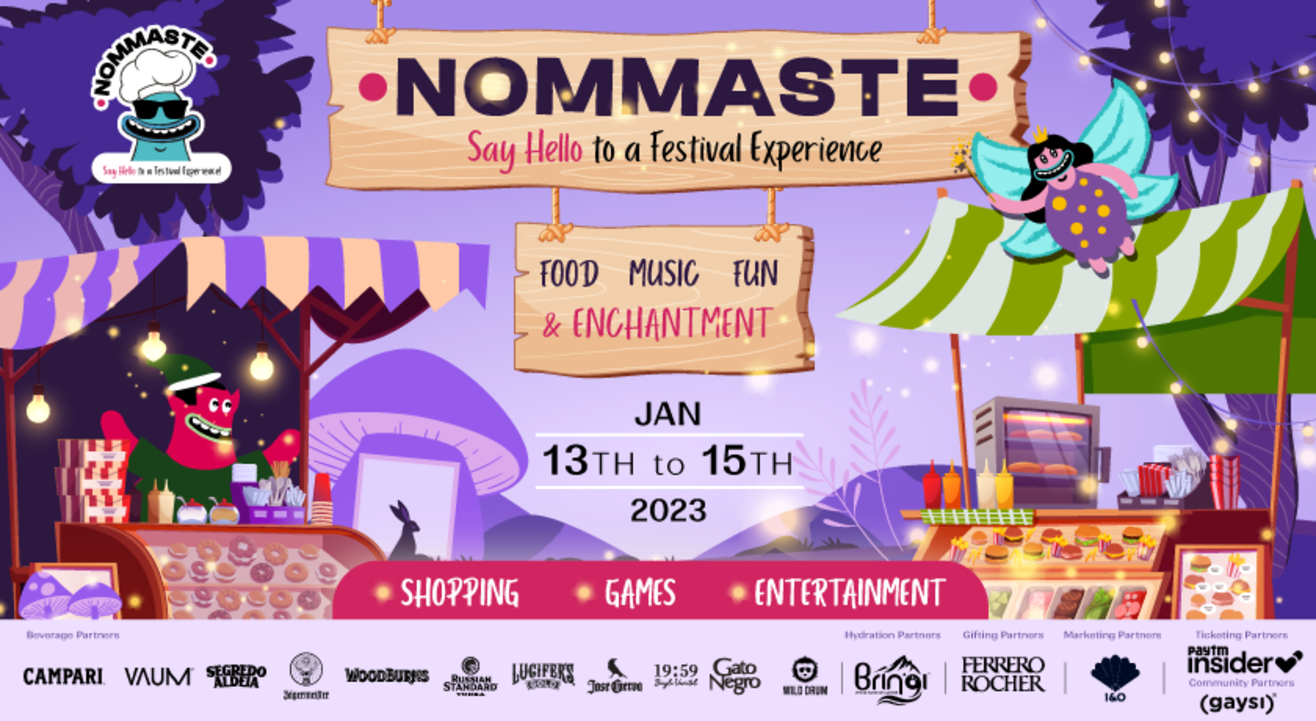 Nommaste 2023 | Mumbai | Food, Drinks, Entertainment |
D'Monte Park Recreation Club, Mumbai
Step out and enjoy this event
Event Guide
For Age(s)
Family Friendly
Invite your friends
and enjoy a shared experience
Nommaste 2023 | Mumbai | Food, Drinks, Entertainment |
D'Monte Park Recreation Club, Mumbai
Step out and enjoy this event
Event Guide
For Age(s)
Family Friendly
Invite your friends
and enjoy a shared experience
Event Guide
For Age(s)
Family Friendly
Invite your friends
and enjoy a shared experience
NOMMASTE is a 3-day immersive food festival by The Nommers, India's largest Home Cuisine Collective.
Walk into this event for a Sensorial Experience. Discover an amazing array of Home / Cloud Kitchens and their - Authentic, delicious, sometimes forgotten, and inaccessible, culturally based recipes and condiments.
What you'll Experience:
20+ Delicious Home Cuisine Brands
Sweet, Spice & Everything Nice
Music Stage
Bringing to you an acapella band, and local, undiscovered artists to sing along with
Bars
A collection of custom-made cocktails, to enjoy the evening in DPRC, Bandra West and get into the mood of things.
Homegrown Businesses
Support local artists and businesses. An inclusive space for all ❤️🌈
Here are our fun rules :
#1. Talk to one stranger at the event. Make new friends!
#2. We are India's largest home-cuisine community of foodies. Let's celebrate our uniqueness and try new food items at the event.
#3. Dress Code – Be Yourself. If you prefer dressing classy or dig the beachwear look, you're welcome. Make sure you're comfortable.
#4. Maximise your fun output. Have a ball and let everyone around know that.
#5. Greet people with a Nommaste. 🙏🏿
Nommaste 2023 - The most Awaited Food and Beverage Festival
D'Monte Park Recreation Club
D'Monte Park Rd, Bandra West, Mumbai, Maharashtra 400050, India
GET DIRECTIONS
Nommaste 2023 | Mumbai | Food, Drinks, Entertainment |
D'Monte Park Recreation Club, Mumbai
Step out and enjoy this event
Event Guide
For Age(s)
Family Friendly
Invite your friends
and enjoy a shared experience