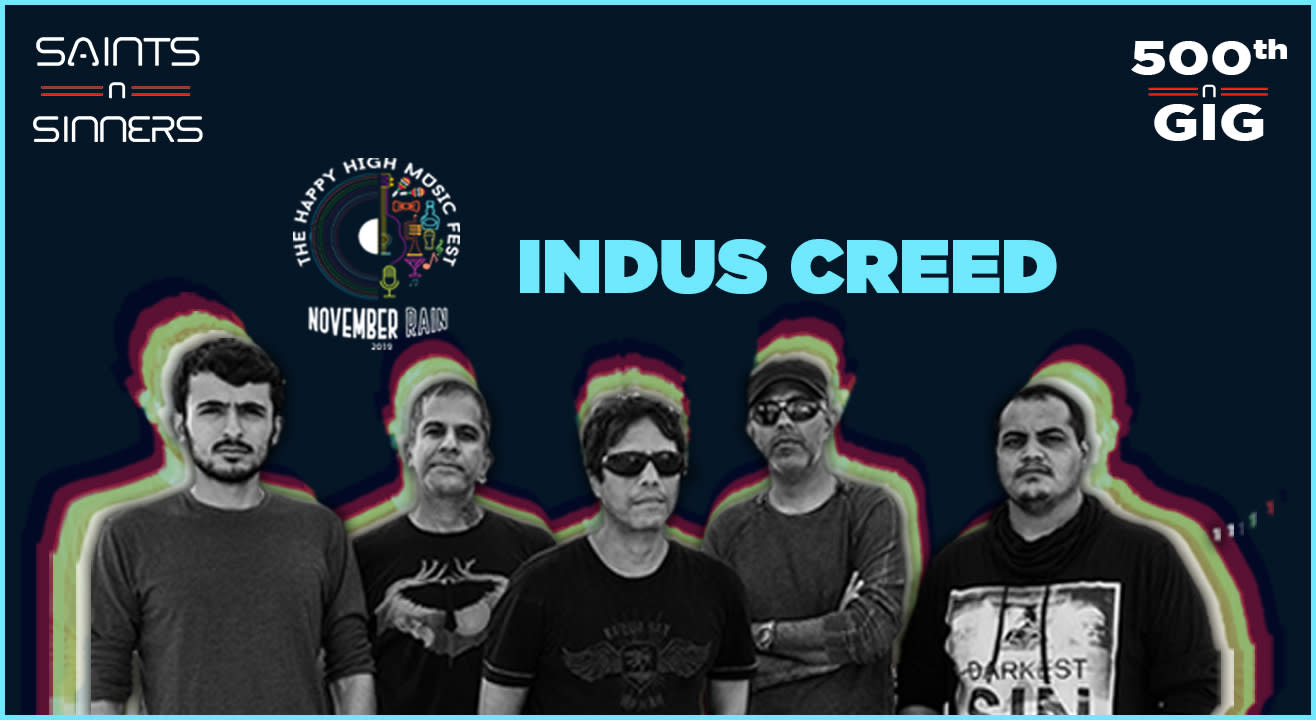 Music
November Rain- The Happy High Music Fest 2019 - Delhi NCR
Saints N Sinners, Gurugram
About
Music, memories and absolute madness! That's what you can look forward to at our second annual music festival, November Rain! The music won't stop and neither will the drinks, with food that'll leave you in splits about your favourites! That's how crazy the party gets at Saints n' Sinners when our second year anniversary and 500th gig with Indus Creed (opening act by Traffic Jam) come together for one unforgettable might.
Let the November Rain shower!
To save your spot, call at +919870286686, +918448539004
Saints N Sinners is celebrating the magic of music, food, drinks and company on 20th November. On the occasion of our second year anniversary we are also celebrating our 500th gig with Indus Creed as the headlining act and Traffic Jam as the opening act. Full of heart and soul, November Rain will have something for everyone. We celebrate our special milestone with a tribute to the greatest remedy of all time, loved by saints and sinners alike.
Let the November Rain shower!
About Indus Creed( Headlining Act):
India's front-running band for over 25 years, Indus Creed are considered the pioneers of rock
music in the country. They blazed trails across India well before the advent of satellite TV into
the country's airwaves, setting the stage for today's fertile indie scene. Their pathbreaking
albums are still considered seminal works.
The multi-award-winning band first put India on the international rock map from the late 1980s
to the late 1990s. A few of their achievements include:
Ø touring extensively through India, the UK and the Middle East
Ø playing at Peter Gabriel's WOMAD festival in Reading, UK
Ø performing with Bon Jovi to over 40,000 people in Bombay
Ø playing on stage with Guns N' Roses guitarist Slash for MTV India's launch
Ø being the first Indian band to feature on MTV
Ø winning numerous video music awards including the Asia-wide MTV Viewers' Choice
Award for their song "Pretty Child"
Ø being named Best Indian Band by Channel V
Ø being awarded VH1 India's first ever Hall of Fame Award
Ø being inducted into the Indian Recording Arts Academy Hall of Fame
The band's debut album Rock 'n' Roll Renegade (CBS) was the largest selling rock album in the country.
About Traffic Jam( Opening Act):
TRAFFIC JAM is a 4 - piece band with a message. With all members from the north east of India , living under similar circumstances, and meeting up far from home in the grounds of Delhi, the band strives to pay tribute to the Rock Gods and Anthems they grew up with , in their homeground.
Heavily influenced by life, love and Rock their name speaks for itself, something everyone faces in every aspect of their life. Like a calm in the storm, they handle even the hardest riffs with elan and soft notes that flow like milk and honey, eventually giving rock the respect it deserves.
As an "all-genre" band, the band's roots go down to the basic strong foundation of each of the members who are all passionate laureates of music. constantly learning and teaching, Also having had to live-off music, the band has played in numerous great places like : "Striker breweries, Hard Rock Cafe, Soi7, Geoffrey's, Lutyens, BriX, Attitude, Manajsa, DLF city club, Sutra, Brewer Street and whole lots of other great places in NCR. This is indeed the one- step shop for your Music needs, that where Traffic Jam happens.
Venue
Saints N Sinners, Gurugram
GF-21 Global Foyer, Golf Course Road Sector 43, Sector 43, Gurugram, Haryana 122002
GET DIRECTIONS