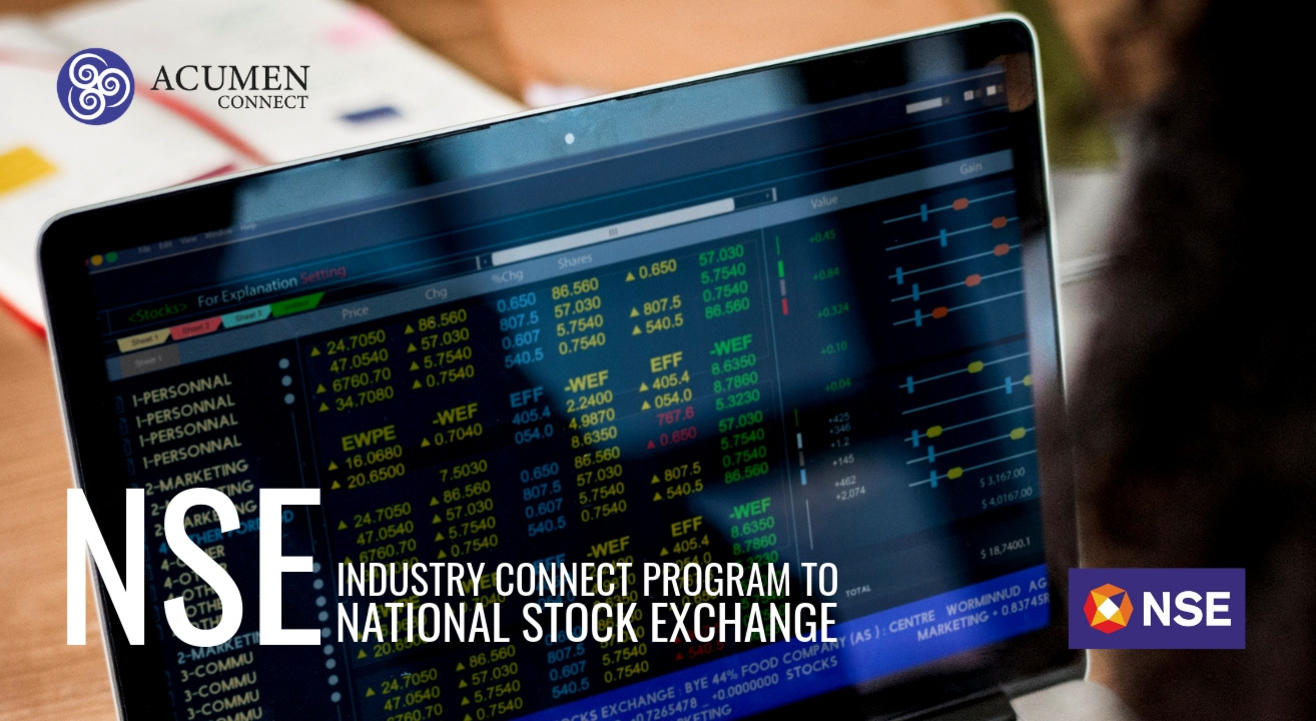 Learn
NSE | Industry Connect Program
July 27 - August 31 | 9AM
Vatika Business Centre And Co-working Spaces
About
There are a total 22 stock exchanges in India and National Stock Exchange has a total market capitalization of more than US$2.27 trillion, making it the world's 11th-largest stock exchange.
It has been the endeavor of Acumen Connect to spread knowledge about financial markets as widely as possible. As part of this endeavor, we have been organizing 'Visit to NSE' Program, under which groups of students visit NSE to attend a 2-hour session. The session includes lectures on 'Overview of the Exchange', 'Capital Markets' and 'Derivative Markets' . In this session, the participants learn about stock exchange structure, its operations, products traded on it and so on.
Industry Visit to NSE Hyderabad
Features of Industry Visit:
Introduction to the NSE.
Functionality of the NSE as an erstwhile stock exchange.
Functionality of HSE financials as a trading arm of HSE Demo on live trading
What will you get :
Certificate
Guided Tour
Refreshments
Industry Report
Buy a ticket & get ₹150 off. Use code: LEARNMORE150 (T&C apply)
Venue
Vatika Business Centre And Co-working Spaces
3rd Floor, NSL Icon, Road Number 12, Plot No. 1-4, Banjara Hills, Anand Banjara Colony, Banjara Hills, Hyderabad, Telangana 500034