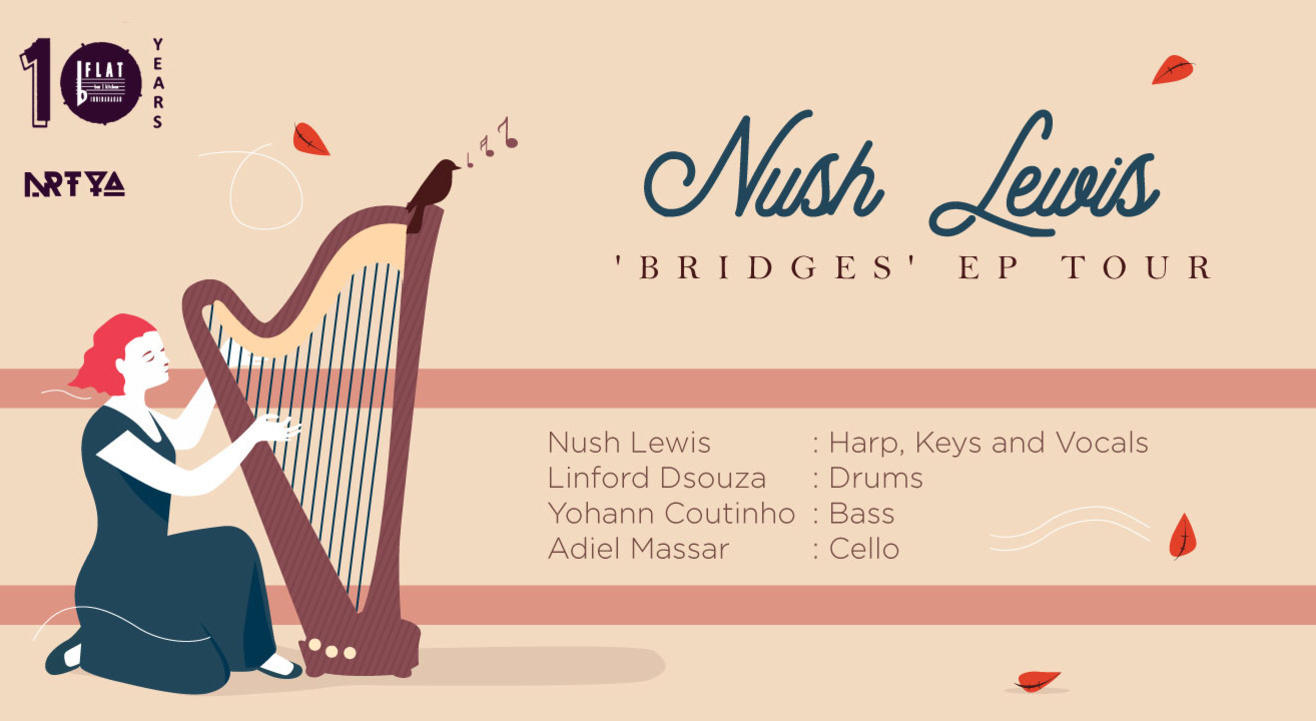 Nush Lewis - 'Bridges' EP Tour
Invite your friends
and enjoy a shared experience
Invite your friends
and enjoy a shared experience
About the Event
About The Event
Bflat presents another mid-week surprise gig! Nush Lewis, a versatile multi-instrumentalist, composer and singer-songwriter based in Mumbai, India. Having trained in the piano in her childhood and since then extensively in the harp, she has completed her performance course in the harp from one the finest institutes in the country, the KM Conservatory, Chennai.
NO RESERVATIONS - Seating First Come First Served.
About the EP - Bridges :
"Bridges" is a body work that represents an artist's personal growth moving against all odds and self discovery. It has been about two years in the making in terms of writing and rewriting. Sonically, it was driven by the piano as opposed to the last EP. The storytelling in the songs opened up a more harmonic spectrum because of it. The usage of live drums and bass has also played a big role in the making of the EP.
'Travel' tells a story of unachievable love, 'Lament' is a grandmother's battle with mental illness, 'Untuned' leaping into freedom and embracing it, 'Threads' is about the lies we surround ourselves with and 'Distance' is about an alternate universe we would like to escape to. Of the five songs, two are collaborations with producers. 'Threads' is a collaboration with Italian producer, Luca Petracca. And 'Distance' is a collaboration with ambient artist, Riatsu.
Bridges is composed, arranged and produced by Nush Lewis.
Line up Details:
Nush Lewis : Harp, Keys and Vocals
Linford Dsouza : Drums
Yohann Coutinho : Bass
Adiel Massar : Cello
Nush Lewis's band comprises of Linford Dsouza (Small Talk/ Monica Dogra) on drums, Yohann Coutinho (Unohu/ Small Talk/Kingro) on bass and Adiel Massar (ADL x K.LY) on cello. And of course Nush Lewis on harp, keys and vocal duties. The band makes sure the sound lends itself to the stories being told in the song.
The Bflat Bar
776, 100 Feet Road, Indiranagar (above Kotak Bank), Bangalore
GET DIRECTIONS