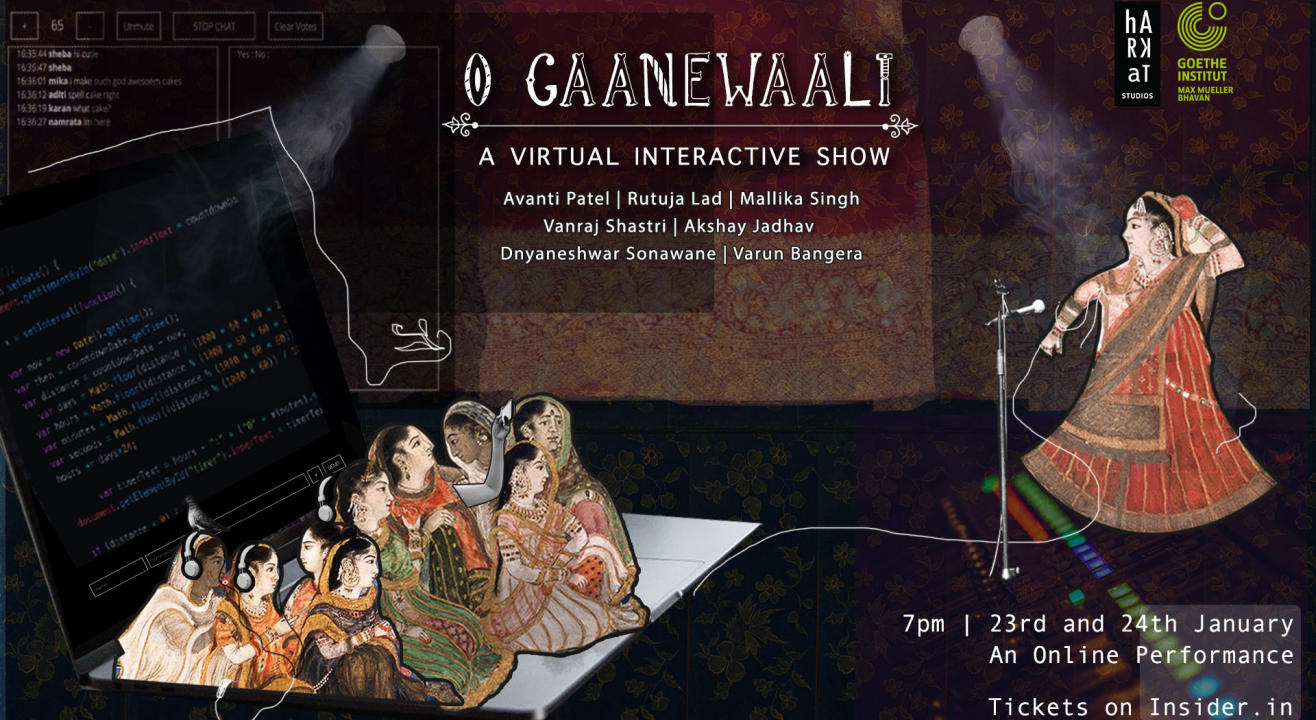 Enjoy this event from your home
Invite your friends
and enjoy a shared experience
Invite your friends
and enjoy a shared experience
About the Event
Entertaining the nobility of India, her life was different from the other women around her. She had sexual agency, she was financially independent and most importantly- very skilled at her art, her music. History wasn't on her side and a lot of her life has been left out of the story of India, the story of our rich cultural heritage.
Through traditions, stories, laughter and memories- we gently nudge you towards the forgotten heritage, the music of the Gaanewalis. Popularly known as Tawaifs, nautch girls, prostitutes, sex workers, the world had forgotten their contribution to the forms of Ghazal, Thumri, Dadra and so on.
We're here to give you a small glimpse into the musical world of the Gaanewali.
Date: 23rd & 24th January 2021
Time: 7:00pm
Show Notes
The show will be performed live and to access all the interactive features, it is best viewed on a desktop computer, laptop or a tablet. The show can be accessed via a phone as well but some interactive features will not be available.
On booking, the show link will be shared 24 hours before the show. Please make sure to give a correct email id and contact us on shows@harkat.in if you do not receive the link.
Performance by:
Avanti Patel, Rutuja Lad, Mallika Singh, Vanraj Shastri, Akshay Jadhav, Dnyaneshwar Sonawane, and Varun Bangera.
About the Harkat Virtual Interactive Stage
Theatre – as imagined for proscenium and even informal performance spaces – is a communal, and very physical experience, for both performers and the audience. A truly 'for the internet' platform, where we have retrofitted the Harkat physical space with state of the art capturing and streaming equipment, interactive tools and a technical team on standby. The Harkat Virtual Interactive Stage is a new form of art, a new medium if you will, to audiences and directors alike. It's not theatre, it's not film, it's not a cheap mid-way and it's not trying to be like anything else.
Supported by the Goethe-Institut/ Max Mueller Bhavan Mumbai.
About Harkat
Harkat is an international boutique arts studio with a passion for film, new media, community art spaces and contemporary art. Based in Mumbai & Berlin, Harkat takes many forms and identities across disciplines & related creative industries. As an alternative performance & arts space, we have hosted more than 300 shows in the past year in the mediums of theatre, film, music, community projects & contemporary art. We support the new, unheard, upcoming, exciting, cutting edge, the political, the forgotten, nostalgic, melancholic, soul stirring, the beautiful & more. And that's what Harkat is. Harkat.
*(Money should not be a reason that you don't experience art. Sign up for a 'pay what you want' ticket on shows.harkat.in. We also have a special discount of 25% off for the students.)*