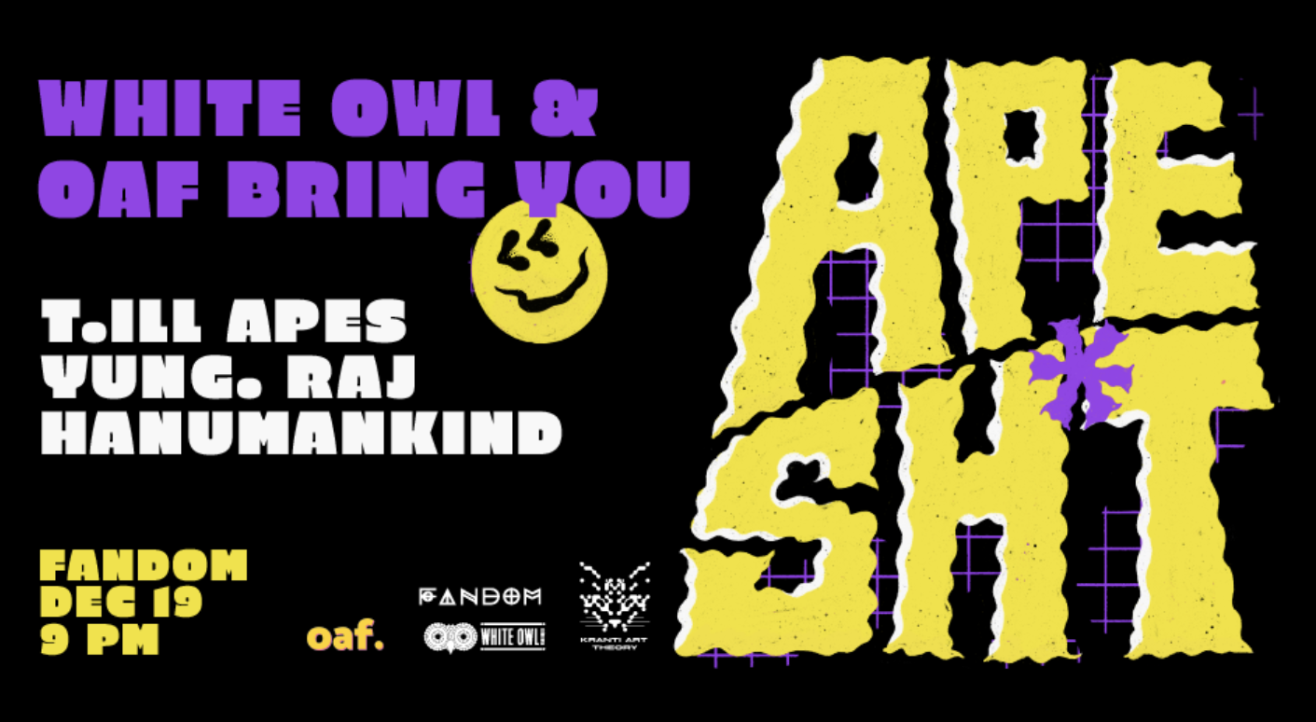 APE SH*T featuring T.ill apes, Hanumankind & Yung.raj
Fandom at Gilly's Redefined
Invite your friends
and enjoy a shared experience
Invite your friends
and enjoy a shared experience
About the Event
T.ill APES
An experimental Neo soul, Hip-hop band formed in bangalore, India.
Fusing ideas from multiple genres "T.ill APES" are ready to introduce a new sound to the world.
HanuMankind - Vocals
Doc.Awes - guitar/bass
Soorya - Guitar/bass/synths
Philp - Keyboards
Sange - Drums/percussion
HanuMankind
Sooraj Cherukat AKA HanuManKind won the 2017 Mic Drop Tournament which recognizes up and coming rappers. Originally from Kerala, HanuManKind moved to Texas as a child. He returned to Bengaluru in 2015 and has been making music independently since. He brings out a fiery flow that immediately stands out, and he's just getting started.
Yung.Raj
Raj Verma is a young, talented beat-boxer and beat-maker from Hyderabad, India. Since early 2011, Raj has performed with world renowned acts such as Foreign Beggars, Shri, Karsh Kale, Niladri Kumar, Shiva Sound System, BOGL, Func and up until 2017 was an active member of popular acapella group - Voctronica.
For Raj, it all started with beat-boxing way back in 2009. Slowly allowing the bigger picture of music to take over in his life, he moved on to explore his own direction in sound. Influenced by music from the likes of L.A. beat-makers Mndsgn, Kiefer, Knxwledge & many more, Raj started making beats at his DIY home studio in Hyderabad and in 2018 started releasing music under the moniker Yung.Raj. His productions are an experiment with time, tempo and rhythm, blending numerous styles to create a sound that is truly unique and his own. His music can typically be heard in all scenarios, allowing the listener to delve into the depths of the detailed production or just have it running in the background.
What is Fandom at Gillys Redefined?
At Fandom, our new live venue, prepare to be blown away by sensational live performances. Our 500 standing capacity venue is fully equipped with a grand stage and a robust sound and lighting system. To find out who is performing at Fandom, just check out our Event Calendar!
What is Gilly's Redefined?
Gilly's Redefined is the next step in the gastronomic evolution of our signature resto-bars - Gilly's. We have kept in mind the years of feedback we've received from our guests, threw in some spices of inspiration and hard work, blended it with yumminess, and topped it off with top-notch entertainment throughout the week so that every day feels like the weekend.
We have carefully and lovingly curated 3 floors of unique experiences- Our vibrant restobar, Myu Bar and towering rooftop, The Terrace
Be it a working lunch, catching up with friends, a relaxing event with family … you can celebrate it here within one groovetastic destination because it's always a good time at Gilly's!
Fandom at Gilly's Redefined
1st floor of Gillys redefined, # 413, 100 Feet Road, 4th Block, Koramangala, Bengaluru, Karnataka 560034
GET DIRECTIONS