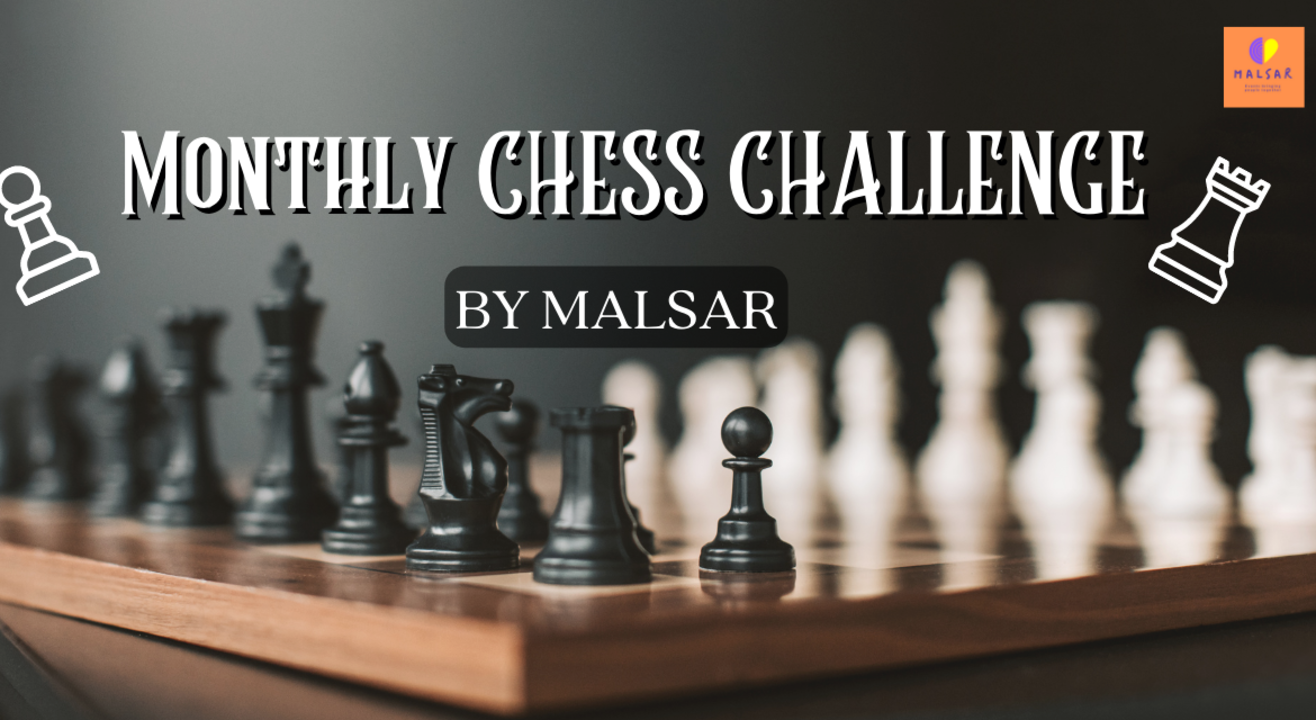 Event Guide
For Age(s)
Family Friendly
Online Game
Participate and have fun
Invite your friends
and enjoy a shared experience
Event Guide
For Age(s)
Family Friendly
Online Game
Participate and have fun
Invite your friends
and enjoy a shared experience
Event Guide
For Age(s)
Family Friendly
Online Game
Participate and have fun
Invite your friends
and enjoy a shared experience
"Champions are those who practice without fail and implement learning."
What is Monthly Chess Challenge by Malsar ?
Chess is one of the world's oldest and most loved strategic board game. The beauty of the game is; it has no-hidden information and the element of luck is virtually non-existent. The history of chess can be traced back nearly 1500 years to its earliest known predecessor, called Chaturanga, in India.
At MALSAR, we've designed 'Monthly Chess Championship' to celebrate and cherish Indians love and passion for the game. The championship aims to promote Chess Culture in country alongside reducing stress and improving cognitive skills.
Format :
-Championship is designed to make participants compete not only against each other but also against the clock.
- Back-to-back games for 45 mins ; Participants will be continuously paired with best match opponents game-after-game for 45 mins, each game will have a maximum time limit of 3 minutes.
- Scores for each game result: Loss: + 0, Draw: + 1, Win: + 2
- Winners: Top 3 scorers after 45 mins of battles
-Final format and rules will be provided to the registered participants.
Rewards:
Rank 1: 300 INR
Rank 2: 200 INR
Rank 3: 100 INR
Participation Certificate to everyone
Terms & Conditions:
1. Tickets once booked cannot be exchanged or refunded
2. An Internet handling fee per ticket may be levied. Please check the total amount before payment
3. We recommend that you arrive at-least 30 minutes prior at the venue for a seamless entry
4. It is mandatory to wear masks at all times and follow social distancing norms
5. Please do not purchase tickets if you feel sick
6. Unlawful resale (or attempted unlawful resale) of a ticket would lead to seizure or cancellation of that ticket without refund or other compensation
7. Rights of admission reserved
8. These terms and conditions are subject to change from time to time at the discretion of the organizer
Event Guide
For Age(s)
Family Friendly
Online Game
Participate and have fun
Invite your friends
and enjoy a shared experience