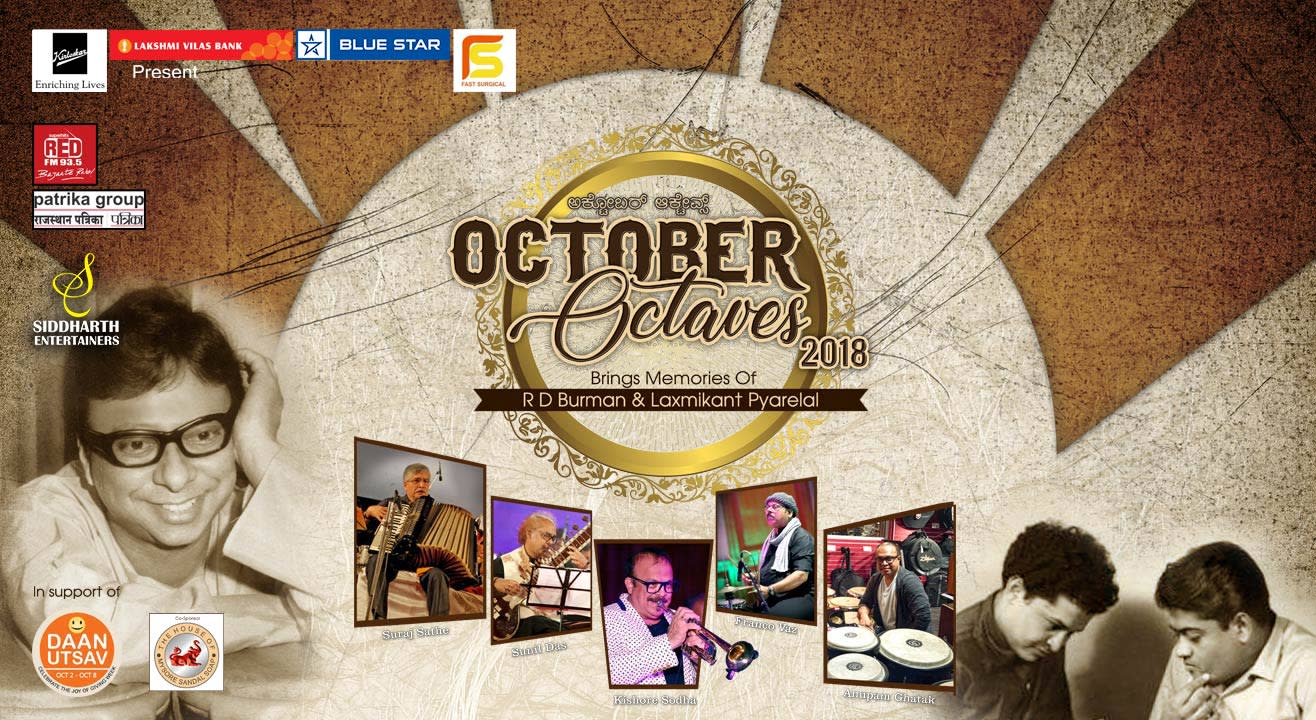 Music
October Octaves
Elaan Convention Center, Bangalore
About
Season of Love
We pay a tribute to two of Bollywood's all time favourite composers, R D Burman and Laxmikant Pyarelal with our band of top singers from across the country. A great repertoire of songs and music is in store for you on the evening of October 6, 2018 at the fourth edition of October Octaves.
October Octaves will bring many firsts to South Bengaluru:
The first event Bringing together the work of two legend of Bollywood music RDB and LP.
A pioneering event bringing together 30 outstanding musicians from Mumbai including Kishore Soudha on the trumpet Franco Vaz playing the drums, Sunil Das on the sitar, Suraj Sathe on the accordion, Anupam Ghatak on the tumba, Suresh Iyer the lead guitarist and the team share stage to produce some brilliant music.
And it will also be the first time that you will give as much as you will take. October Octaves has partnered with the Joy of Giving Week and we are associated with five NGOs which take care of destitute children. A part of your ticket proceeds will go to make a child happy. The season is of giving and taking. So, be a part of it.
Artist Line-up & Description
Kishore Sodha – Trumpet
Kishore Sodha is quite an experienced personality when it comes to music. With 30 years of experience, Kishore has what it takes for a live stunning performance. As a musician from the film industry, he has bagged a lot of awards, rewards and achievements. Not to forget his on-stage performance with the musical legend - Smt. Lata Mangeshkar for a Sony event, background scores for the film Dushmani and valuable musical contributions for Bambai Ka Babu and Zameer. Kishore has been the founder of Music Mover, an event management company performing mainly in the abroad with film industry super stars Shah Rukh Khan, Aamir Khan and many more. Kishore had a memorable musical show with another great legend -Late Shri Kishore Kumar in 1978.


Franco Vaz – Drums
After finishing his education, Franco joined the music industry as a violinist and played violin for all the music directors of those times right from Laxmikant Pyarelal, Shankar Jaikishan, O P Nayyar, Salil Chowdhari, Enoch Daniel, Gaurang Vyas, Sudhir Phadke, Kalyanji Anandji and others.


The RD Burman Association
It was in 1975, two years after Franco joined the music industry, that he received a call from the great RD Burman. Thus began a lifelong association between the two that would produce some of the greatest gems of the Indian Music Industry. Having worked with RD Burman right till the very end (1992), Franco believes that his association with the legendary music composer was the best thing that happened to him professionally as well as personally and continues to cherish memories of the heady days of the Indian film and music business of the seventies and eighties.


Anupam Ghatak
Anupam Ghatak is known as the most prolific rhythm arranger in the bollywood music industry. He has been associated with Shankar Ehsaan Loy & Farhan Akhtar for all their projects till now. Also known as one of the most soughtout followers of RD Burman's rhythm arranger Maruti Rao .Anupam has performed more than 10000 concerts in india & abroad.


Ashish Srivastava:
A talented and pleasant personality with more than 10 years of experience in singing the legend – Rafi's songs. Has a huge own fan following and always committed to the highest level of performance. He is known as the new voice over for Rafi saab in mumbai music circle and abroad.




Sunil Das
One of the most veterans in the music industry known for his signature sitar playing with RD Burman, Laxmikant Pyarelal,Nadeem Shravan, Bappi Lahiri,Anand Milind, Jatin Lait, Salid Wajid and many more.Started his career with the film Sargam and till now he has played many iconic songs like kaate nahin katate(Mr. India), O ram ji(Ram Lakhan), Nainon mein sapna(Himmatwala), Piya bawri(Khoobsurat), Dil hai ke maan ta nahin and many more.


Suraj Sathe
An accordian player who has played for Shankar Jaikishan, RD Burman, Laxmikant Pyerala, Kalyanji Anandji, Nadeem Shravan, Bappi Lahiri and many more. He is the only player who follow both indian and english notations together. He is one of the most favorite player of the Mangeshkar. Suraj Sathe also known for his accuracy. Some of the signature tunes as Chhoti si kahani se (Izzazat)

Vijay Jadhav
Vijay Jadhav is one of the most respectable rhythmist in the music industry. Vastly experienced with his Dholak and Congo playing Now a days playing octopad and working as rhythm arranger.

Sunil Das – Sitar, Suraj Sathe – Accordian, Prakash Verma – Violin, Vijay Yadav – Octopad –All from RDB's team along with Suresh Iyer – Lead Guitarist and 25 other musicians from Mumbai.

Vocalists: Male – Alok Katdare, Ashish Sreevatsav, Vyasaraj Sosale

Female: Shylaja Subramaniam, Ankita Kundu and Shruti Mohan.
Venue
Elaan Convention Center, Bangalore
#46, 7th phase, Opposite Brigade Millennium, Kothanuru Dinne Main Road, J. P. Nagar, Puttenahalli, JP Nagar 7th Phase, JP Nagar, Bengaluru, Karnataka 560078