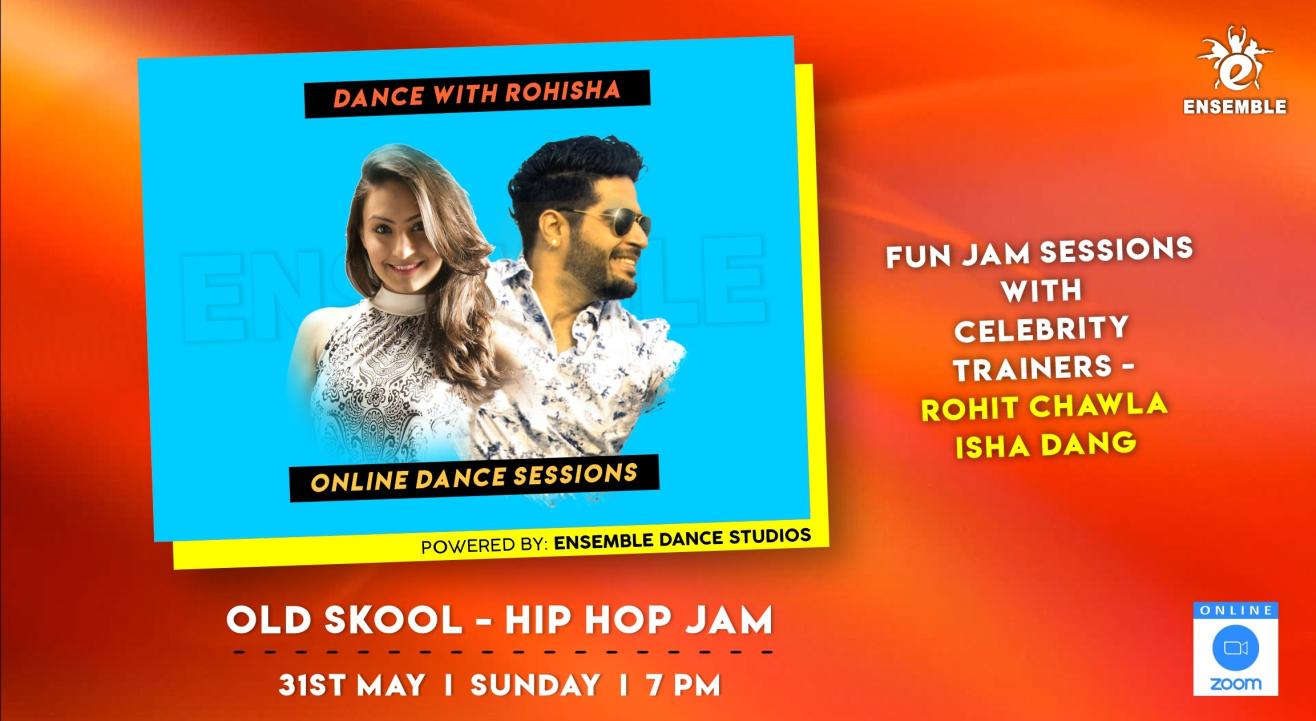 OLD SKOOL HIP-HOP JAM with ROHISHA
Invite your friends
and enjoy a shared experience
Invite your friends
and enjoy a shared experience
About the Event
OLD SKOOL HIP-HOP JAM with ROHISHA
EXPRESS 60 MINS ONLINE DANCE JAM SESSION. UPGRADE YOURSELF WITH TRENDING CHOREOGRAPHY & MOVES, WHILE HAVING FUN AND WORKING OUT.
WHEN – 31st May 2020, SUNDAY – 7:00PM TO 8:00PM
DURATION – 60 Minutes
LOCATION – Online Virtual Session on ZOOM APP
TICKETS:
FEE – by Contribution (Guru Dakshina) + Platform Fee (Fixed Nominal Charge)
Contribution Fee – This goes towards Instruction and Artistic Fee to the Gurus for imparting the knowledge. Teaching fee (Guru Dakshina) is suitable amount decided by the participant, post event. (We do not wish to impose fixed or standard session rates in the times of crisis, so we leave it to the discretion of the student or parents to pay directly in the e-wallet of trainers, post event according to the value you find for the session and as per your budget. Paylink for the same will be provided, once workshop is concluded.)
+ Platform Fee – Fixed for all participants. Nominal Cost towards the Cost of putting up event online - for ticketing platforms + payment gateways and other intermediaries. This you pay while booking your seat prior on the respective platform you are booking.
Artist Line-up and their description:
ROHIT CHAWLA & ISHA DANG
· After Choreographing & training over 23 Celebrities from Films & Television Industry, Rohit & Isha are committed to teach dance to anyone who is willing to learn the art.
· They have really simplified the learning curve for Raw Dancers and their vision is to empower everyone with the art & skill of dance, so as to enable people to dance gracefully and with confidence anywhere.
· Rohit & Isha have Worked with & Trained, more than 2 Dozen Celebrities:
- Deols
- Kareena Kapoor
- Divya Khosla Kumar
- Sonu Nigam
- Elli Avram
- Kalki Kochelin etc
Social Media Links :
· YouTube - www.youtube.com/channel/UCXA-laicFRGWCjXbAzGAjUQ
· Instagram - https://www.instagram.com/ensemble.dance.studios/
· Facebook - https://www.facebook.com/ensembledancestudios/s/
TERMS & CONDITIONS
· Open for all age groups.
· This is a digital event streamed on zoom.us.
· Participants need to have Zoom account to join the virtual session.
· Participants will receive Unique Room ID & Password, 45 minutes prior to the session via EMAIL. This is strictly for single time - single account use and not to be shared or forwarded. Unauthorized sharing or forwarding of the login details will lead to immediate removal or permanent ban from joining future sessions (without refund)
· Participant need to keep their ID CARD handy to join the virtual session. Only authorized/registered participants to learn/join the session. Non-registered or multiple participants accounts will be removed immediately (without refunds)
· Participants need to join meeting/waiting room minimum 15 minutes before the event starts.
· Late joiners will not be admitted, as virtual meeting room will be locked once session commences.
· You may face interruptions during the course of the live stream due to internet connectivity issues.
· Tickets are non-refundable, non-adjustable and non-transferable. Also, no refunds on purchased tickets even in case of any rescheduling.
· COMPULSORY: All Participants to mute their mic once the session starts.
· COMPULSORY: All participants must keep their video on, at all times.
· Participants must not spam the session. Spammers will be removed immediately (without refund)
· The holder of this ticket grants the organizer the right to use, all or any part of the recording of the event for advertising, publicity and promotions.
· In rare case, if you get disconnected from a live session due to internet issue, reach out over Whatsapp message on 86-5555-6600 and we will add you back to the session.