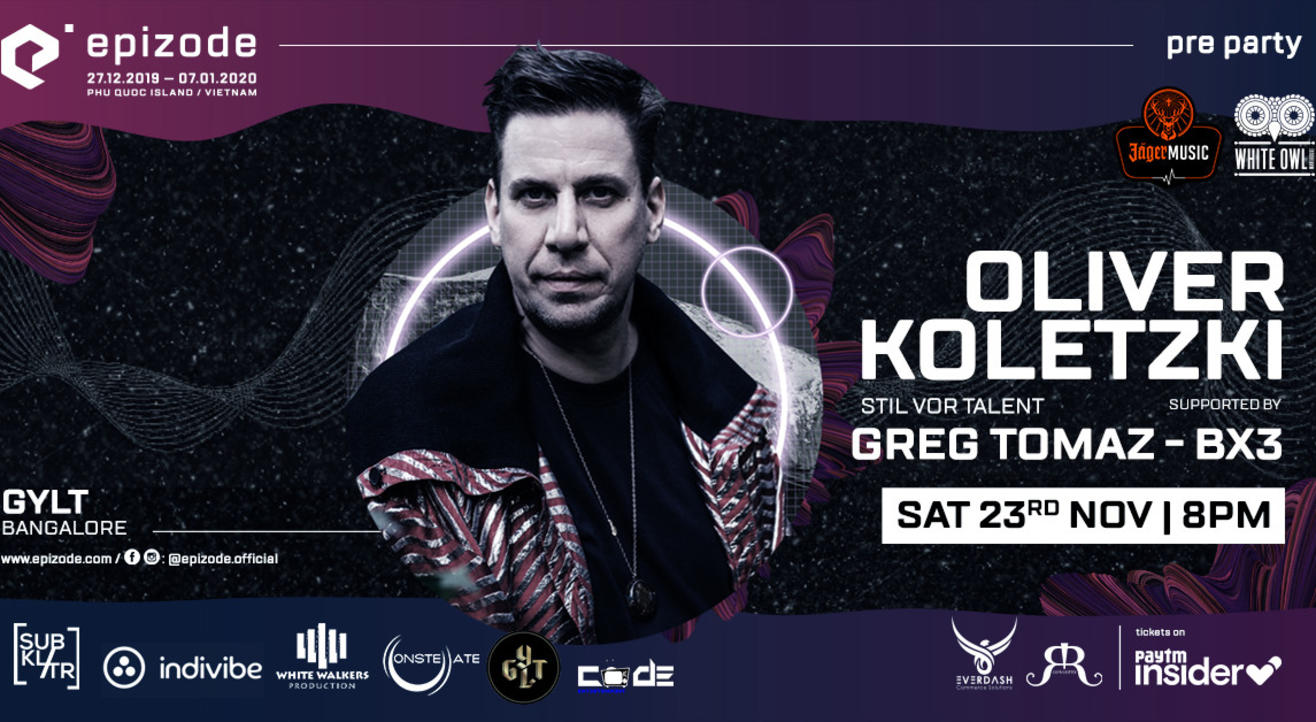 Music
Oliver Koletzki [Stil Vor Talent] // EPIZODE Pre-Party Bangalore
About
For the first time ever in Bangalore, the LEGEND → Oliver Koletzki!
for the Epizode Pre-Party, Saturday November 23rd, supported by BX3 & many more
__Oliver Koletzki__
In 2005 29-year old OLIVER KOLETZKI presses 500 copies of his underground hit "Der Mückenschwarm". One of those white labels lands in Sven Väth's record bag and whenever he plays the track, the people go wild. Shortly after techno-king Väth signs the track on his techno empire Cocoon. "Der Mückenschwarm", already considered as a techno classic - becomes the best sold techno record of 2005, the best ever selling record on Cocoon and OLIVER KOLETZKI gets voted best newcomer of the year in prestigious Groove magazine.
But one would be fooled to think that this was the start of Oliver's musical career. Since he was 12 years old, OLIVER KOLETZKI has been deeply infected with the production of music. He starts out by programming Hip-Hop beats on the C64, but quickly falls in love with more electronic sounds like breakdance and synthie-pop that he produces on the first Amiga computers. When he turns 18, he also starts to DJ in his hometown of Braunschweig and quickly becomes a regular DJ in the local clubs. In 2000 he decides to move to Berlin to study music – and the excessive Berlin nightlife. He promptly lands himself DJ gigs in smaller clubs and bars, but with the release of his first record, things change for the better. In the summer of 2005 he starts to play festivals, gets booked into the most prestigious clubs all over the world and gets asked to remix the likes of Rockers Hi-Fi, Client or Cassius. However, while superstardom is lurking around every corner, Oliver stays down to earth: "I have been making music for nearly twenty years now. That provides me with a stable base for not going nuts. Basically, I am still doing the same that I have been doing for years now: making music during the week and playing out on the weekends, even if it is on a slightly different level now."
oliver koletzki - der mückenschwarm (original mix)
Venue
GYLT, Hennur, Bangalore
22, Hennur Bagalur Rd, Visthar, Bengaluru, Karnataka- 560077
GET DIRECTIONS