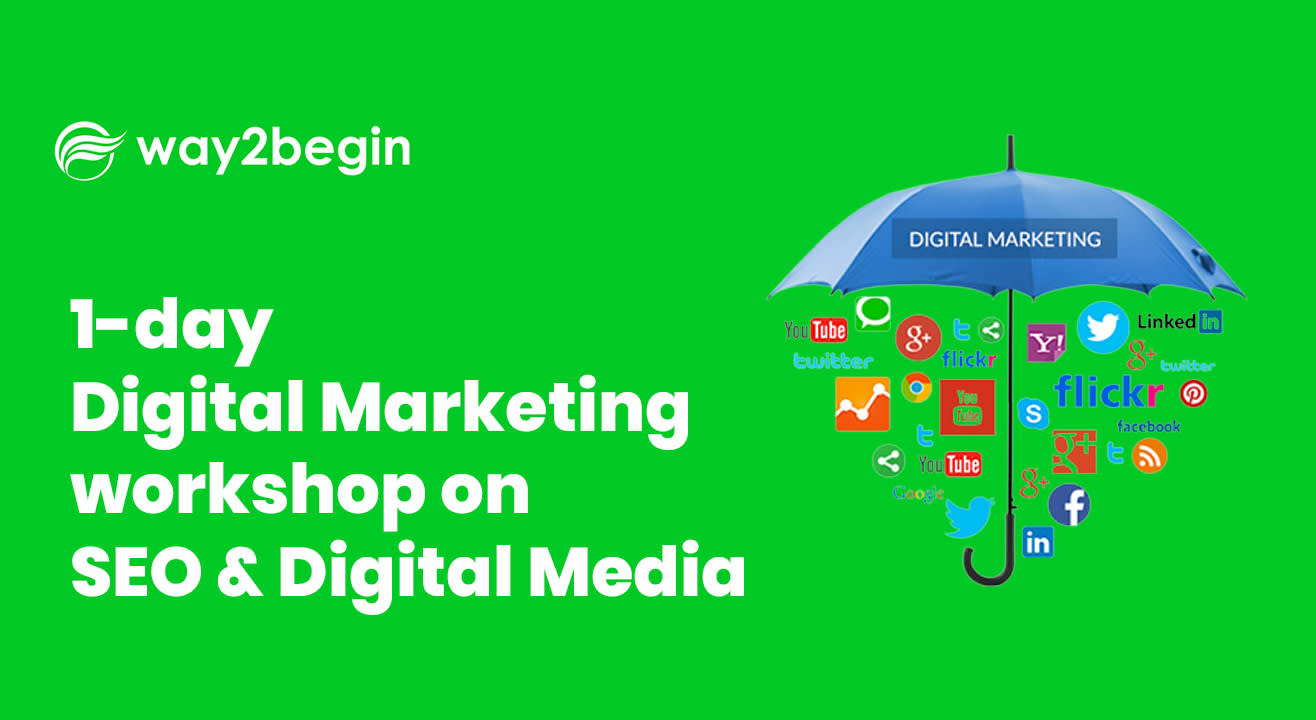 Learn
One - Day Digital Marketing workshop
About
This Workshop is beneficial for All students (B.Tech, MBA, M.Tech, MCA, and Any Degree), irrespective of their courses or educational background. Digitalization is something we are living in our day to day life, so this workshop will give a lot of information and teach skills in Digital Marketing. Any student who want to gain huge knowledge on Digital Marketing.


Topics Covered in this Workshop:

Digital Marketing Overview: What is marketing? What is Digital Marketing?
Understanding Marketing Process, Why Digital Marketing Wins Over Traditional Marketing? Understanding Digital Marketing Process, Increasing Visibility, what is visibility? Types of visibility? Examples of visibility, Visitors Engagement.

Website Planning & Creation: Measure, monitor and evaluate the website traffic and campaign statistics. Learn how to make business decisions from the metrics available in Digital Media.

Search Engine Optimization (SEO): Understand the search engine as default entry point to internet. Learn how to get website listed among top search engine results.

Search Engine Marketing (SEM): Appreciate the role of pay per click in website listing. Learn how to effectively run ads on Search Engines.

Social Media Marketing(SMM): Harnessing the strength of social media for marketing. Learn how to build brand preferences, generate leads & aggregate audience on Social Media.

Social Media Optimization (SMO): is the process of increasing the awareness of a product, brand or event by using a number of social media outlets and communities to generate viral publicity.

Affiliate Marketing: It is a performance based marketing in which a business rewards one or more affiliates for each visitor or customer brought by the affiliate's own marketing efforts.
Hi I am Krishna mk, Digital Marketing Trainer and Consultant in Hyderabad. I trained 100's of students in Digital Marketing who are fresh graduates to experienced software engineers, other professionals and Business Owners, I take Digital Marketing classroom training and online training based on students convenient timings.
Many of the website owners got trained with me. I along with my team develop both static and dynamic websites. Digital Marketing Industry is still at its early stage in Hyderabad, India, so I decided to give and Share my Knowledge though workshops.
Venue
Way2Begin
Flat No 301, Bhanu Towers, Opposite to ESI Hospital,, ESI, Sanjeevareddy Nagar, Sunder Nagar, Hyderabad, Telangana 500038