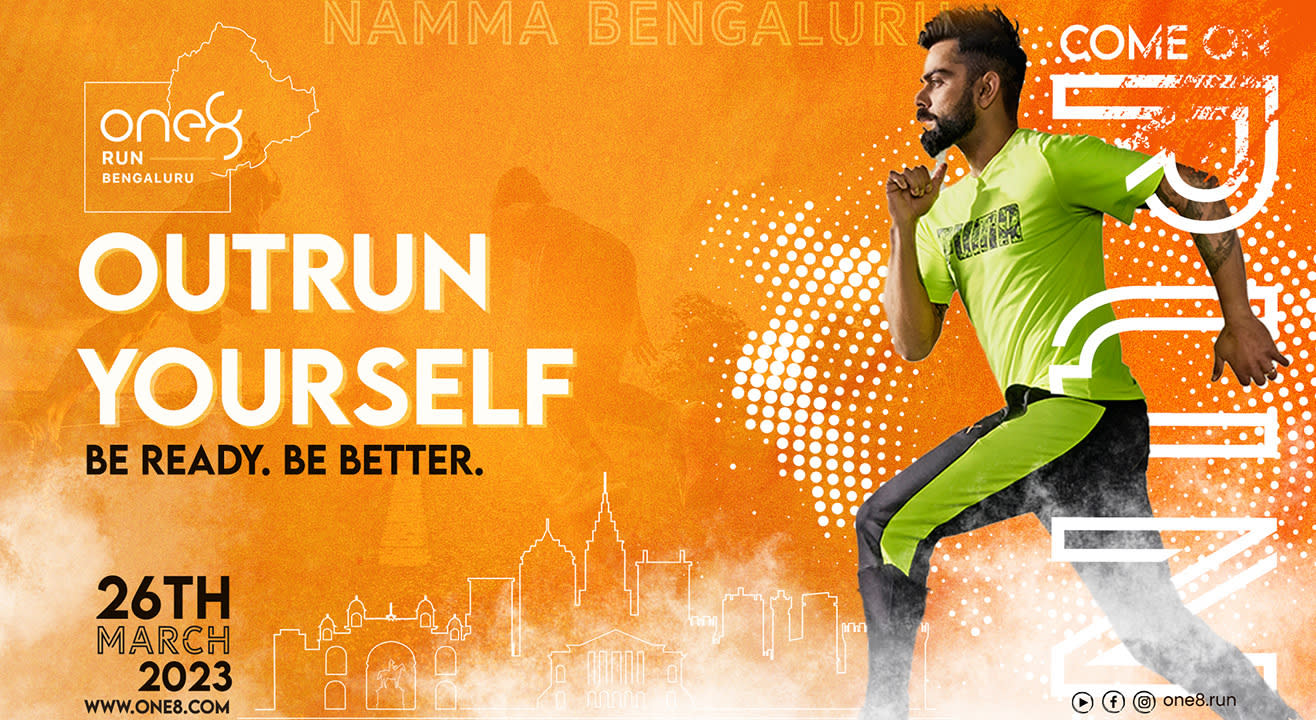 Nice Tollgate Hosakerehalli, Bengaluru
Step out and enjoy this event
₹799 onwards (incl of GST)
Tickets are sold out for this show
Invite your friends
and enjoy a shared experience
Nice Tollgate Hosakerehalli, Bengaluru
Step out and enjoy this event
₹799 onwards (incl of GST)
Tickets are sold out for this show
Invite your friends
and enjoy a shared experience
Invite your friends
and enjoy a shared experience
one8 is a brand of Virat Kohli that celebrates his philosophies and way of life. one8 is elated to announce the first edition of its run in the following categories - 5km, 10km, 18km Join Virat Kohli and witness a running revolution. The amount paid includes the registration cost, T-Shirt, Timing Chip (based on the race category), E-certificate, Medal, Breakfast and race support.
Q: When is the race day?
A: The run is on 26th March 2023 at Nice Road Tolla Plaza, Dwaraka Nagar, Hosakerehalli, Bengaluru. The start time will be disclosed closer to the event day.
Q: When do registrations start, and when is the last day?
A: The registrations start on 8th February 2023 and end on 17th March 2023.
Q: Is there a minimum/maximum age of eligibility?
A: The minimum age eligibility is 16 years old, and there is no maximum age eligibility.
Q: Can I register for more than one race category for the run?
A: No, a participant can only register for one category at the run.
Q: What are the refund policies?
A: Once registration is completed, a refund is not possible under any circumstances.
Q: Can I change my race category once I have applied?
A: No, once applied, a participant cannot change their race category.
Q: Is on-ground registration possible?
A: No, on-ground registration is not possible. All participants must register online through Patym Insider.
Q: Is the registration transferable?
A: No, the registrations are non-transferable/non-exchangeable to any other person or future events.
Q: Will my timing for the run be recorded?
A: Every participant in the 10k and 18k categories will receive an e-certificate with the timing of their run. However, the timing of the 5k run will not be recorded.
Q: Are there any group/corporate/run club discounts available?
A: No discounts other than early bird discounts are available.
Q: How can I collect my bib?
A: An expo prior to the run will be organised for bib collection. Please note participants cannot collect their bibs on the race day.
Q: What time should I arrive on race day?
A: Participants are advised to arrive at least an hour before the race timings. The start timings will be communicated closer to the event.
Nice Tollgate Hosakerehalli
Dwaraka Nagar, Hosakerehalli, Bengaluru, Karnataka 560085
GET DIRECTIONS
Nice Tollgate Hosakerehalli, Bengaluru
Step out and enjoy this event
₹799 onwards (incl of GST)
Tickets are sold out for this show
Invite your friends
and enjoy a shared experience
₹799 onwards (incl of GST)
Tickets are sold out for this show