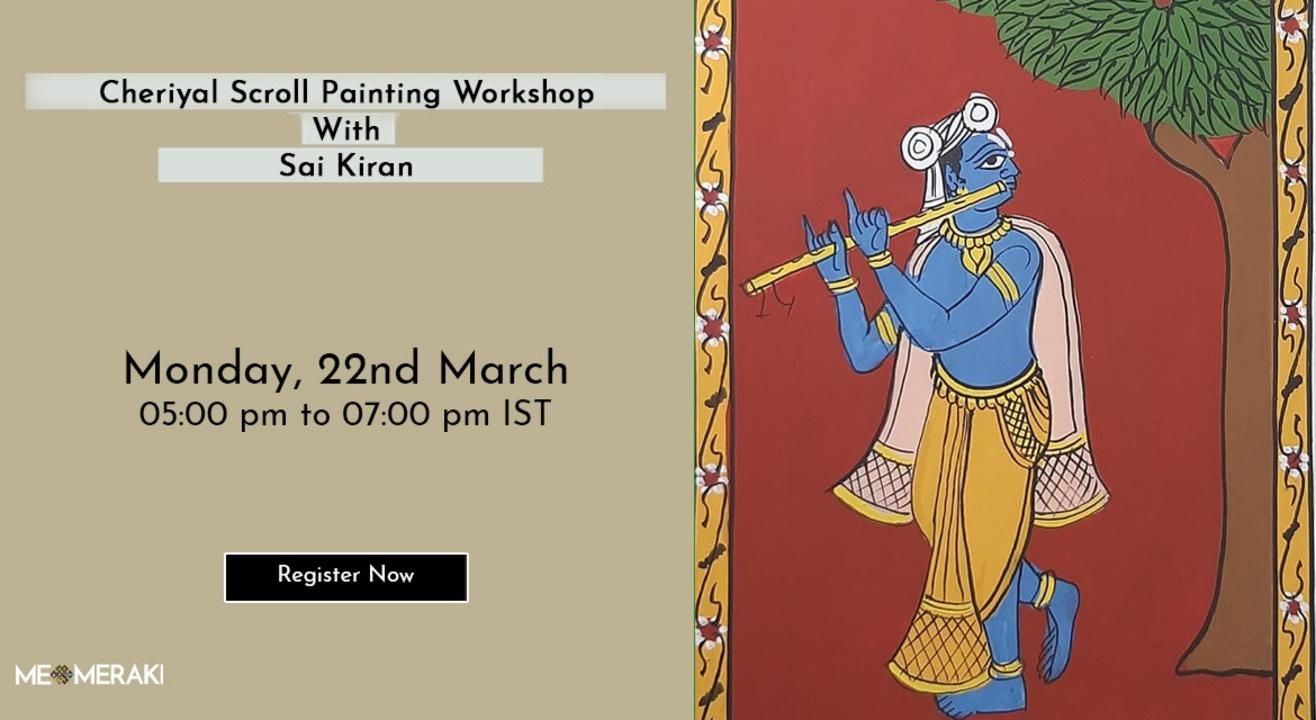 ONLINE CHERIYAL SCROLL PAINTING WORKSHOP WITH SAI KIRAN
Enjoy this event from your home
Event Guide
Digital Event
Live On Insider
For Age(s)
Family Friendly
Masterclass
Learn from an expert
Invite your friends
and enjoy a shared experience
Event Guide
Digital Event
Live On Insider
For Age(s)
Family Friendly
Masterclass
Learn from an expert
Invite your friends
and enjoy a shared experience
About the Event
At Memeraki, join our heritage art workshops and learn from master artists around India who have been practicing these arts since generations. The workshops are structured to be suitable for both beginners and seasoned artists. Art is truly therapeutic and will hopefully help you as much as it is helping us! Join us in the movement to revive India's heritage and traditional arts.
This will be a two hour class for beginners and will be conducted over Zoom - adults or children above 8 years can join.
Sai Kiran will guide you on how to create the basic drawing and the other intricacies of Cheriyal Scroll.
About the Artist: The Dhanalakota family is the last practicing family for Cheriyal Scroll art, and the 27 year old artist Sai Kiran, shoulders the big responsibility of carrying forward this legacy. A 160 year old Cheriyal scroll painted by his great great grandfather is also exhibited in a museum in Paris to give you an idea of his family's legacy. With the demand for Cheriyal scrolls reducing, his parents told him to study and not pursue art, but Sai Kiran pursued a degree in fine arts to learn new art techniques to contemporarise the art and make it relevant in today's times. He wishes the Cheriyal scroll artists knew more about the stories they are painting too, since the storytellers for these paintings are independent and add their own colour to the stories, but he makes an effort to learn these stories and his own favorite story is that of Gaurapuranama, about Toddy Tappers (Wine tappers). Such wise words from such a young one ' We change our phones every year, our phone covers every 2 months, change is such a constant, so our art has to keep up with this change and evolve too'
Materials that you will need:
A4 Size plain paper (a couple of extra sheets to practice sketching).
Poster colors (preferred, if you don't have access to poster colors, you can use acrylic colors).
Compass
Brushes (size 0 to size 4/5), water and palette for mixing
Black pen for outlines (not mandatory, can outline with brush and paint too)
Pencil and rubber for sketching
We hope you can join us to support the arts and artists.
Terms and conditions:
Bookings open for the first 20 signups only and shipping for this kit will be done around the 10th of March
Recording will be provided for this workshop
Details to join the zoom call and a calendar invite will be sent on Fridays, a day before the workshops once we receive payment (please don't select the option for COD).
The workshops are attended by beginners as well as others who may already be acquainted with art hence, we will keep a pace that everyone is comfortable with.
We will share a recording of the workshop after the workshop, so even if you miss anything please don't worry as you can still follow again from the recording. We will keep the recordings for a week, please download after the workshop.
The artists mostly speak in Hindi, Memeraki team will be moderating and translating.
Workshop will be conducted over Zoom. If you don't already use Zoom, please download the zoom app on your phone or laptop (easier to sit on a desk with a laptop or with the phone on a stand so you can see the artist paint and follow at the same time and so that the artist can also see you painting. Please sit in a well-lit place)
Please test audio and video on zoom. Please stay on mute during the workshop so that everyone can hear the artist, please unmute anytime you wish to ask a question. We may also request you to switch off video at some points as the locations where the artists are sometimes don't have good bandwidth (we have tested and it works fine usually)
We will also create a WhatsApp group for easy communication on the day of the class. The group will be deleted a couple of days after the class. Please also join our Facebook group to keep in touch with us and other participants https://www.facebook.com/groups/1632293370227782.
Class is not transferable to another person - please do not share the zoom class link with others once you have registered and please join with the registered email address