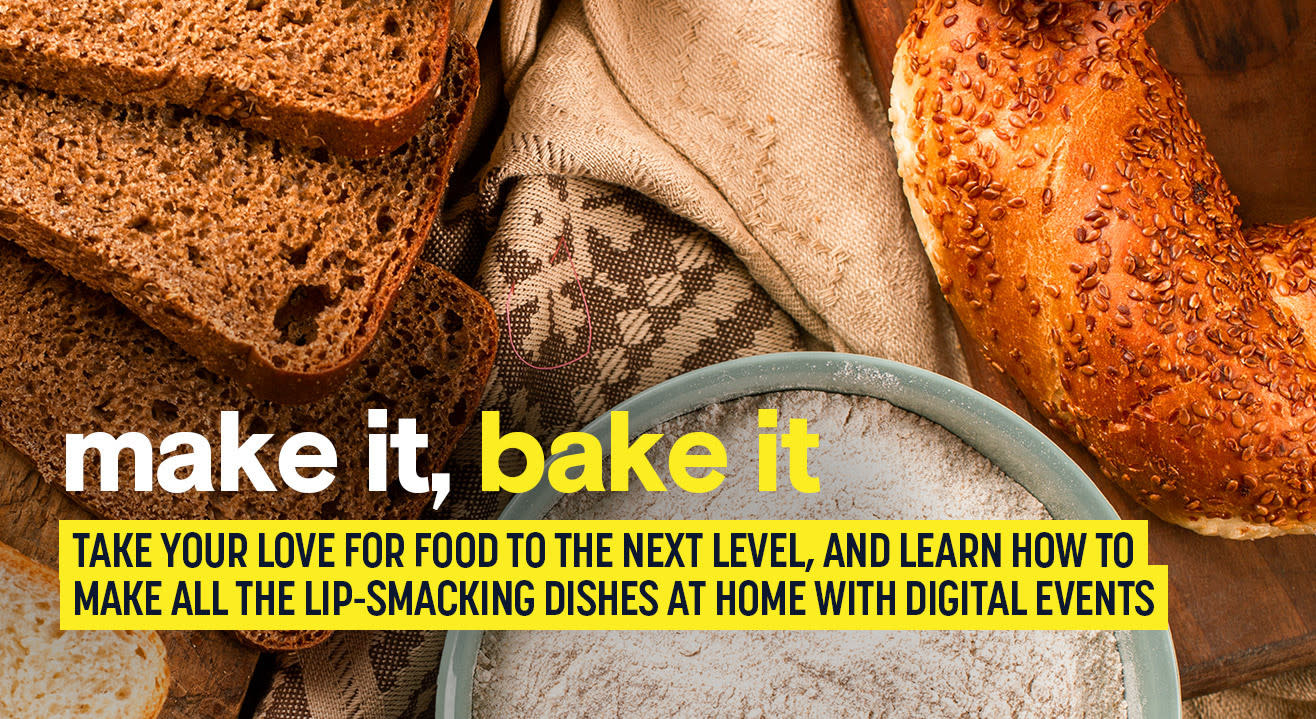 Bake, brew, and barbecue with interactive online food workshops
Quick! Put your apron on and join culinary stars for an online masterclass. Learn tips & tricks from masterchefs, and make all the lip-smacking food at home.
Invite your friends
and enjoy a shared experience
Ever since the lockdown began, we've seen a whole lot of Quarantine Chefs come out. Some took to the stove as a result of all the cravings, while some (like us) realized that our cooking skills need to be at par - whether it's instant noodles or making something like the Kerala Appam & Ishtew. If you ended up here thinking the same, let's get right into it.
Take a look at what's cooking this week:
"These online cooking events, what are they like?"
Productive! Plus a lot of fun
The best part about these online cooking courses is that they're live and interactive. So when the instruction says add one spoon of sugar, and you're thinking how big of a spoon of sugar, you can get your answer almost instantly in these workshops.
Online recipe videos most often leave you confused and with a lot of questions. You don't have to worry about that with these digital events, and some even have the option of cooking along with the host. That means it's a win-win for you by the end of the session. 1. You learn how to make the dish 2. You can now have something delish.
Tailored to your taste
Finding the right recipe can get really annoying at times. Search for how to make a cake? And half the recipes have egg in it. What's a person gotta do to find a recipe that's vegan? Well, you can start here for sure.
Bunch of these online cooking classes have special sessions lined up with vegan recipes. And not just that - many have gluten-free and dairy-free ones too. Basically, these digital experiences are designed keeping in mind different taste buds and offer variety, while taking your preferences into consideration.
It's a Masterclass
All those talented chefs you've read columns about or watched on shows, this is your chance to learn from them. A once in a lifetime opportunity to be in the same room, and observe and understand what truly goes behind creating not just a dish but a memorable experience.
Some of the talented chefs we've had the fortune of learning from include Le 15's Pooja Dhingra, The Bombay Canteen's Chef Thomas Zacharias, O Pedro's Chef Hussain, Bombay Sweet Shop's Heena Punwani and Girish Nayak, star chef Rakhee Vaswani, and renowned blogger & food stylist, Deeba Rajpal.
Age no bar!
Just go ahead and try yaar. Don't hold back thinking I've never made anything that required more than 5 ingredients. Beginner or sous chef - our hosts are well-versed to guide you through the process.
Feel free to bring up any doubts or questions during the online session. After all, it's why we made sure it's interactive. So be frank about it, and feel at home (quite literally)
How do I attend these online cooking classes?
Arre it's super easy, and joining an event takes half the time you need to make a dosa. Try it yourself, not the dosa, joining and attending the event.
Select an event of your choice.
Book tickets for the preferred date.
You'll get an e-ticket in your inbox.
Wait till the event is about to begin.
Once it's time, click on Join via Zoom
Heyyy! You are now ready to participate.

You can attend these online events right from your home. Beginner or expert, we have workshops for all. The only criteria we have for you to be able to attend these online cooking classes is that you should love food, probably even more than we do. No brownie points for that though. And if you're looking to brush up your skills beyond food, click here to check out all workshops on Paytm Insider.
Subscribe to receive our newsletter!
Find the best experiences happening out there in your city or enjoy handpicked content while sitting comfortably at home. Paytm Insider is your go-to place to figure out what to do today!