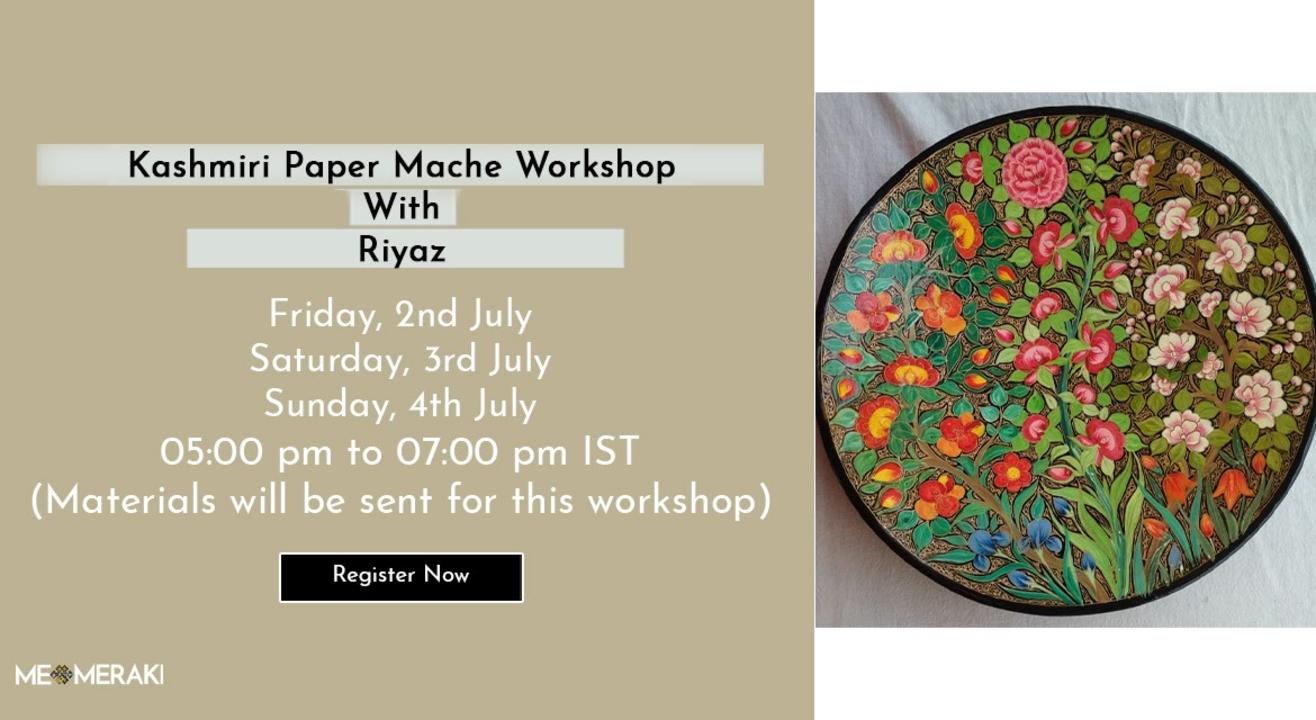 ONLINE KASHMIRI PAPER MACHE WITH RIYAZ (WITH MATERIALS)
Enjoy this event from your home
Event Guide
Digital Event
Live On Insider
For Age(s)
Family Friendly
Masterclass
Learn from an expert
Invite your friends
and enjoy a shared experience
Event Guide
Digital Event
Live On Insider
For Age(s)
Family Friendly
Masterclass
Learn from an expert
Invite your friends
and enjoy a shared experience
About the Event
This workshop will be done in 3 classes and thus 3 recordings and a detailed presentation covering all the class material would be provided.
Riyaz will guide you on paper mache techniques and the other intricacies of Paper Mache Art - we would be making this beautiful paper mache decorative plate as part of the workshop. This is what we will cover during the workshop
Making the paper mache plate
Sketching the artwork
Painting and finishing patterns of Kashmiri paper mache
The following materials will be sent for this workshop
Chalk powder - about 500 gm
Fevicol- about 200 gm
Poster colours (Set of 6) and brushes
Rice Dust powder
Waste shredded paper
Pumice stone
At your end please have the following materials ready
Pencil and Rubber
Waste cloth
Rice water (boiled rice water will be required for paper mache)
Pallet and water
About the Artist: Riyaz , our Chinar paper mache artist from Kashmir - part artist, greater part philosopher. Spoke about the 'sukoon' (peace) in art. Then amongst other things spoke about the futility of it all , telling us about this bengali anecdote from the time he lived in Kolkata 'sabse poocho kidhar jaana hai- sabka jawab, Howrah jaana hai janab. Ab koi plane se ja raha hai, koi car as, koi train se aur koi chal ke- par pahunchenge toh sabhi Howrah hi na!' (Ask anyone where do you want to go, they say - Howrah. Now someone is going by plane, someone by car, someone by train , someone's walking there, but ultimately everyone is going to reach the same place only!)
We hope you can join us to support the arts and artists.
Terms and conditions:
We will be sending a calendar invite and email invite with zoom link to join 2 days before the workshop once we receive payment (please don't select the option for COD).
The workshops are attended by beginners as well as others who may already be acquainted with art hence, we will keep a pace that everyone is comfortable with.
We will share a recording of the workshop after the workshop, so even if you miss anything please don't worry as you can still follow again from the recording. We will keep the recordings for a week, please download after the workshop.
The artists mostly speak in Hindi, Memeraki team will be moderating and translating.
Workshop will be conducted over Zoom. If you don't already use Zoom, please download the zoom app on your phone or laptop (easier to sit on a desk with a laptop or with the phone on a stand so you can see the artist paint and follow at the same time and so that the artist can also see you painting. Please sit in a well-lit place)
Please test audio and video on zoom. Please stay on mute during the workshop so that everyone can hear the artist, please unmute anytime you wish to ask a question. We may also request you to switch off video at some points as the locations where the artists are sometimes don't have good bandwidth (we have tested and it works fine usually)
We will also create a WhatsApp group for easy communication on the day of the class. The group will be deleted a couple of days after the class. Please also join our Facebook group to keep in touch with us and other participants https://www.facebook.com/groups/1632293370227782.
Class is not transferable to another person - please do not share the zoom class link with others once you have registered and please join with the registered email address