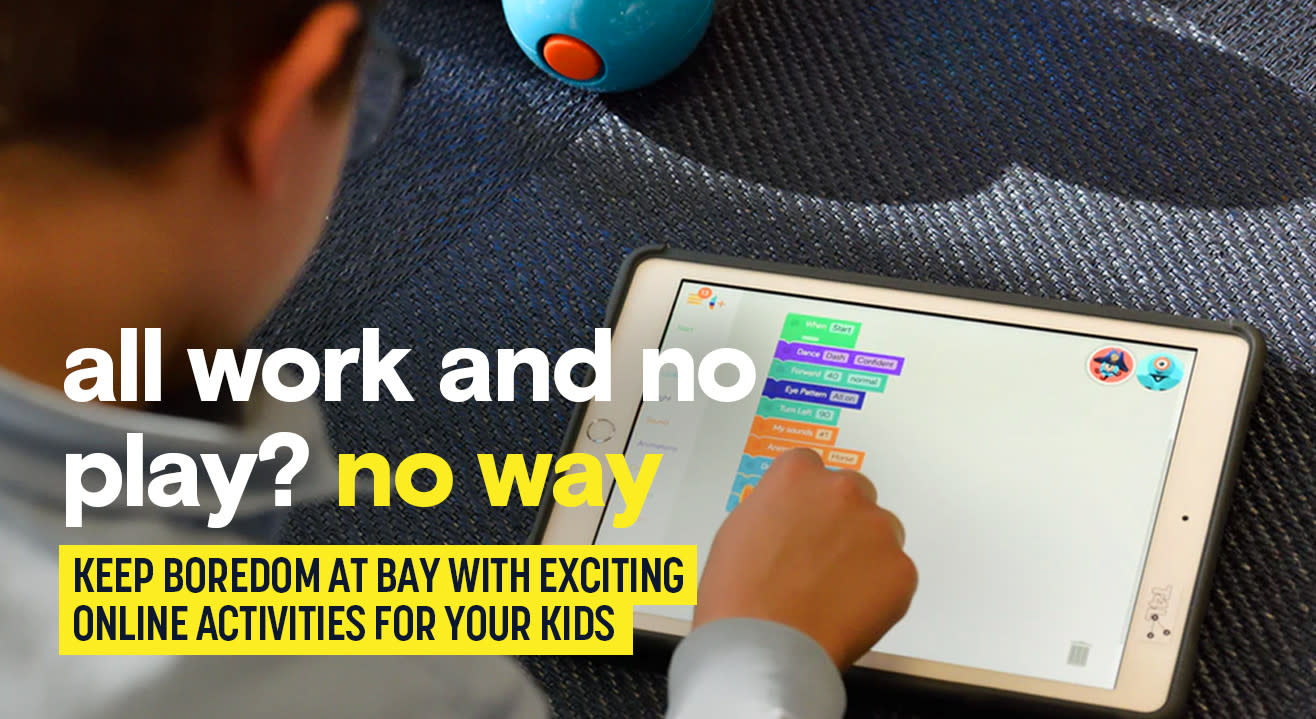 10x fun, no need to run. Online classes for kids are here.
Drawing, painting, coding, storytelling, public speaking - exciting interactive online classes for children now available on Paytm Insider.
Invite your friends
and enjoy a shared experience
With schools going online, kids have been spending most of their time at home. But what about a way where they can engage in a little play? Well, there is, and it's from your home. Now no matter where you are, your kids can participate in their favourite workshops, games and activities online.
Take a look at this week's activities:
From coding to dancing to painting - there's lots your kid can participate in from home
Online Coding Classes for Kids:
Being able to write code is one the fastest growing skill sets these days (seriously, even we've started learning how to code). Just like the last decade was all about robotics, coding is now almost like an extracurricular activity for kids in school. Whether it's coding for beginners with languages like Scratch and Blockly, or starting afresh with more refined programming languages such as Python, Ruby, C++, Java - these online courses for kids have it all.
Online Art Classes for Kids:
Children or grown-ups, everyone loves art. Honestly, we feel mandala coloring books are a great way to relax. However, there's a lot more for kids here. Finger painting, recycled art, bookmark making, coloring, and ever papercrafts. Lots of online art classes means, lots of ways to have fun.
Online Dance Classes for Kids:
If your kid loves dancing as much as we do, this is just what you need. Some of India's finest choreographers including Shiamak and Team Naach are hosting online dance classes on Paytm Insider. Age no bar. Just select an online dance workshop and we'll see you there.
Online Courses for Kids:
In case you're looking for online sessions that have more to do with productivity and are specially designed for children, we have those too. Be it improving skills like public speaking, essay writing, sketching, or even money management - our kids section has a growing list of online events.
And that's not it. There are more online activities like book clubs, puppet shows, sessions on science & technology, yoga classes, bubble shows & more. All you need to do is pick a digital event that interests you the most and get started with it. Oh, and yes these digital events are open to kids of all ages. Wondering how to participate? It's easy, we'll explain.
How to participate in an online event?
Again, it's super easy. We can guarantee that it doesn't take half as long as solving a Rubik's cube (or who knows we might just not be as fast as you at solving the Rubik's cube).
But if you're looking to attend an online event on Paytm Insider - first, head to our list of online events, select what you like the most (save one for maybe later), purchase a ticket, after which you'll receive an e-ticket in your inbox, wait till it's time for the digital event, click on Join via Zoom to begin.
Pro-tip: Download and register (using the email ID you bought the tickets with) on Zoom well in advance, to avoid the hassle at the time of the event.
Subscribe to receive our newsletter!
Find the best experiences happening out there in your city or enjoy handpicked content while sitting comfortably at home. Paytm Insider is your go-to place to figure out what to do today!