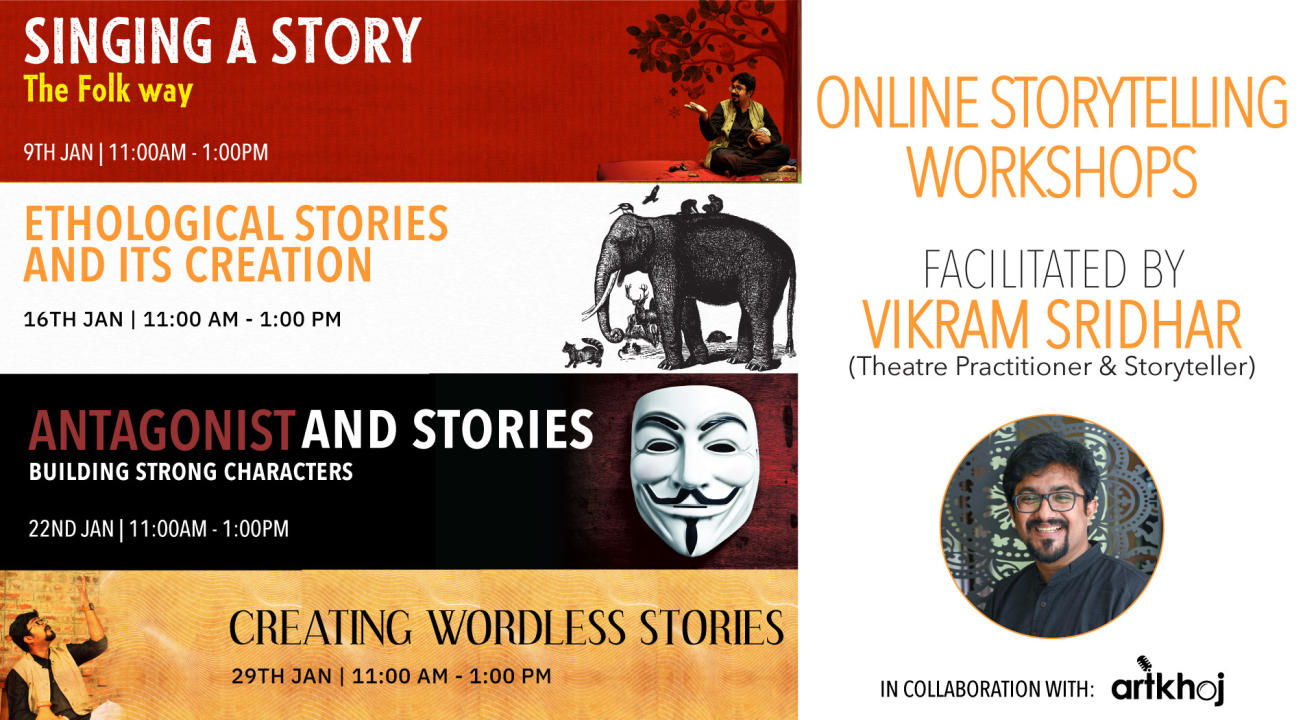 Online Storytelling Workshops by Vikram Sridhar
January 9 | 11AM - January 29 | 1PM
Enjoy this event from your home
Event Guide
Masterclass
Learn from an expert
Invite your friends
and enjoy a shared experience
Online Storytelling Workshops by Vikram Sridhar
January 9 | 11AM - January 29 | 1PM
Enjoy this event from your home
Event Guide
Masterclass
Learn from an expert
Invite your friends
and enjoy a shared experience
Event Guide
Masterclass
Learn from an expert
Invite your friends
and enjoy a shared experience
Artkhoj in collaboration with Vikram Sridhar brings you a series of engaging and interactive online workshops on Storytelling.
9th Jan - Singing a story (Sunday)
Every time we travel across the country or even when we sit with our previous generation, we hear them telling a story. And if we look closer, we hear them singing the story in a way that's personal, emotional and comes from the heart. What does it take to tell a story, and more than that sing the story.
The workshop will explore a simple way to look at the tone of folk singing, and derive energy from our collective memories to create simple stories in a way that can be sung in both English and our vernacular languages. There would be simple voice-based exercises, improv story creation and the participants will have a story song by the end of the workshop
What will you learn through the workshop:
Shifting from telling to adding a musical tone to a story
Finding comfort with our personal folk voice
Appreciating an ancient tradition of singing stories
Tuning for a story from our authentic memory bank
A new way to work with children and stories
_______
16th Jan - Ethological Stories and its creation (Sunday)
A way of conserving our natural habitat in Indian Oral Literature
Right from the Panchatantra to the Jataka tales to the innumerous folktales of the land, the story way of teaching, sharing and documenting used the animal world immensely. Though today, we see them mostly in children's tales, the workshop will explore the philosophy, ethology and connect to the human psychology that these tales inherit. Therein the participants will create stories and oral narratives by appreciating, understanding and observing interspecies communication of animals.
A keen sense of natural observation was inherent in the story makers, and using metaphors from the natural world was a common trait. This can come back into our vocabulary if we open the doors to listening to the nature around us.
What will you learn through the workshop:
The appreciation of animal tales for adults.
Connecting with the nature around us to brew new tales.
Create stories that look at our ecosystem more carefully.
Convey complex human emotions using the lens of animals, birds and other living beings
Creating stories that can travel to another generation
Take back a story bag of tales inspired by Ethology
________
22nd Jan - Antagonist and stories: Building strong Characters (Saturday)
While the word Protagonist gets all the credit and the character arc what happens to the others in the story? The word is Antagonist. Every classic, be it a movie, book or folktale, stems from creating a strong character. Think of your favorite movie, our memory would be filled with so many characters from the movie who fills the story journey. The workshop will look at our memories of the tales we have consumed and create conscious stories for the future.
The workshop explores the journey of an Antagonist to make the Story screenplay or even the Protagonist and the characters in a story relevant.
What will you learn through the workshop:
Antagonist psyche
360-degree view of the character
Strengthening your story as a creator
Adding life to the least heard character
Moving the story at every juncture
Creating a memorable Antagonist
_______
29th Jan: Creating Wordless Stories (Saturday)
What does it take to create a story completely wordless, completely based on sounds and just using our facial muscles. We depend on our vocal vocabulary many times to convey a narrative and especially a story. What if we just have our sounds and our actions to create a story.
The workshop will explore various sound patterns, facial expressions, and simple mime-based exercises
Voice reactions and wordless responses create a narrative that's completely wordless.
The workshop explores the possibility of sharing stories in ways that transcend our oral vocal vocabulary and tapping our body-based expressions
What will you learn through the workshop:
Ways to make stories wordless
Explore age-based adaptation of the same stories
Awareness towards our body based expressions
New ways to adapt your existing story bank
Performing to an audience who don't connect with vocabulary-based content like specially-abled children, toddlers etc.
All the above workshops are suitable for
Teachers
Parents
Writers
Special educators
Public/Motivational speakers
Performing artists
Storytellers
Video Makers/Bloggers
Script Writers
Theatre Artists
Anyone who works with stories and anyone willing to learn something new.
About the Workshop:
The workshop will be conducted online through the Zoom platform.
The link to join the workshop will be shared on the day of the workshop
Anyone over the age of 16 is welcome
No prior experience is required.
About the facilitator:
Vikram Sridhar is a Bangalore/Chennai based Performance Storyteller, Theatre Practitioner, and a Story Researcher especially folktales and Myths. Sitting behind temple elephants, nursing wounded puppies, working with various theatre groups, Vikram today combines his various interests and work over the years in his storytelling journey working with children teens and adults using Storytelling and Theatre. Through folklore and his extensive travels, he is trying to research and explore our rich heritage of oral literature through the various forms of art. He believes in storytelling as a strong medium of conservation, from nature to human relationships.
He is the co-founder of one of Bangalore's esteemed theatre group, Tahatto and the founder of India's first Storytelling collective, The Bangalore Storytelling Society. He is part of the organizing team of various literature-based festivals like the Bangalore Literature Festival, Bengaluru Poetry Festival, Dum Dama Dum: Children theatre and Reading Festival, The BeSt ( Bengaluru Storytelling ) Festival, Kovai Bookalatta, among others.
Feel free to reach out on 8971492903 for any queries.
Online Storytelling Workshops by Vikram Sridhar
January 9 | 11AM - January 29 | 1PM
Enjoy this event from your home
Event Guide
Masterclass
Learn from an expert
Invite your friends
and enjoy a shared experience